Vivian Springford Untitled (Tanzania Series), 1972. Estimate: $60,000-80,000.
20th Century & Contemporary Art Day Sale, Afternoon Session.
Exuberant and brimming with radiant color, Vivian Springford's Untitled (Tanzania Series), 1972, and John Chamberlain's Pure Drop, 1983, are two major highlights of Phillips' upcoming 20th Century & Contemporary Art Day Sale. Executed a little more than a decade apart, each work gives insight into how these two very different artists pushed their respective practices to new heights in their late careers.
Both Chamberlain and Springford were active in the New York art world of the 1950s, initially developing their practice in relation to – and in challenge of – the prevailing aesthetic of Abstract Expressionism in the fields of sculpture and painting, respectively. Yet while Chamberlain was widely celebrated early on, Springford's achievements are only receiving their long overdue recognition in recent years.
Despite an almost 30-year hiatus from the art world, Vivian Springford developed a unique and timeless language of abstraction that's garnering fresh attention from audiences today. Untitled (Tanzania Series), 1972, is an exquisite example of Springford's characteristic compositions that beautifully meld Eastern and Western motifs. Her oeuvre effortlessly integrates the influence of Abstract Expressionist and Color Field painting with harmonious principles from the ancient Chinese philosophies of Taoism and Confucianism.
I want to find my own small plot or pattern of energy that will express the inner me in terms of rhythmic movement and color. The expansive center of the universe, of the stars, and of nature is my constant challenge in abstract terms.
Vivian Springford
Untitled (Tanzania Series)'s bold concentric pooling of pigment is wholly representative of Springford's signature "one-shot" paintings, which are created in a single attempt without edits or alteration. By the 1970's Springford had developed her distinctive technique for staining her raw canvases with thin washes of pinks, blues and greens, in a method that almost mimics the application of watercolor. The present work's brilliant hues and organic pattern work in tandem with the delicacy and thoughtfulness of Asian artistry to form an awe-inspiring burst of passion.
Bold in approach and vision, but timeless in appeal, Springford's compositions are finally receiving long-overdue popular and critical acclaim. With more international exhibitions of her work on the horizon, Springford's place in the canon of postwar abstract painting is certainly being sealed.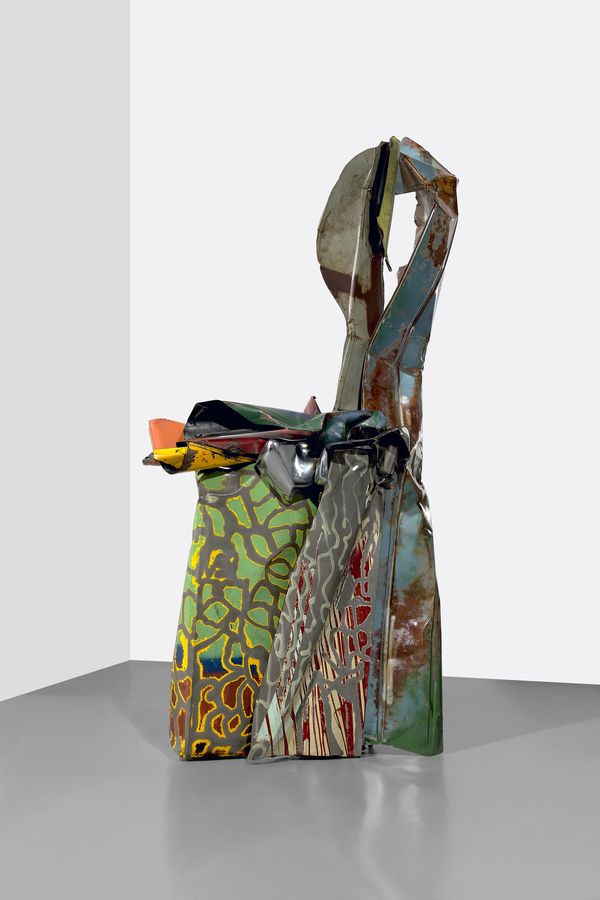 With its striving verticality, forceful dynamism, and vibrantly dappled matrices of color, Pure Drop, 1983, is emblematic of John Chamberlain's celebrated late work. A quintessential example of the artist's Giraffe series, circa 1982-1983, of which other examples reside in the The Menil Collection, Houston, this monumental work perfectly encapsulates how Chamberlain, having revolutionized the field of art making in the late 1950s by using wrecked automobile parts as his material, continued to develop his radical sculptural practice in the 1980s.
Pure Drop speaks to the increasing manipulation of form and color that entered Chamberlain's oeuvre after his move to Sarasota, Florida in 1980. Like fellow New York transplants such as Robert Rauschenberg and James Rosenquist, Chamberlain's move to Florida and purchase of a large warehouse provided him with the freedom for more experimentation in the complexity and scale of his sculptures.
Do you live in a world with no color? It never occurred to me that having color on sculpture was such a big number. I thought it was very obvious.
John Chamberlain
Restricting his focus to the use of specific, larger-scale parts of the automobile, such as fenders, bumpers, and chassis, and sandblasting the painted metal to create the eponymous giraffe-like patterns exposing the striations of the underlying material, Chamberlain creates an artwork that at once pulls into itself by an intrinsic gravitational force and breaks free from its own vertiginous contortion. In contrast to the ready identification with wrecked cars in his earlier works, this work articulates Chamberlain's shift to creating more ambiguous sculptures.
Once part of the esteemed Doris and Charles Saatchi Collection, London, Pure Drop is alive and frozen in place, a soaring tangle of metal forms bursting out and into one another but locked in sculptural stasis in a manner that exudes an imposing sense of presence.
Inquiries
John McCord, Head of Day Sale, Morning Session
[email protected]
Rebekah Bowling, Head of Day Sale, Afternoon Session
[email protected]