- By Aurel Bacs

In recent years I have noticed how my personal taste has evolved – something I have since forgiven myself and even embraced – from "more is more" to "less is more". This may to some sound like a natural process, but in fact it isn't at all. My brain remains fascinated by complicated mechanisms, mirroring and reminding me constantly of the genius minds of master watchmakers, past and current generations. It is consequently natural for me to be attracted by chronographs, perpetual calendars (or the combination of the two), minute-repeaters, tourbillons and many more complications. On the other hand, and often in a quite conflictual way, my eyes are, gradually, more and more attracted by simple designs. To me personally, richly embellished designs may have a strong impact at first sight, but I tend to get bored of them over time.

If there was one perfect combination between these two tendencies, it has to be Patek Philippe's first self-winding perpetual calendar model, the legendary reference 3448. It boasts a solid diameter of over 37mm, but doesn't show off its size, but instead remains discrete. The "Padellone" (Italian for large frying pan) displays self-confidence in a very natural style: definitely masculine, but far from macho-behavior. Nothing is round (other than the case shape): The 4 lugs are trapeze-shaped, sharply cut and softly down-turned, to provide discrete elegance and assuring a most comfortable fit on the wrist. The case's personality is defined by the polished, concave bezel, perfectly offering a solid frame for dial, the watch's smooth face. In fact, the opaline-colored dial is minimalism at its best: nine facetted batons, perfectly complemented by two small pyramids for the 5 and 7 o'clock hour markers. The outer minute markings are little pearls, engraved into the dial plate. The harmonious ensemble is completed with prominent dauphine-style hour and minute hands, again facetted, as are the apertures showing the day of the week and the month. All together the watch looks like a piece of perfect 1960's architecture, and this is exactly what it is. Vintage, but not old. Charming, but not soft. Timeless, but definitely not outdated. Discrete, but not invisible.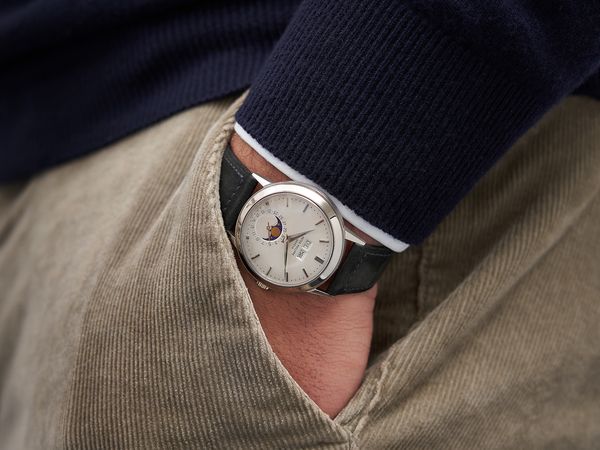 Lot 37 of The Geneva Watch Auction: XI - link
The one very important element that wearers only seldom get to see is the movement: Patek Phillipe's second every created automatic (or self-winding) caliber 27-460, upgraded with the perpetual calendar mechanism for this very model. Together with its predecessor movement caliber 12'''-600), these have to be the most beautifully finished movement created by the venerable Geneva manufacturer. And, thanks to the 18-carat gold rotor, the watch becomes a wonderful daily wearer (obviously only for a lucky few) as it does not require winding in the morning.

All my friends know that I have a weak spot for watches cased in white metals. White gold, platinum, but also stainless steel. And Patek Philippe's reference 3448, already a perfect design, becomes even more perfect when cased in white gold. Less than a quarter of the overall production is believed to have been cased in white gold. My weakness for "white watches" isn't some form of snobbism, but I simply believe they look better on my wrist. Certainly, I don't mind the added exclusivity that comes with the white gold case in this instance…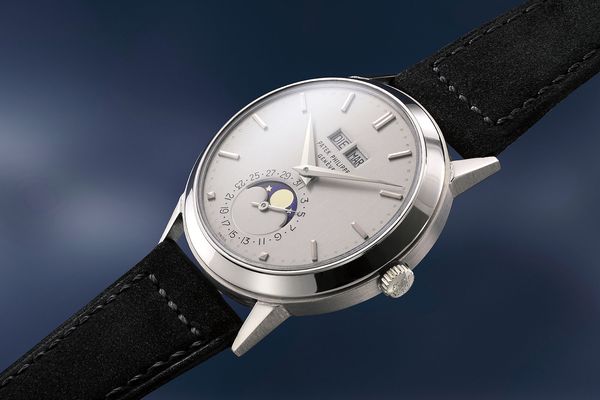 Every white gold "Padellone" is an event in any auction room, but fresh to the market examples, coming directly from the original owner's family, are blessed with the extra added "icing on the cake". The present example, in very good and original condition, has been wonderfully looked after by its original owner and not only features an unrestored dial but also a very strong case, still beautifully displaying the strong, angular proportions, as the designers at Patek Philippe originally designed in the early 1960s.

Sometimes, I wonder if my shortlist of criteria of how a perfect watch should be (vintage but contemporary, complicated but also minimalistic, masculine but discrete, highly collectable but wearable) isn't a sign of schizophrenia. And then, when a fresh to the market reference 3448 in white gold arrives, I am reassured to be perfectly healthy, and that in my mind the "Padellone" is simply one the greatest wristwatches ever created by mankind.
To learn more about Lot 37 of The Geneva Watch Auction: XI, please visist our online catalogue.