- By Nick Foulkes
For much of the current century I have been the bane of whoever happened to be running Cartier as, every chance I got, I would call loudly for the reintroduction of Collection Privee Cartier Paris.

CPCP was an idea ahead of its time in that it reintroduced the watch-wearing public to the joys of classic Cartier shapes. Launched in 1998, at a time when megawatch cuff shredders were already in vogue; CPCP championed elegance and grace in a world that worshipped hamburger watchmaking – the accretion of complications housed in ever more bizarre looking cases fashioned from far-fetched materials appropriated from fields of human endeavour as diverse as medicine and motorsport. And this association of masculinity with supersize watchmaking contributed to a decline in interest in vintage Cartier watches.

I have to admit that suited me fine.

I have been in love with the unique Cartier elegance for all my adult life; and the almost total lack of appreciation for time only watches, sometimes no bigger than a postage stamp, meant that Cartier watches often went unnoticed in auctions and were, surprisingly frequently, incorrectly catalogued. In effect this meant it was possible to assemble an interesting collection of Cartier watches for the price of a single steel sports Rolex.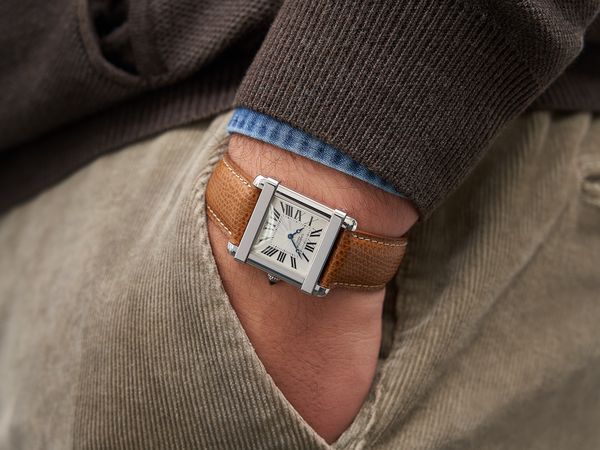 Lot 17 - A rare and highly attractive platinum Cartier Tank Chinois with presentation box - link
Given that these pieces were remote from the prevailing horological conventions and fashions, collecting them was based on academic and aesthetic judgements unclouded by pecuniary considerations. These were not watches that would get you a better table at Club 55 nor would they have advanced one's status among the oligarchy of the CIS; but they were and are, things of beauty, at their best sublime examples of the applied arts that, sometimes, deserve to be understood as works of art in their own right.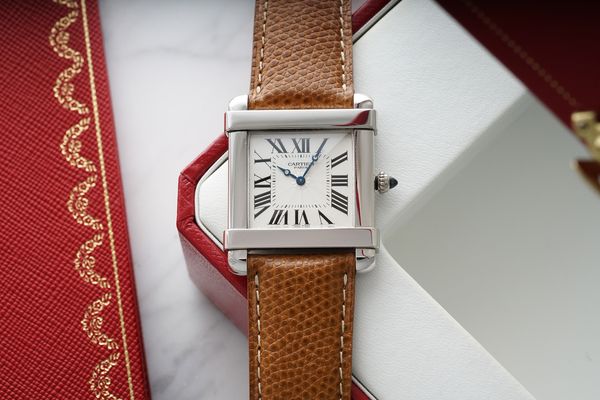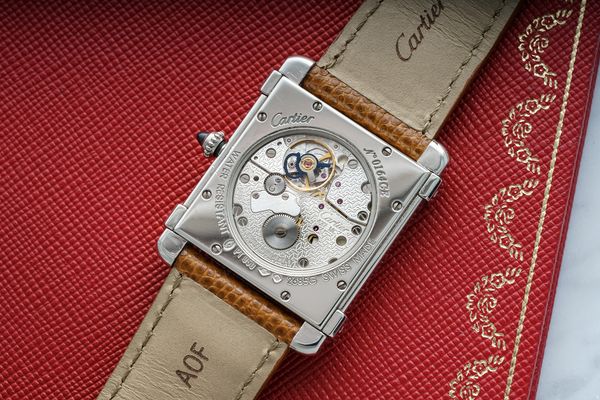 The word scholarship is often used in watch collecting circles today and is applicable to Cartier as much as any marque. But to become a great Cartier collector requires connoisseurship as well as knowledge, in addition to the usual forensic techniques employed to detect unwelcome interventions in terms of restoration, component replacement, over-polishing and so forth a piece has to 'feel' right. A Cartier whisperer in action is impressive to see, but there are only a handful of them, because as well as a certain sensitivity to aesthetics you need to have seen an awful lot of Cartier watches as so few of the early ones are exactly alike.

The most astonishing thing about Cartier watches is their rarity and individuality, in the half century between 1919 and 1969 Cartier Paris sold a total of 23,658 wristwatches, this already low number can be further divided into jewellery watches, round watches, shaped watches (viz Cloche, Tonneau, Tortue) and at least a dozen types of Tank (including but not limited to Chinoise, Obus, Allongee, Cintree, a guichets, Basculante…).
Then there are the dials: the classic Roman numeral and inner chemin de fer minute track is just an embarkation point for an odyssey of variations, from large luminous Arabic numerals to tiny repousse indices. And of course as a renowned jeweller Cartier treated straps and bracelets as more than merely a means of keeping the watch on the wrist but rather as a creative outlet that on occasion eclipses the timepiece itself.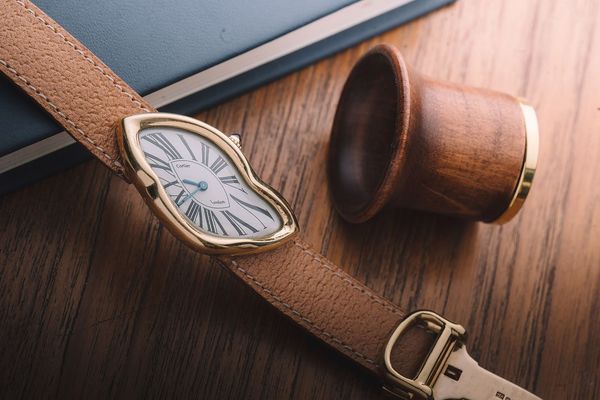 A Cartier London Crash, sold during the Winning Icons auction in New York, 2017.
Cartier Paris is only part of the story. Cartier London and Cartier New York were not reactive subsidiaries but entities with their own discrete cultures. During the 1960s Cartier London established a new identity for watches: a London tank with its bold oversized Roman numerals and absent minute track can be spotted instantly. It was the London branch of Cartier that bequeathed the jeweller what is in effect its Paul Newman or, if you prefer, its 2499: the Cartier Crash; an asymmetrical watch, on which even the clasp was crooked. It was the horological crystallisation of swinging London.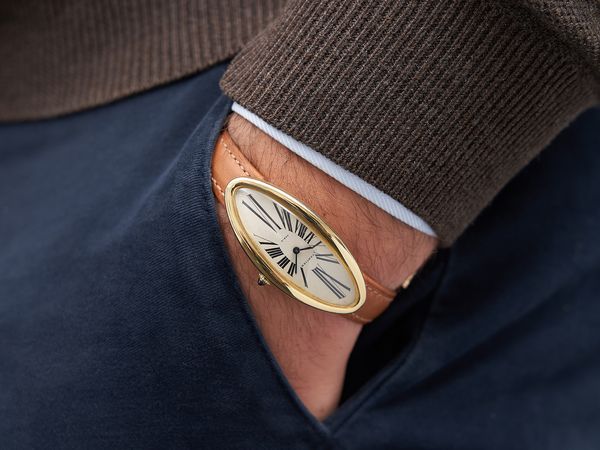 Lot 149 - An unusual, large and very rare Cartier Baignoire Allongée with Certifcate and box, number 144 of a 400 pieces limited edition - link
But the London Crash was just the most extreme expression of Cartier's mastery of shaped cases and happily in recent years Cartier has returned to what is its greatest strength. Last year it released a limited number of Tanks Cintrees, this year it reprised the famous Asymmetrique which is of course is actually a parallelogram but who cares about Euclidian geometry when the watch is just this drop dead different.

These are not reissues in the way that the industry at large understands them today where the value is in the painstaking recreation of the details of long discontinued models. At Cartier they are instead a continuation of something that has never really gone away.
Lot 150 - A rare, attractive and very well-preserved curved yellow gold Cartier Tank Cintrée from 1968 - link
In this sale for instance there is a Cartier Tank Cintree from 1968, a watch that would be instantly recognisable as a Tank Cintree in either the 1920s when the model was first introduced, or in 2020 when this one crosses the block. There is nothing self-consciously 'retro' or contrived about it, there does not need to be because, as a design it is neither vintage nor modern.
It is instead eternal.