Oolite Arts President and CEO Dennis Scholl. Photo by Maribeth Koeth.
PHILLIPS: Tell us about your work, and how it's shifted since March.
DENNIS SCHOLL: As an artist residency that offers holistic programming, we are fundamentally a resource for Miami's visual artists. Ever since the pandemic took hold, we've worked to double down on that mission. The first thing we did was repurpose funding from cancelled programming to create a relief fund. So far we've been able to help over 430 artists in our community, with support not just from us, but from artists, philanthropists and other generous people in our community who have given. Also, all of our programming, from professional development workshops to curator talks, is now online. In the midst of this, our founder, Ellie Schneiderman, passed away after a long illness. Ellie was a visionary, one of the leaders who helped create Miami's artistic renaissance over 35 years ago. Ellie always wanted Oolite Arts to be a place that would "help artists help themselves," and we remember that, every day.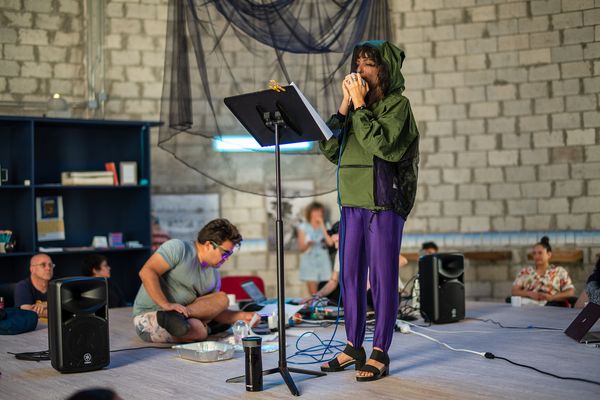 Sasha Wortzel Hurricane Season, 2019, performance with archival feedback. Photo by Juan Matos.
P: How has your work changed during this challenging period?
SASHA WORTZEL: This spring I expected to be completing principal photography on a large-scale film project set in the Florida Everglades, but I had to quickly put a stop on filming for the safety of myself, my crew, and the communities with which I'm working. I was really sad to do that, however that feeling was quickly subsumed by a larger sadness about the way this illness is further exposing the already present underlying conditions of inequity that produce so much death. I had to give myself permission to grieve and to slow down. To do nothing more than the labor it takes to exist and feel ok about doing just that. I've noticed my sense of time shifting. Days have felt much longer and each one seems to hold so much more weight. I have needed reminders to breathe. So I started filming and livestreaming the sunset daily. I think of it as a creative and meditative practice or a ritual, and by inviting others to join me, as a way to collectively mark time passing, celebrate or grieve another day, and breathe. I often come back to this quote by Saidiya Hartman, "care is the antidote to violence." For me making art is always a project of care. Sharing a sunset can be a simple act of care. I'm also doing research, drawing more, and writing letters.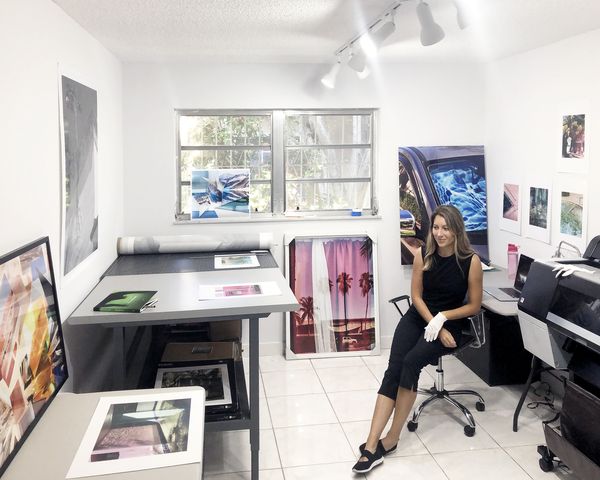 Artist Anastasia Samoylova.
P: Is there a work of Art that for you, captures this moment in time? What inspires you at the moment?
ANASTASIA SAMOYLOVA: As a photographer I'm skeptical about the ability of a single picture to present an all-encompassing perspective on an event. As a consumer of images, I can say I'm already at capacity for processing images of empty streets, city people wearing masks, exhausted healthcare workers, first responder vehicles with blasting sirens, field hospitals and bodies in bags. This oversaturation caused by a specific type of imagery reignites my longstanding interest in the way images form our understanding and misunderstanding of the world.
In my own work this interest manifests itself most fully in the project Landscape Sublime, where I gather user-shared copyright-free images from online image archives, group them by trope, print them out and reassemble into a tableau, which I then re-photograph. To me it serves as a metaphor for the highly constructed world of images we live in. Most of those images are picturesque scenes bordering on kitsch, to which I give a new constructivist/cubist form and context. At face value they can be perceived as shop window displays or digital collages, but they are neither, and I like that ambiguity.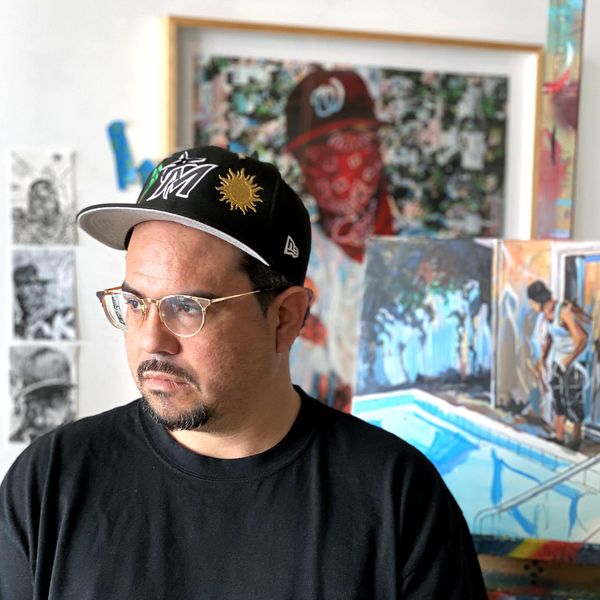 Artist Michael Vasquez.
P: Have you changed your use of materials or methods in any way?
MICHAEL VASQUEZ: My wife and I have really been taking this whole thing pretty seriously and staying home. I've been working at home, which is fine, I'm really grateful to have that ability and liberty, but it definitely requires some adjustments. I've shifted down the scale of things and set up an easel and table in our living room where I can make little paintings. I've also been working on a series of small black and white drawings called "Essential Workforce." I've been thinking about how the bandana has transformed into a means of protection, and the effect that this has had on peoples' perspectives. So while the content in these drawings, portraits of people wearing bandanas, isn't anything new in my work, the subjects take on a whole different identity just by existing within the context of current times.
P: Is there a work of art that for you, captures this moment in time? What inspires you at the moment?
MV: Laocoon and His Sons, which I have been looking at and thinking a lot about lately, even prior to this whole pandemic really set in. I was thinking about the human condition and struggle and how that sculpture portrays that so well, with such emotion and movement...and I was making these strange visual connections to photos that I have of my friends with their sons. Now with the whole Covid-19 situation, I've been thinking of Laocoon and his sons as humanity as a whole, struggling — this time against the virus, represented by the snake. There's also some weird connection there to the snake(s) in the medical symbol, although I'm pretty sure they represent something positive in the medical symbol. I don't know, just something I've been thinking about.
Learn more about Oolite Arts >