The artist at work in her Bronx studio.
Born in 1991, Bianca Nemelc is a figurative painter whose work explores the connection between the female form and the natural world. Born and raised in New York City, Bianca's work is inspired by her own investigative journey into her identity, paying homage to her heritage through the use of many hues of brown that make up the figures in her work. The world within her paintings are loosely inspired by the tropical and Caribbean landscapes where her families are originally from and her roots can be traced back to. Through her work, Bianca aims to highlight the beautiful and symbiotic relationship between nature and the female body.
Based in New York City, the artist lives in Manhattan and works in the Bronx.
PHILLIPS: What does your creative process look like? What are you drawing inspiration from at the moment?
BIANCA NEMELC: Right now my creative process is at the whim of how I'm feeling on any given day. Since lockdown for the last 2 months, I've been working in my living room and just going with the flow. Some days I wake up with the sun and just start painting, while other days are much more introspective with no painting at all. I'm drawing a lot of my inspiration from my own emotions and then connecting them with this outside, natural world that I don't have as much access to right now. Sunshine and water are recurring elements in my work and they are helping me make peace with the chaos and restlessness that occurs while being home all the time.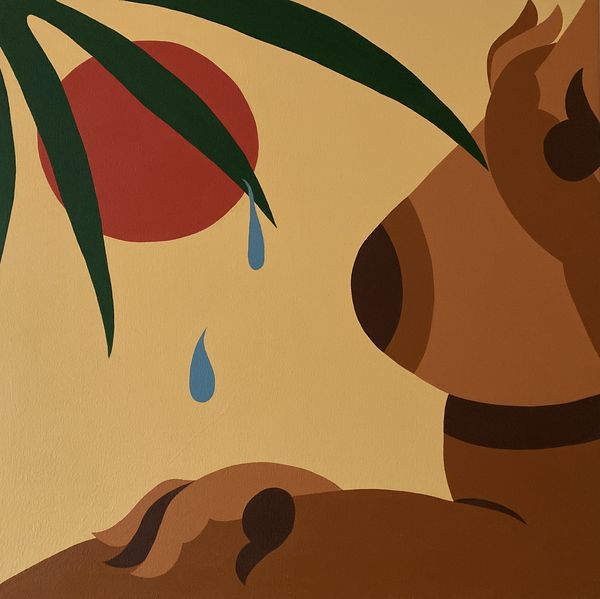 Quenched, acrylic on canvas, 2020.
P: Where's your current home base in the midst of the widespread lockdowns and how are the changes affecting your process?
B: I'm in New York City, which has been hugely impacted by the pandemic. I'm working of my living room until the city reopens and allows me to travel to my studio. There as been a lot of pain felt at this time collectively and the lockdown has given me the chance to step back from "process" and coexist. I think more than anything, this lockdown has provided the space to remember that at the end of the day, I'm human and that it's just as important to feel rather than constantly do. I'm very fortunate to have the ability to transform my apartment into a workspace so I try to take advantage of that as much as possible.
P: How important is a sense of place for you and your practice?
B: I think having a sense of self is equally, if not more important, than a sense of place. Finding home within myself allows for the ability to find my place in the physical world. When I'm painting these bodies floating in water, or women interacting with nature, I'm essentially highlighting the importance of finding home and that sense of place within myself. With that comes endless possibilities to exist and flourish in many different ways, sometimes all at once. So yes, having that internal security allows me to navigate my practice more comfortably within my physical environment, especially as it shifts and takes new forms.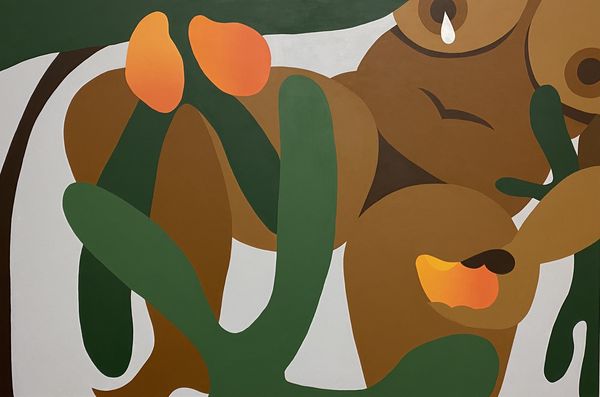 She Eats What She Grows, acrylic on canvas, 2020.
P: Is there one thing in your studio or your surroundings right now that holds special value for you?
B: My record player has been a saving grace during this time. Music and the body go hand In hand. When painting, there is movement in everything—the wrist, the brush, my feet shuffling from one side to the other. Especially now, music has provided such comfort and such positive energy. Rhythm helps awaken my limbs and my mind so that I can be in the headspace to make something beautiful.
P: Many galleries, museums and art fairs are offering virtual viewing rooms, exhibitions and programming. How do you feel about this increased move towards the digital both for your work and the art world overall?
B: Part of me feels like it's inevitable—we live in a very digitally-focused world and in some ways, there is no other choice but to adapt. On the other hand, there is something so powerful about being in the same physical space as artwork and exchanging energy. There is a whole part of the narrative that disappears when work is confined to a phone screen and that's the part that can't be replaced—that weight and that presence—for me and I'm sure for many other artists.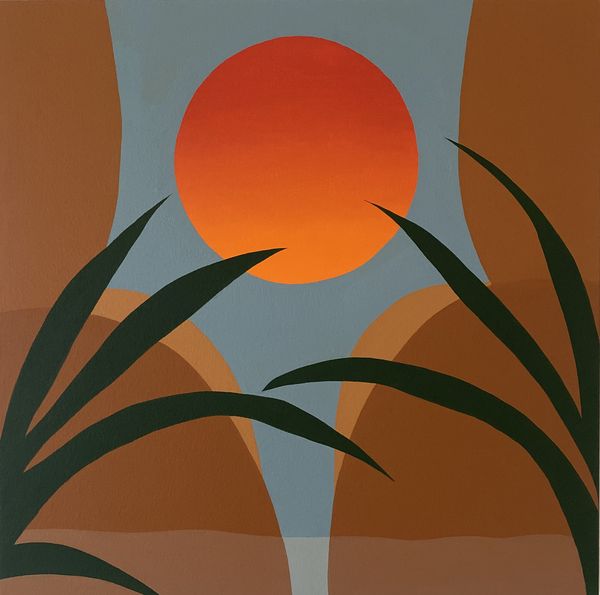 Between The Mountains, acrylic on canvas, 2020.
P: What's next for you? Is there an idea or future project you are particularly excited about?
B: I have a tentative solo show in NYC this summer with Cheryl Hazan Gallery, depending on the reopening of the city. I would love more than anything for people to actually go see it in person *fingers crossed.* Otherwise, I am very excited to continue making work that makes me proud more than anything else!
Learn more about Bianca Nemelc