Amoako Boafo Cobinnah with Yellow Nails, 2019. Estimate: £25,000-35,000. Offered in connect / reflect / COLLECT.
Amoako Boafo's highly intimate portraits are immediately enticing in their clarity, gestural surfaces and unfaltering constant gaze of the sitter. At once sincere, relaxed and familiar, the eyes form the important focal point of each work and command the observation of the viewer. Accentuating and heightening the facial features of his subjects, Boafo frequently isolates the central figure against a spare or monochrome backdrop, enhanced with gestural nuances and texture.
Boafo portrays friends, celebrities and acquaintances from the black diaspora, much like the artist himself, born in Ghana but now living in Austria since 2007, in order to highlight 'self perception and beauty' (Amoako Boafo, quoted in, 'Artist's Statement', Artist's website, online). His sitters importantly invite a celebration of their individual identity and a reflection on Blackness, requesting an understanding of its diversity and complexity. "Most of the characters are people that share the same ideas as me. Others are also people that I find strength in—how they celebrate/live their blackness" (Amoako Boafo, quoted in Victoria L. Valentine, "Amoako Boafo's First Exhibition at Roberts Projects in Los Angeles Centers Black Subjectivity," Culture Type, 15 February 2019, online). Boafo's treatment of black skin—varied in comparison to the background in which the surface is built up using brushes – is made up of energetic, spirited finger-painting to create the shifting texture and movement of contours in colors of blue, tan and brown across the face, carving the face on the paper, evoking comparisons with the irregular aesthetic of Austrian painter Egon Schiele, who likewise took a gestural approach to portraiture.
The primary idea of my practice is representation, documenting, celebrating and showing new ways to approach blackness. — Amoako Boafo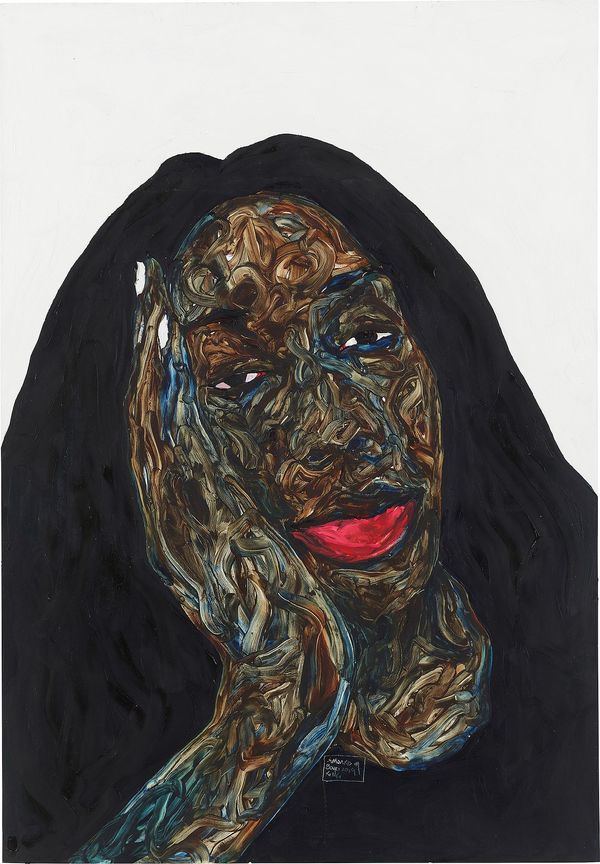 Amoako Boafo Sleepy Lady, 2019. Sold for £106,250 in Shaping the Surface.
Alongside the influences of the Austrian master Egon Schiele, Boafo also cites Kerry James Marshall, Lynette Yiadom-Boakye and Kehinde Wiley as influencing his work. Famously, Kehinde Wiley "discovered" Boafo on Instagram and recommended him to Roberts Projects in Los Angeles, where in 2019 Boafo had his first solo show in the United States entitled I See Me, widely regarded as the artist's breakthrough exhibition.
Boafo was chosen in 2019 as the initial artist-in-residence at the new Rubell Museum, Miami, during which he worked on paintings that were to be presented at the institution's opening exhibition. Boafo's move to Vienna from Accra, Ghana, to study at the one of the world's oldest and most prestigious art schools Akademie der bildenden Künste Wien, holds particular significance because pursuing a career as an artist was not a traditional choice in his home city: "Art has really never been a part of my life growing up, because no Ghanaian parents would encourage their children to study art since it will not bring them stable income. [But] for me, drawing was one way to avoid a beating or getting into any trouble. Instead of running around, I will just sit home and draw" (Amoako Boafo, quoted in Victoria L. Valentine, "Amoako Boafo's First Exhibition at Roberts Projects in Los Angeles Centers Black Subjectivity," Culture Type, 15 February 2019, online). Following his move to Vienna and finding that the establishment did not support the portrayal of black people, Boafo co-founded "We Dey" ("We Are" in pidgin) in 2013—an artistic collective that sought to re-introduce black perspectives to the Viennese art scene.

Making his auction debut at Phillips, London in February earlier this year with The Lemon Bathing Suit selling for £675,000 against estimate of £30,000-50,000, we are delighted to offer the contemplative, intimate portrait Sleepy Lady in Shaping the Surface: Online Auction, as well as Cobinnah with Yellow Nails in connect / reflect / COLLECT.