Artist Beatriz Milhazes in her studio. Photo by Vincente de Paulo, 2013.
Born and raised in Rio, Beatriz Milhazes's practice includes painting, printing and collage. With vibrant color, optical movement and energetic visual cadences, her abstract work fuses a diverse repertoire of images and forms, combining elements from her native Brazilian culture with European abstraction. As a painter, Milhazes uses a unique transfer technique, first painting on plastic sheets before peeling away the dried shapes and collaging them onto the canvas, which results in an image that is superimposed onto the canvas. For these paintings, as well as her collages, prints, and installations, Milhazes draws on a wide range of aesthetic traditions, including folk and decorative art, European modernism, and Antropofagia—a movement founded in the late 1920s that proposed "cannibalizing" the supposedly high-minded European traditions to create a distinctly Brazilian culture. Milhazes is at the center of the 80's Generation— a period of the Brazilian art characterized by the return of young artists to paint.
Living and working in Rio, Milhazes' works reside in numerous permanent institutional collections in addition to her many solo exhibitions including White Cube Gallery, London (2018); PAAM - Perez Art Museum Miami (2014-15); Paço Imperial, Rio de Janeiro (2013); MALBA, Fundacion Costantini, Buenos Aires (2012); Fondation Beyeler, Basel (2010); and Fondation Cartier pour l' art Contemporain, Paris (2009) and has also participated at Shangai Biennial (2006); Venice Biennale (2003); São Paulo Biennial (1998, 2004); among others.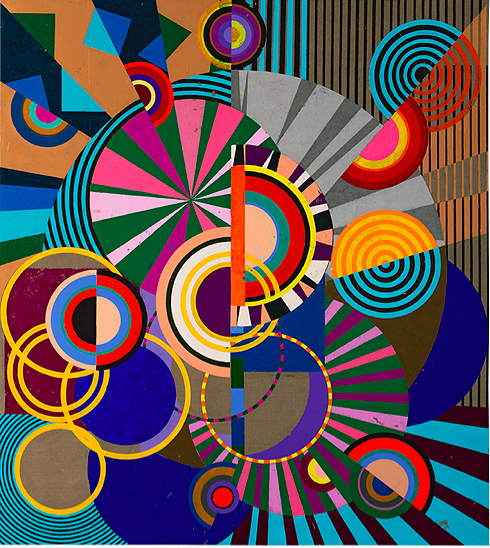 Sonho Tropical, Acrylic on canvas, 2017. Photo Pepe Schettino.
CANDIDA SODRE: What challenges do you often find starting a new work or series? And are there new ways of work you want to explore?
BEATRIZ MILHAZES: Every time I start a new group of paintings, I introduce new questions and elements. My work in process is based on evolution. Every new element introduced creates a "chain reaction" that will evolve, in months or years, in a completely new picture.
Painting is my prime "raw material" but it has been having a great exchange with all other mediums I work with, especially collage and prints.
CS: I know you found it hard to work in your atelier, on your own, at the start of the quarantine period. How was this?
BM: I'm a studio artist. My studio is the soul of my creative process. I need to recognize the space where I will be working as my space, with the atmosphere I need. When the quarantine started I thought that I would be able to keep going to the studio by myself and work regularly but that was not possible. There was something in the air that made me feel uncomfortable. Then I decided to put in practice an idea I've been interested more recently, to draw.
I set a drawing studio at home. Perfect moment, perfect space, intimate as the quarantine demands.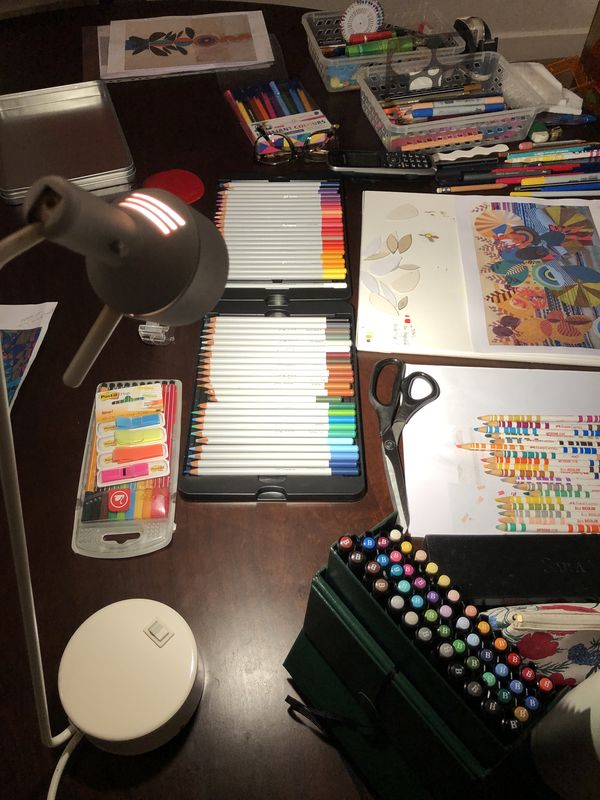 CS: Working from home now, what are the big changes?
BM: I never worked creatively at home. Since my very first studio, I have separated spaces for separate times of living. My studio has been where I spent most of my day and it was very important to close the door and go back home.
I had never experienced to live in a quarantine, I'd never experienced my hermit side so intensely... so this is a perfect time to introduce a new way of thinking and developing my art process.
Actually, the perfect time to think.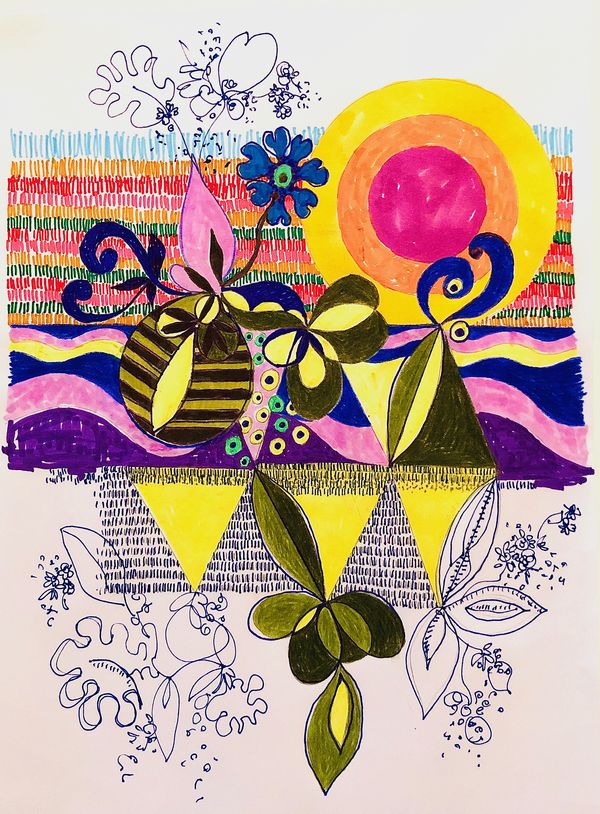 Março, colored pencils on paper, 2020. Photo courtesy of the artist.
CS: Having to step away from your routine, is there a book, a film or a project to begin or return to?
BM: I have 3 exhibitions scheduled for the end of this year, beginning of 2021. A survey show at MASP and Itaú Cultural / opens Dec 2020 Jan 2021; My first solo exhibition at The Long Museum in Shangai, Nov 2020. Also, Taschen will launch the Trade Book about my work from 1989 ‐ 2019. With courage and hope, we will open all the projects!
Beatriz Milhazes at Pace Gallery, New York
Beatriz Milhazes at White Cube Gallery, London