An Enamel, Diamond, Gold and Platinum Art Nouveau Brooch, circa 1900.
Every jewel has a story. Some may be short and succinct, but others prove more complex. This is the story of an art nouveau butterfly brooch, which was a gift from my mother shortly before she passed away. This brooch has been in the family for four generations, always passed along the maternal line. As a sentimental traditionalist, I believe strongly that a piece of jewelry like this should remain in the family, providing that it will be worn, loved and appreciated.
The unwritten but recounted history of this brooch begins on a sidewalk in New York City, when a family member found a pouch filled with jewelry around 1915. Without any identification, and being law-abiding citizens, the jewelry was brought to the police department where it remained unclaimed for more than a year. Having no takers, the pouch and contents were eventually returned to my family. And so this serendipitous event marks the point of entry of this brooch into my family.
However, closer inspection of the piece tells of an earlier beginning, somewhere between 1895 to 1905, perhaps even as late as 1908. This butterfly brooch bears the characteristics of an art nouveau jewel – based on the design and composition, material, gemstone, coloration and workmanship. Nature was the central theme in art nouveau jewels. It was a fertile period of creativity and discovery; jewelers were experimenting with new material such as horn, ivory and even molten glass. There was a renewed appreciation for the fine workmanship of handmade jewels. Some trace the origins of this brief but rich period to the opening of Siegfried Bing's Parisian La maison de l'art nouveau, in 1895. But more likely, Bing was responsible for propagating and spreading this movement that melded and unified fine and applied art with craft across Europe.
Some jeweled creations, such as this brooch, were demure in size and naturalistic in design. Still other jewelry was larger and more dramatic - some more fantastic and exotic - often incorporating sensuous female forms, curvaceous lines, or animal and insect motifs. Yellow gold was the medium of choice, but silver, white and green gold were utilized too. Even platinum was used in the latter half of the period, but sparingly, and most often to highlight diamonds which were then considered accent stones.
In this jewel, we see the use of platinum, which is applied on top of yellow gold along the undulating borders of the wings, antenna as well as the thorax. The old mine and rose-cut diamonds are further enhanced with millegraining (coming from the French term for 1,000 grains) or set with extremely tiny beads.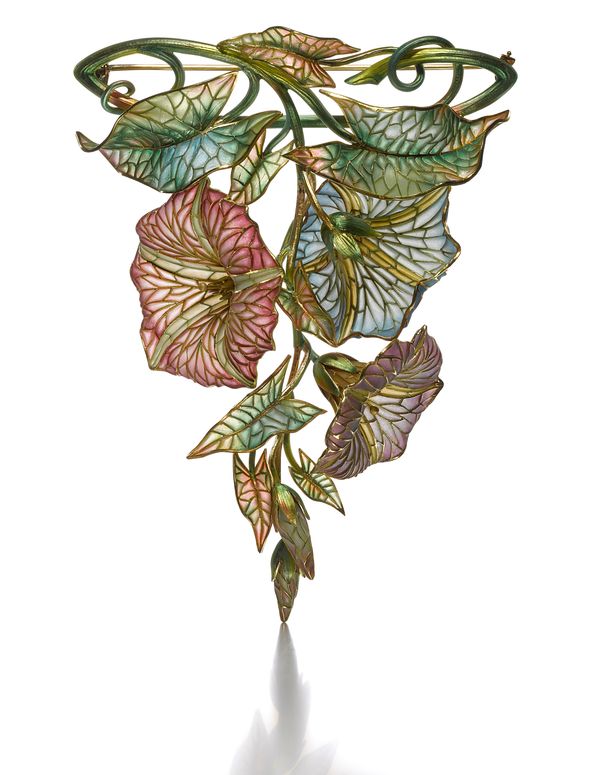 Marcus and Company A Gold and Plique-a-Jour Enamel Morning Glory Pendant Brooch, New York, circa 1900. Newark Museum of Art Collection. Photo Credit: Siegelson, New York.
In general, the color palette of art nouveau jewels was more subtle - softer shades and earthier tones prevailed. There was a sensitivity to hue and saturation, as well as interest in how light responded to color in these jewels. The organic shape and play of color that came from baroque pearls and opals made them perfect for this aesthetic. Like many of the jewels from this era, it was the enamel decoration that played a significant role in providing color in lieu of large gemstones such as sapphire, ruby and emerald. Conversely, appreciated for their warmth of color and used parsimoniously - amethysts, peridots, or aquamarines were adopted and less expensive. Various enameling techniques were employed. In this brooch, color was achieved through the technique called plique-a-jour. In this process, the enamel is applied to open cells and then fired, thereby creating a transparent window that allows light to pass through, much like a stained glass window. This meant that the color was not static, but responded to light in a very natural way.
There was a tremendous emphasis on workmanship; only a master bench jeweler could create this type of mounting before passing the brooch to a skilled enamellist. Once the enameling was complete, the diamonds and gemstones would be set and the jewel assembled. While many of the jewels were similar in theme, often featuring butterflies, dragonflies, bats, owls or flowers, no two are the same. These jewels were undoubtedly a labor of love and complex to create; the end result was a delicate and unique jewel.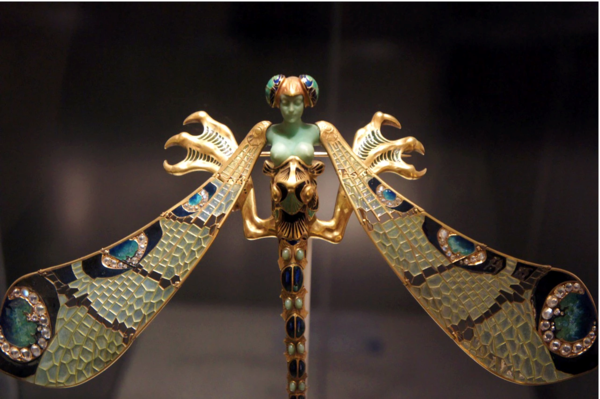 René Lalique An Enamel, Chrysoprase, Chalcedony, Moonstone, Diamond and Gold "Dragonfly Lady" Corsage Brooch. Museum Calouste Gulbenkian. Source: Wikimedia Commons.
During this creative renaissance, many of these jeweled creations were symbolic, with the ethereal butterfly representing transformation and spiritual change. Indeed, the world at the turn of the century was changing fast.
Accidents do happen, even when one is careful. During my mother's tenure as custodian, the brooch fell on the pavement damaging the enamel. After waiting several months for repair, the butterfly brooch returned. While the color scheme is similar to the original, the enamel is slightly more saturated thereby modifying the play of color; and the wings are no longer gossamer. Despite this alteration, this family jewel holds a special place in my heart.