Ceramic artist Anders Herwald Ruhwald. Photo by Samantha McCain Veach. Courtesy of Newfields.
Danish-born and Chicago-based ceramic artist Anders Herwald Ruhwald creates both small, discrete pieces as well as entire built environments, though his use of clay remains constant. Another constant in his work is that location and space are integral to each work's meaning. For example, in his upcoming exhibition titled Century Garden, he has created five groups of ceramics that will be placed in the gardens of the Lilly House at the Indianapolis Museum of Art at Newfields. The forms of these pieces will provide surprising and delightful changes to what one would imagine seeing in a typical European-style garden. Many of the pieces function as planters that will hold both tropical and native species and further question the relationships among the garden's history, the clay forms, and the plants themselves. In this way, like much of Herwald Ruhwald's pieces, the meaning of his work arises out of its context.
Herwald Ruhwald's work belongs to the permanent collections of museums worldwide, including the Philadelphia Museum of Art, the Victoria and Albert Museum in London, and Musée des Arts Décoratifs in Paris.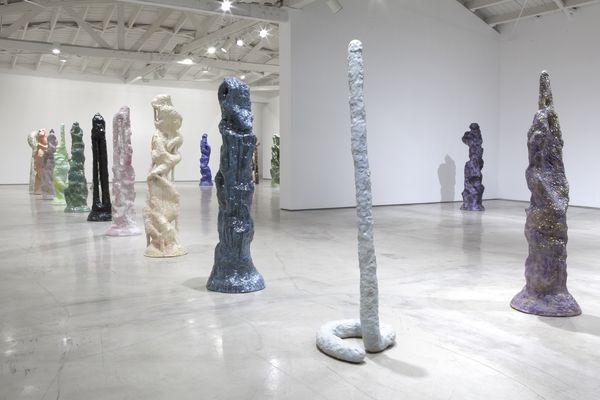 Installation view, The Hand is the Mind is the Bomb that Blows, Moran Moran Gallery, Los Angeles, 2017.
PHILLIPS: Is there a specific space or object within your home or studio that you draw inspiration from, or return to, when thinking about new ideas for your work?
ANDERS HERWALD RUHWALD: I work with objects in the context of space and so how an object occupies a space is really at the core of how I think about my work and how it is developed. Most of the time this means that the work that I do is a response to a specific space considering both its formal layout and history. It is hard for me to see an object isolated from its surroundings and as a result, I try to bring these contexts and politics of that space into the conversation of the work. My work also changes quite a bit and I work across a range of formats from singular objects to fully immersive installations.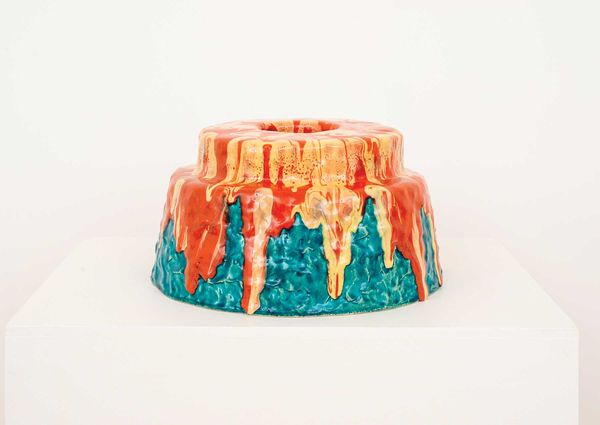 Glasur Stykke #44, Glazed ceramics, 2019. Courtesy of Moran Moran Gallery, Los Angeles.
P: When deciding which materials you use in your work, what are the most important factors you consider? Are there any materials you'd like to explore next that you haven't tried yet?
A: Like most other teenagers in the early '90s I probably spent too much time watching TV and playing video games. By coincidence, I found ceramics when I was 15 and suddenly acquiring an ability to make real things that would last altered my perspective on the world and what I might be able to do. Getting to know and understand ceramics at a relatively early age continues to define how I work and approach materials and while I work with a range of materials, ceramics is always in there somewhere. Clay and glazes are materials that I think with. I think of them as extensions of my body, like tools that I employ in order to give form to my ideas. I need materials in my hand to get the process going and find I often learn from the materials as I try to make clear to myself what I am aiming for. Without materials, my mind lingers and the ideas never seem to settle. I need to see a physical thing in front of me to know if I am on the right path. Drawings and renderings have never really done it for me. Recently I have spent an inordinate amount of time developing glazes and trying to find new possibilities through this research. It is tedious work and most of the time the results are pretty uninteresting, but in between there are little revelations that open up new possibilities. I am not looking for the cheap thrill of a spectacular glaze, but more something that is odd or unexpected. The designer Ole Jensen has described some of my glaze work as "bad" which I think he meant as a compliment—often it's the things that I dislike that I will end up learning the most from. Glazes are part of a deep material history for which we don't have that much-shared language and I continue to find possibilities in that gap.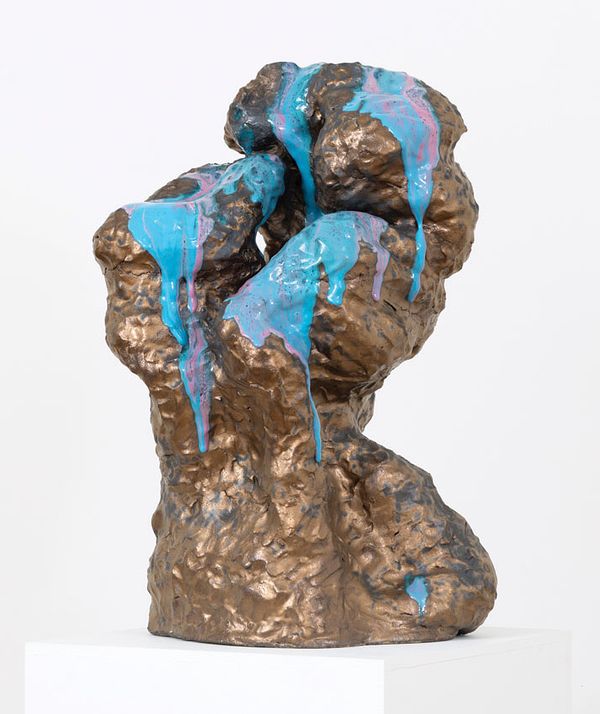 Second Skin (Rose/Blue), Glazed ceramics, 2019. Courtesy of Volume Gallery, Chicago.
P: What challenges do you often face in your design or creative process?
A: My work is very time consuming and pieces often take 3-6 months to complete. It is challenging to stay focused particularly since I will be working on a number of pieces at the same time. So I will often set some of the pieces in progress to the side and try to pretend they don't exist in order to free up mental space. But it is almost impossible and at times it feels overwhelming. My partner, the artist Marie Herwald Hermann, and I recently relocated to Chicago and after 18 months we are finally settled into a new studio that we share. We had been in three different studios for the last three years and it got to a point where it seemed like everything I needed to do got complicated by what I did not have access to. I am not a big equipment nerd, but through this process, it really became clear what I needed to be able to realize the work. Fortunately, I was able to invest in some new equipment which means that now we pretty much have all we need at hand.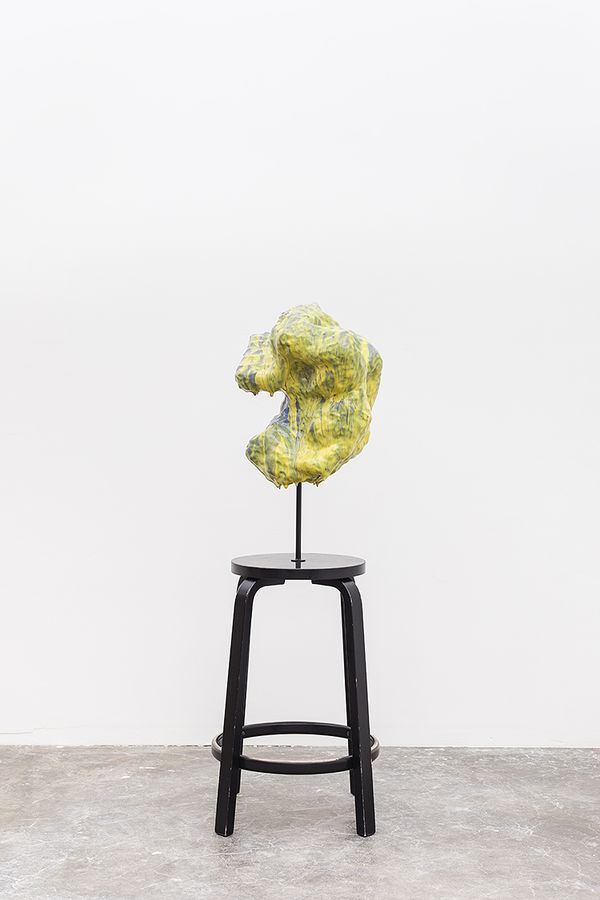 La Dolce Vita (Adaptable Body- Yellow Purple on used Aalto stool), Glazed ceramic, Alvar Aalto bar stool no 64, steel, 2018. Courtesy of Volume Gallery and Officine Saffi, Milano.
P: Having to step away from your usual day to day schedule, is there a book/film/project you'll take this opportunity to begin (or return to)?
A: We have a 7- and a 9-year-old and so it's not like we are swimming in time with the schools being closed till September at least. But I often return to George Perec's novel Life—a User's Manual, which is a book of interwoven stories originating from a Paris apartment block over the course of about a century. Different people occupy the same spaces, but at different times, and so Perec is prefacing the architectural framework as well as the objects that occupy these spaces and uses these as the basis for the narratives that unfold. Some of the chapters are just lists of things and so it's a book that insists on the materiality, form and structure as a preface for experience. It is a source of endless ideas to me as it manages to connect narratives, people, places and objects in the ephemeral bind of time. Besides this, I am building a roof deck on our loft here in Chicago so we have a place to escape to when it starts getting warmer.
P: Where is the future of your practice headed?
A: I never really know. I am lucky to have a number of shows lined up for the coming two years including Century Garden which is an outdoor solo show at the Indianapolis Museum of Art at Newfields this summer, Travel as Tool at Design Museum Helsinki in Finland, Objects USA at R & Company in New York in September, a solo show with Andersens Contemporary in Copenhagen in November (the first in my hometown in over 12 years) and a solo with Moran Moran in Los Angeles next year. But of course, everything is up in the air right now and so many things might change…my work probably will too.
Anders Herwald Ruhwald at Volume Gallery, Chicago
Anders Herwald Ruhwald at Moran Moran Gallery, Los Angeles
Permanent Installation Unit 1: 3583 Dubois, Detroit