- by Tiffany To
With the rise of social media and chat forums, it is increasingly difficult to find new discoveries today. Whether a buyer or a seller, eyes are everywhere, from small auction houses to government municipal sales. Thus, when a chance to unearth a hidden gem arises, it is a true pleasure for any auction house specialist. Thus, the existence of the present reference 6200 is testament to the fact that jewels can still be hidden for many years and found in the most unassuming of places despite the rise of technology.
Around six months ago, I received a call from a client, excitedly telling me that he had found an "important watch". At the time, I was intrigued but balanced – we often hear these kinds of statements and to set the bar high would mean that one would inevitably become disappointed. I had asked for more information, but the client was cryptic and only said, "You'll see".
A month later, we had finally agreed on a date and time to meet. Knowing my excitement, the client had drawn out our preliminary conversation. We discussed his family, his business, and his recent trips around Europe. Around thirty minutes later, I couldn't suppress my excitement and blurted, "Please, can I see the watch?" With a smile of a Cheshire cat, he took out a small, beaten up bag and passed it to me. As I opened it up, my eyes widened: It was a reference 6200 – a big crown Submariner with an "explorer" dial. A "Big Crown" Submariner is an incredible find, yet to discover one with this dial configuration is truly a specialists' dream. However, before one could celebrate, due diligence had to be done. Questions needed to be answered such as - does the serial numbers match with the dial? Has anything been tampered with? How is the overall condition?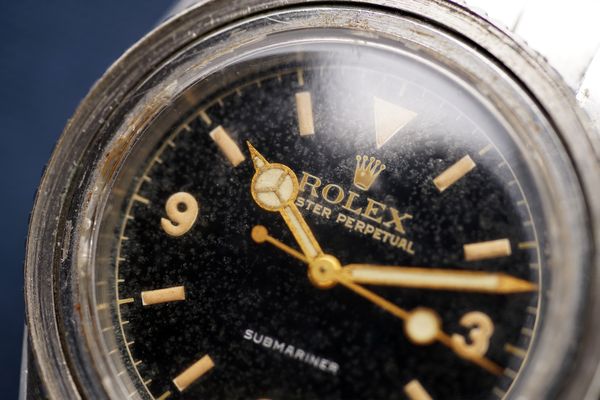 Lot 32 of The Geneva Watch Auction: XI - link
Most fortunately, the dial was correct for the serial number, as was the caseback, crystal (showing exactly how the watch should look like after having lived a full life) and overall proportions.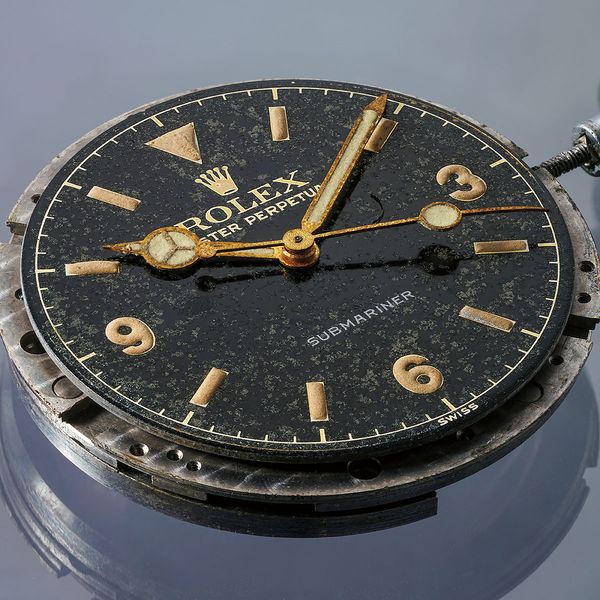 Displaying crisp bevels, edges and facets, this reference 6200 is preserved in absolutely "barn find" condition. In fact, it was found in Egypt, in a souk. Most importantly, the dial is preserved in extremely attractive condition with barely any losses to the luminous material, which has aged evenly to a beautiful warm sandy hue. The dial has not been altered throughout its life (which is a marvel in itself as many existing examples today have been "touched up" at least once during its lifespan), and the gilt graphics shine through beautifully. It still retains part of its glossy exterior, yet has also aged in the most charming way. The inside caseback bears only one service mark - it is possible that this is the only intervention the watch has seen throughout its lifetime, and when the hands were changed, most likely during the 1960s.
Used throughout its lifetime, this timepiece (like many of its kind) lost its bezel insert somewhere along its life. In order 
to preserve the integrity of the timepiece, the consigner and Phillips have decided to offer the following timepiece in the exact same manner as it was found - without a new insert and with a broken bracelet. Instead, a new-old-stock period correct bezel has been painstakingly sourced and is available for purchase upon winning this timepiece at auction.
Introduced at the 1954 Basel Fair, the Submariner was Rolex's version of a water-resistant dive watch. While references 6204 and 6205 were water resistant to a depth of 100 meters, the more robust reference 6200 offered water resistance up to a depth of 200 meters. This model was nicknamed the "Big Crown" due to its oversized 8-millimeter "Brevet" crown
that enabled cutting-edge water resistance. Of all reference 6200s, the most iconic variant is without a doubt one with an "Explorer" 3-6-9 dial like the present watch.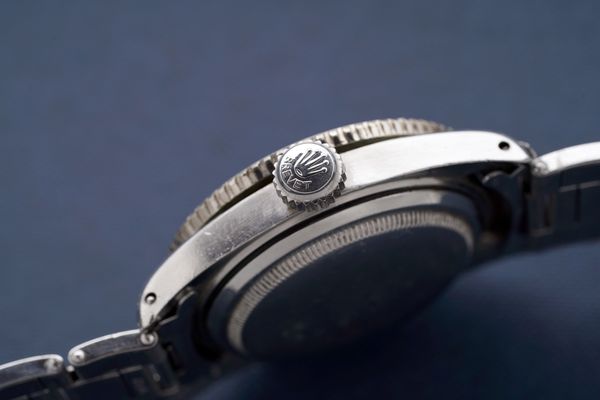 Production numbers of the "Explorer Submariner" were extremely limited and their serial numbers range from 31.9xx to around 32.2xx. With a serial number of 32'258, the present watch is actually 10 digits away from an almost identical example found from descendants of the original owner in Scandinavia and sold at Phillips' The Geneva Watch Auction: NINE. It is incredible how two watches, both made and cased probably on the same day, eventually traveled to opposite ends of the globe.
This reference 6200 ticks all the boxes for the passionate collector. Boasting a large 37.5-millimeter case, it displays a highly desirable "Explorer" 3-6-9 lacquer dial. Most interestingly, this particular model has the "Submariner" script above 6 o'clock, making it a particularly rare variant as most known examples do not display writing on the dial. No more than a few correct examples are known in this configuration, underscoring the rarity of this timepiece. Most importantly, its honesty and purity is a solid reassurance to any collector that he or she is buying a timepiece that is sound and unspoiled both in its history and appearance.
To learn more about Lot 32 of The Geneva Watch Auction: XI, please visit our online catalogue.