- by Daniella Rosa
I had always worn a watch throughout my younger years. For whatever reason, I always felt better knowing I had constant access to the time. I gained a humble appreciation for the importance of time from my parents, both of whom always wore a watch in their daily lives. Neither of my parents ever wore a watch to make a spectacle, it was more of a means of staying connected to time – an idea which I have continued to appreciate throughout my entire life.
My watch-wearing evolution started out as a pre-teen with a small number of 'stylish' watches. The first was a light blue Baby-G which acted as my time-teller, alarm clock, and night light all in one. Once I put this magical jelly-blue instrument on my wrist, I barely ever took it off. I suppose it acted as my version of a 'tool' watch at the time, and it practically became a part of me for a number of years!
I eventually graduated to a TAG Heuer Lady's Aquaracer. This 27mm stainless steel watch was gifted to me for my 16th birthday and featured a special mother-of-pearl dial and a scuba gear engraving on the caseback. My father, a retired commodities trader turned avid model-boat-builder, had an attention to detail that was second-to-none – so the subtle details of this TAG very much reflected his style, making this watch even more special for me. Overall, the watch was perfect for my daily life as a high school and college student. It was reliable and water-resistant and could stand up to practically anything that it came in contact with.
Fast forward to 2008. I was in college and had been eyeing the Chanel J12 in white ceramic for some time. I loved the look and the durability of this watch – and as a 20-year-old college student, this watch was next level and felt a bit out-of-reach. My sophomore year of school, I was fortunate enough to spend a few months studying abroad in Italy and decided to visit Venice for a weekend. One thing led to another and we decided to pop into a Chanel boutique for the experience. That brief stop resulted in a spontaneous purchase of a white ceramic J12 accompanied by many happy tears and a load of excitement! This watch brought me so much joy for a number of years, and with the 20th anniversary of the J12 occurring this year, the memories connected with this watch continue to flood back!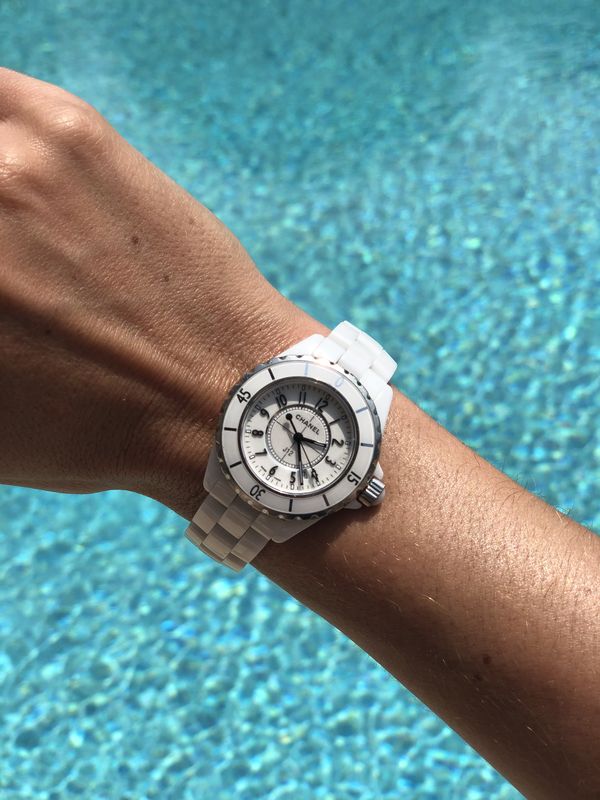 I wore my J12 almost every day for ten, yes ten (!), years until I found myself beginning to appreciate vintage watches. My interest in both contemporary and vintage watches, which I did not fully realize until I started working with the Phillips Watches department in New York, blossomed from both the experiences and usefulness associated with timepieces I had worn throughout my life. After joining the Watches team in 2017, I quickly began learning the ins-and-outs of the collectible watch world along with realizing its incredible depth and breadth. Continuously learning about 'blue-chip' brands while also developing an understanding of Independents and smaller, less-advertised brands over the past three years has not only shaped my knowledge, but has also helped me identify my own taste and style (browsing the Phillips inventory each and every day tends to, almost unknowingly, have that effect). For an entry-level collector, this type of access to watches, and a plethora of watch market and historical information was a blessing in disguise. I was able to organically build a foundation for my collecting journey which would, eventually, spark my interest in purchasing a vintage timepiece.
It was in late 2017 that I began to love steel dress watches on bracelets, specifically Rolex Datejusts with a darker dials. I was attracted to its practicality and robustness, a larger case size than I was typically used to wearing (36mm), and the steel case material which gave the watch an understated look with an air of elegance. So at this point, I had a style in mind and price point to stick to. The next step? How to get my hands on my first vintage watch.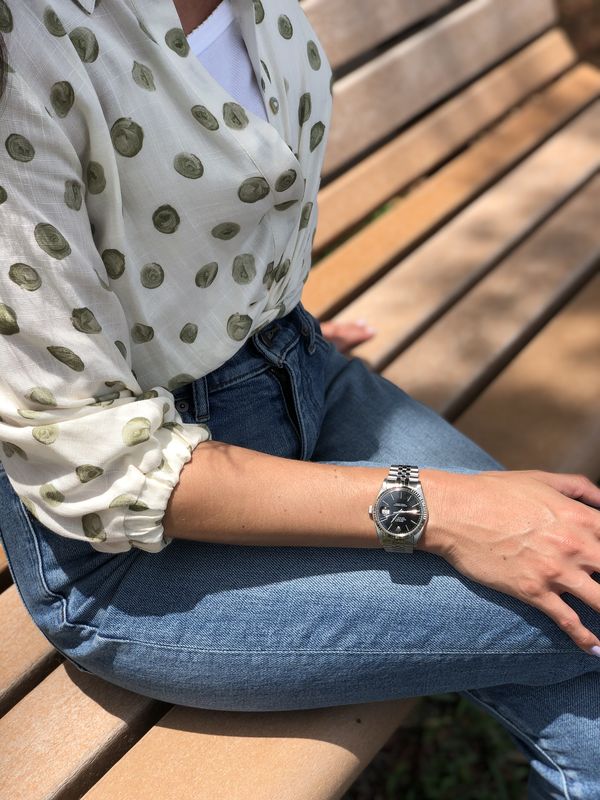 I am fortunate enough to be surrounded by some of the best-of-the-best in the watch industry who have the ability to source an entire spectrum of watches throughout the year, even watches at an entry-point level. Come March 2018, a member of the Phillips team finally found my dream 'first vintage watch' - a 1978 Rolex Datejust ref. 16014 with a glossy black dial in stainless steel on a 'Jubilee' bracelet. The decision to purchase needed to be quick as, apparently, a well-priced vintage Datejust in great condition with such a rare black dial was a hot commodity. I was nervous and excited and scared all at the same time. Questions running through my head ranged from 'Am I really ready to commit to this watch?' to 'I'm spending within my means, but will I regret this decision tomorrow?' Turns out, the answer to the first question was YES, and the answer to the second question was NO. I ended up purchasing the watch, and upon receiving it the week after, was absolutely thrilled with my decision! This steel beauty had all the elements that I was looking for in a vintage watch – great condition, perfect price point, durability, and all the aesthetic elements of a more subtle, yet significant, looking dress watch. Yes, a 36mm Datejust was originally intended as a man's watch, however, I can unequivocally recommend it for ladies – even those with tiny wrists like mine! And the most exciting part? The rare, glossy black dial made me feel like I was wearing a watch with a secret.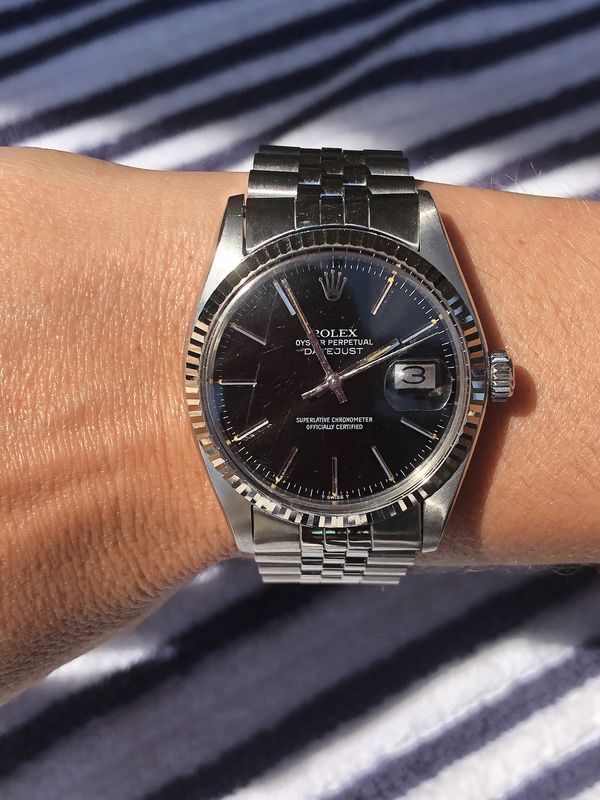 My Datejust has since become my every day watch and is a piece that I absolutely adore because of this purchase experience. I enjoy very much wearing such an uncommon vintage watch, often receiving compliments from experienced watch enthusiasts and non-watch friends alike. The support system within the Phillips Watches team was able to not only assist me with this purchase, but also helped me recognize my unique taste within this wonderful world of collectible watches. I was able to find a watch that I love aesthetically, but also for its history. After all is said and done, this experience has truly allowed me to comfortably grow into the amateur collector that I am today, propelling me on my own collecting journey that I look forward to continue cultivating in the future!