Ceramist Alev Ebüzziya Siesbye
The Turkish-Danish ceramist Alev Ebüzziya Siesbye established herself as a formidable artist in the 1970s and 80s when she began making bowls and vessels with serene cerulean glazes. Trained as an artist in Istanbul and as a practitioner at ceramic factories in Germany and Denmark, she ultimately settled in Paris where she makes about 30 bowls per year. She has since moved on from her iconic blue vessels and prefers to work in a range of striking colors, particularly reds and yellows, but her work retains the same potency as her earlier pieces. Her forms are minimal but not simple. She wants to obtain a vibration or an aura in her work which creates a sense of dynamism—a certain metaphysical quality—that supersedes aesthetic beauty. This quality arises from her meticulous process and from an intimate relationship between maker and material. It takes years to develop her glazes and hours to manipulate the clay into their perfected forms and surface textures. It is no surprise, then, that she has received countless accolades such as the Chevalier de l'Ordre des Arts et des Lettres in France and the Knight of Dannebrogordenen in Denmark (where she had a private workshop from 1969 to 1987) for her work. In addition, Alev Ebüzziya Siesbye's works can be found in the permanent collections of over 34 museums worldwide such as the Victoria & Albert Museum in London, the Musée des Arts Décoratifs in Paris, and the Cooper-Hewitt, Smithsonian Design Museum in New York, among many others.
PHILLIPS: Is there a specific space or object within your home or studio that you draw inspiration from, or return to, when thinking about new ideas for your work?
ALEV EBÜZZIYA SIESBYE: Inspiration is like an onion. Accumulation layer by layer. I have a Hitite thimble from 1300 B.C., three centimeters high, that reflects thousands of years of Anatolian cultures. Every time I look at it I feel I come from it.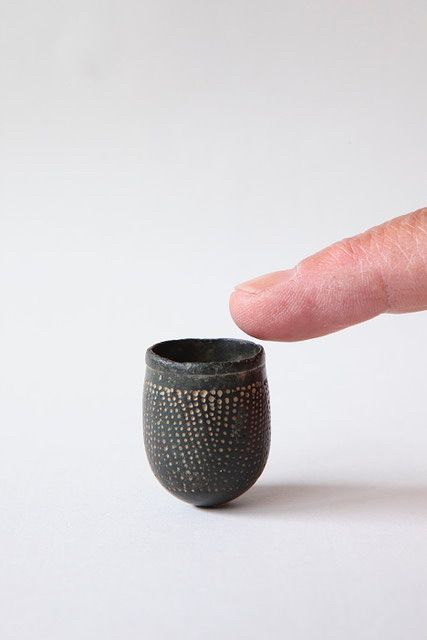 Hitite thimble from 1300 B.C.
P: When deciding which materials you use in your work, what are the most important factors you consider? Are there any materials you'd like to explore next that you haven't tried yet?
A: I use high fire clay only, a material that is alive. It registers everything you do to it. Working with clay is an eternal fight, challenge, dialogue.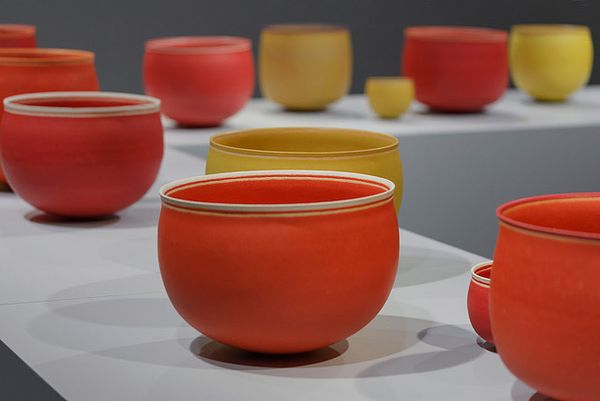 Alev Ebüzziya Siesbye, Galeri Nev, Istanbul, December 2018
P: What challenges do you often face in your design or creative process?
A: The challenge making my work is not perfection but vibration. It must have "DUENDE!"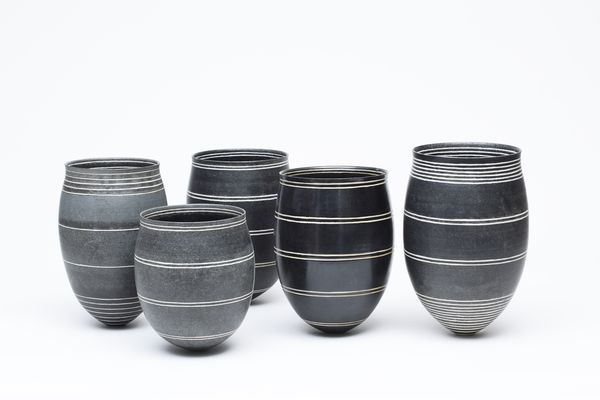 A selection of bowls by Alev Ebüzziya Siesbye, ©Patrick H. Müller
P: Having to step away from your usual day to day schedule, is there a book/film/project you'll take this opportunity to begin (or return to)?
A: Reading, listening to music, sailing in the Aegean and friends around a table is a source of joy.
P: Where is the future of your practice headed?
A: The same but better!!!