Van Cleef & Arpels A Diamond 'Alhambra' Necklace and Bracelet, Circa 1992.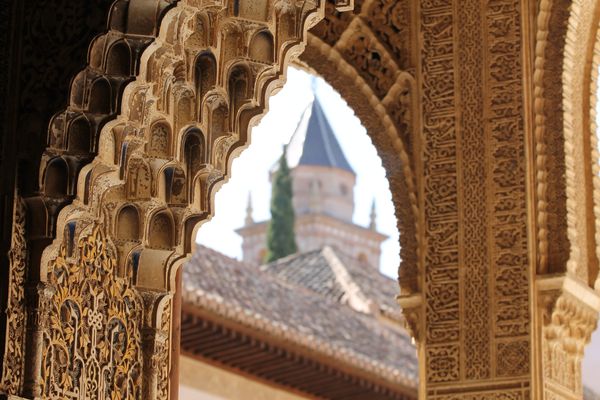 The collection was inspired in part by the Moorish architecture of the Alhambra palace in Granada, Spain.
Born more than fifty years ago in 1968, the iconic Alhambra collection is a talismanic design featuring a four-leaf clover motif, which was said to be inspired by the architecture and pure lines found in the Alhambra Palace in Granada, Spain. Drawing on an even older history, the clover itself has long been a symbol of luck, love fortune and health.
Alhambra was first introduced as part of the La Boutique collection, which responded to the changing women's fashion of the time, addressing a need for versatile daytime jewelry alongside the magnificent pieces they would normally purchase from the Maison for formal occasions.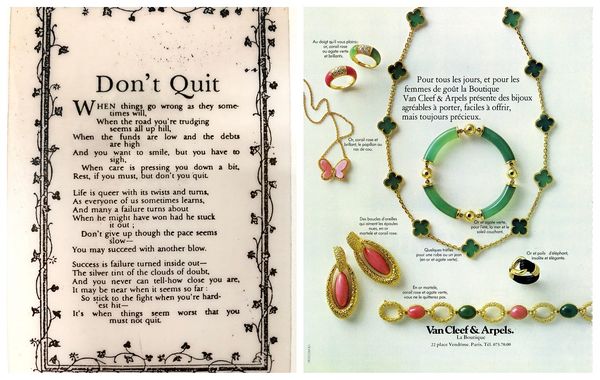 The motif was introduced as part of the La Boutique collection.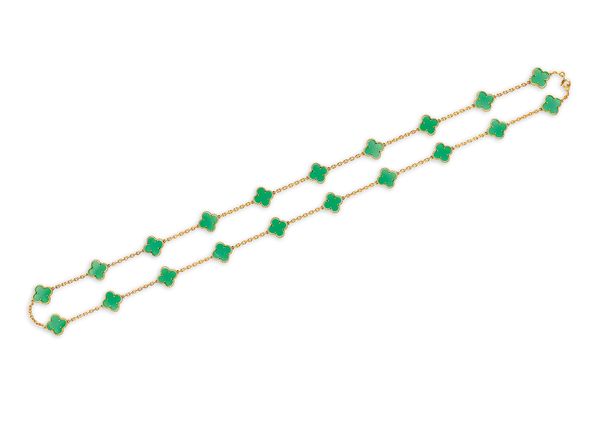 Van Cleef & Arpels A Green Chalcedony 'Alhambra' Necklace. Estimate: HKD40,000-65,000.
The long chain with harmonious lines and yellow gold-beaded details became an immediate hit and was particularly popular among celebrity clients. From Romy Schneider to Princess Grace Kelly of Monaco, chains were causally layered over a blouse or a shift dress. The Princess also suspended a clover-shaped rock crystal pendant from the chains for a personal touch. Though the Alhambra was envisioned as a daytime jewel when it was launched, they are equally suitable for evening wear. Recently, the Duchess of Cambridge stepped onto the red carpet wearing a set of mother-of-pearl Magic Alhambra at the BAFTA Award ceremony.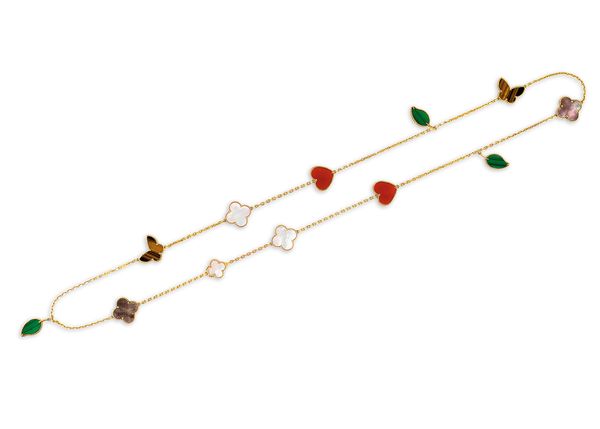 Van Cleef & Arpels A Gem-set 'Lucky Alhambra' Necklace. Estimate: HKD80,000-120,000.
Van Cleef & Arpels, in the world of high jewelry, has long been known for their stunning creations inspired by Nature's beauty. It is not surprising that they select some of the boldest and most attractive colors from precious and semi-precious gemstones for the Alhambra jewels – chalcedony, malachite, lapis lazuli, coral, tiger's-eye, mother-of-pearl, turquoise – constantly delighting elegant women with a dreamlike palette. Despite its seemingly clean sinuous form, no fewer than fifteen successive steps of selection, production and verification are required to create an Alhambra jewel that will withstand the test of time.
As years go by, Van Cleef & Arpels stays true to the original aesthetics of Alhambra whilst expanding the collection through the introduction of asymmetricity, hollowed forms, etched textures and new gemstones, catering to the tastes of an impressive bandwidth of women who treasure them as a staple in their jewelry collection. This season, Phillips is pleased to offer a number of classic Alhambra jewels including a rare vintage example where the diamond-set motifs are linked by clover-shaped chains.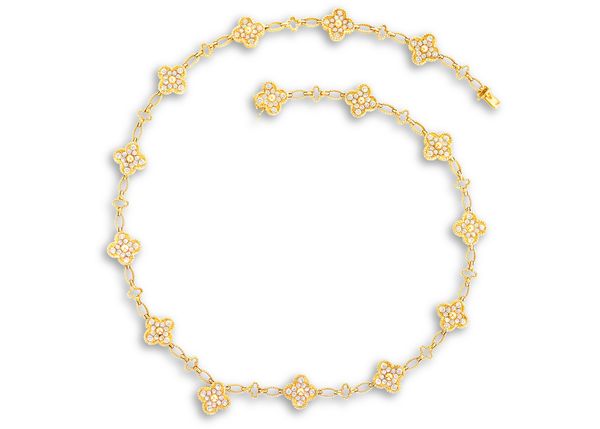 Van Cleef & Arpels A Diamond 'Alhambra' Necklace, Circa 1992. Estimate: HKD150,000-220,000.