Karen Suen found her true calling when her first jewelry designs won admiration from friends and acquaintances. Since then, she has developed an international following and was known for her exquisitely-handcrafted and extravagant jewels. She is a recipient of the Outstanding Greater China Designer Awards and was a winner at The Couture Design Awards 2019 in Las Vegas. Karen spoke with Terry Chu, Head of Jewelry, Asia, to share a bit about her practice and philosophy as a designer.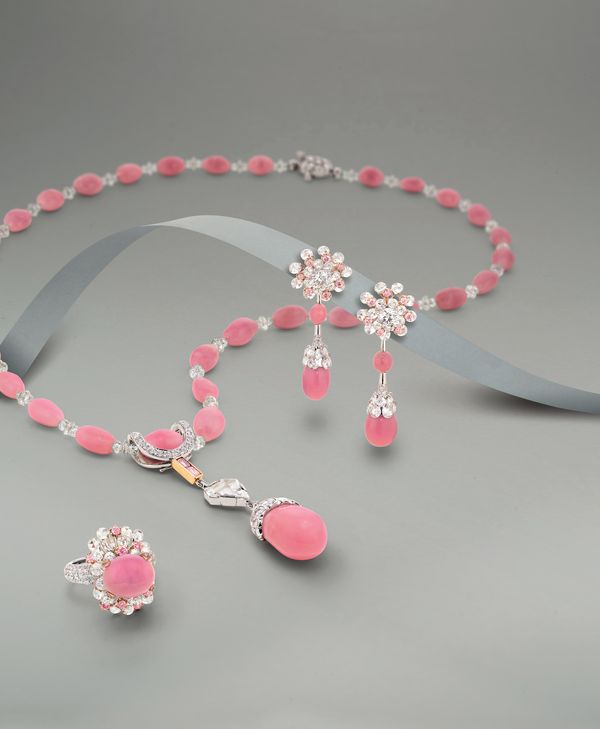 Karen Suen A Conch Pearl, Pink Diamond and Diamond Ring ; An Elegant Conch Pearl, Pink Diamond and Diamond Necklace; A Pair of Conch Pearl, Pink Diamond and Diamond Pendent Earrings.
TERRY CHU: What can you tell us about your design process? Do you usually come up with a design and source the gemstones required, or vice versa?
KAREN SUEN: I like to interact with gemstones prior to designing, to study them in detail. I think this is the only way for me to fully realize the stone's potential and beauty. Therefore, most of my designs are a result of how I understand a gemstone.
TC: You were a dancer before; if I remember correctly? Does this inform your design philosophy?
KS: I am very expressive and sensitive to the environment. To me, a concept is always multi-layered and jewelry design is the same, in that it is highly dimensional. Color and light are the two most important elements in my work. By juxtaposing gemstones and diamonds of various hues and colors, I try to strike a balance between complementing and contrasting components.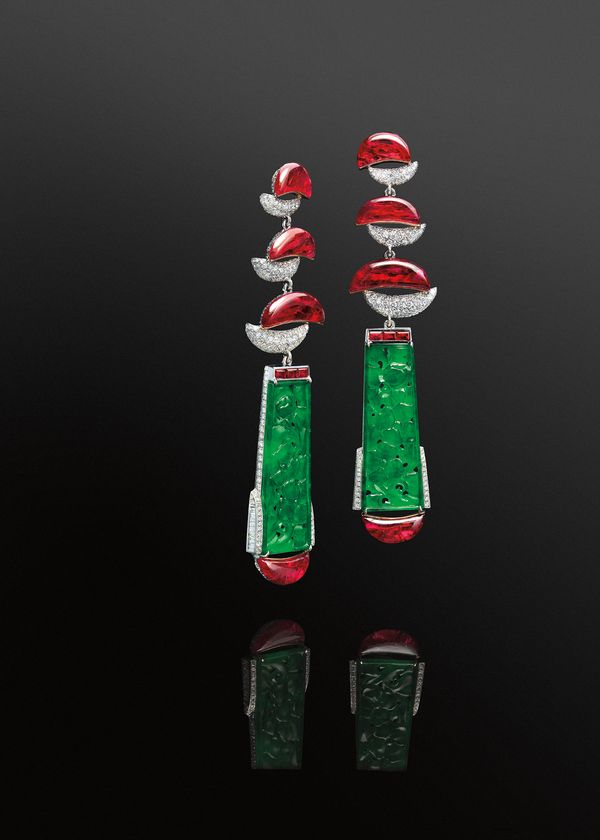 Karen Suen A Pair of Carved Jadeite Plaque, Ruby and Diamond Pendent Earrings.
TC: How would you describe a woman who wears Karen Suen jewelry?
KS: I imagine them to be tasteful, fun-loving, independent and modern. She has a love for fashion, and can easily pair my creations with all sorts of outfits. I would also like for the Karen Suen woman to see my jewels as something they enjoy wearing instead of just storing them away as a collector's piece.
TC: Natural pearls are found in many of your designs. What is it about them that you find so intriguing?
KS: I love Mother Nature, and I am particularly fond of the ocean. I love it for its beauty, vivacity and emotion. No two natural pearls are the same, and it is also the only gemstone that is treasured for the state in which they are found, free from human intervention such as cutting. Natural pearls have become a true rarity due to pollution. In my opinion, it is the utmost expression of purity and elegance.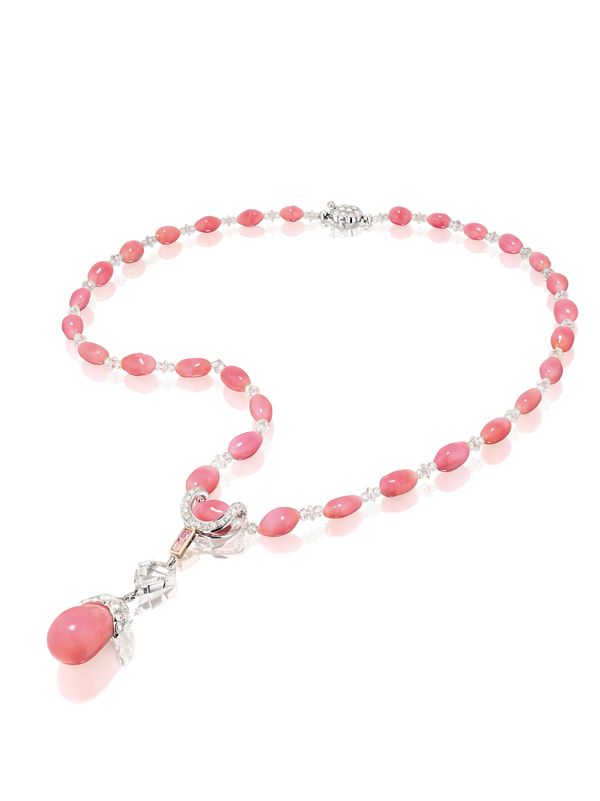 Karen Suen An Elegant Conch Pearl, Pink Diamond and Diamond Necklace.
TC: Do you have a favorite gemstone that you like working with?
KS: Conch pearls. They are categorized as natural pearls but show a very different kind of beauty. The pastel pink hue affords it a sense of romance, and it's so feminine. The mystic flame pattern found on the surface of gem-quality conch pearls is a very unique attribute. You will never see two conch pearls with the same flame pattern or of the same shape. To conceive a design that complements these natural pearls is extremely difficult and I enjoy the challenge.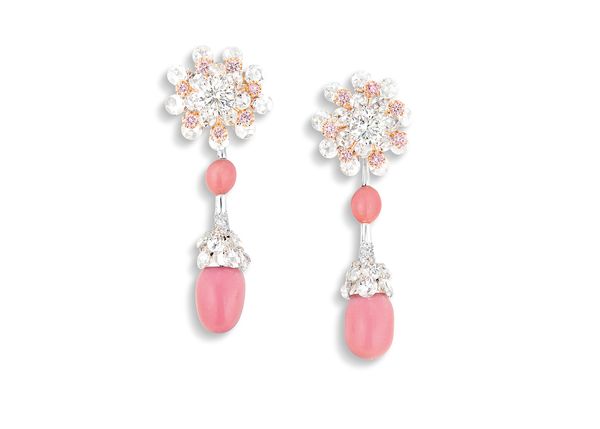 Karen Suen A Pair of Conch Pearl, Pink Diamond and Diamond Earrings.
TC: I can tell that craftsmanship plays a major role in your creations. Can you tell us more about that?
KS: I'd like the pearls or gemstones to take center-stage in my designs, that is why I keep the mounting as lightweight as possible. Rose-cut and briolette diamonds are usually my choice of decorative components, especially for natural pearl jewels. I find the subtle shimmer of the diamonds compliments the soft glow of natural pearls. It is through the lightness of diamonds that the intensity of the pink natural conch pearls is effectively augmented.