Wolfgang Tillmans Conquistador II, printed 2001. Estimate: £7,000-9,000. Offered in Bloom.
Claiming that he finds great joy in "the most innocent sight, a tree growing," German photographer Wolfgang Tillmans has frequently taken to the genres of landscape and still life to materialize the arresting beauty of the world that surrounds him. At once specific and abstract, realistic and dauntingly surreal, his photographs create a sense of otherworldliness that nonetheless departs from the everyday, thus exalting the earth itself — a skyscape, a body of water, an arrangement of perishable produce, and the insistent, though invisible presence, of Tillmans' own surveying eye. The photographer's interest in the universe, the cosmos, and other terrestrial things began early. At age 10, he found a book on astronomy nestled in his parents' bookshelf, which initiated an unrelenting fascination for what lay both inside and outside the human body — the various complex mechanisms that make the world spin: "A lot of people are scared by infinity, [but] it gave me something to hold onto," he said.
A lot of people are scared by infinity, [but] it gave me something to hold onto.
— Wolfgang Tillmans
With Conquistador II, Tillmans captures a burning sky after dusk, fleeting by what seems to be the mast of the boat the photographer is standing on. The cloud formations dominating the photograph are like calm forces roaming in space, supernatural in their astounding symmetry. They resemble a crystallized tornado or a sensually winding vortex. "I sometimes find that this is a tremendously subversive and free act, that you are empowered with your eyes to access the world the way you want to see it," the artist mused on his craft. Transforming an ordinary vision into an abstract picture of subtly twining colors, the composition attests to Tillmans' attention to detail, light and space in his work.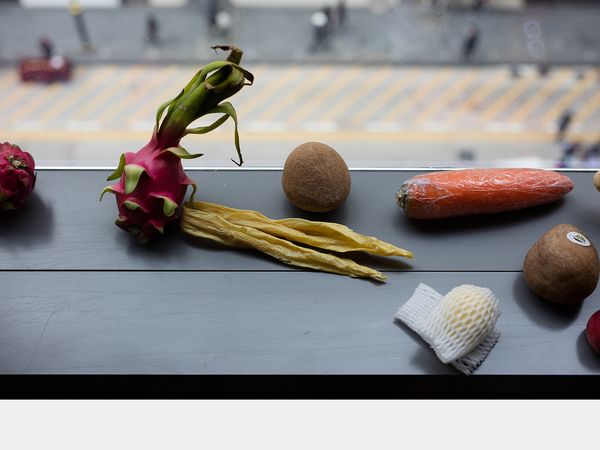 Wolfgang Tillmans Hong Kong, still life, 2018. Estimate: £5,000-7,000. Offered in Bloom.
Meanwhile, Hong Kong, Still Life, brings together a selection of vegetables and fruit. "Whatever I do is about picking examples, because you can't show the whole world," Tillmans said. "You always have to find the whole in extreme detail." In this photograph, a carrot, a kiwi, a lemon and a dragon fruit share a common stage, veiled by plastic covers for some, exposed and labeled with stickers for others, suggesting an unnatural source — perhaps a food market from Hong Kong. "They pull in different directions: attraction, beauty, obviousness, not obviousness, how they sit in relation to the genre as a whole, and how they sit in relation to the genre within my work," Tillmans has said of his still-lifes.
Having just had a major survey at WIELS, Brussels, in 2020, following two major solo exhibitions in 2018 at Tate Modern, London, and the Beyeler Foundation, Basel, Tillmans will once again be the subject of institutional acclaim on the occasion of his upcoming retrospective slated to take place at the Museum of Modern Art, New York, in 2021. The museum, currently working on the organization of the show, notably acquired Tillmans' first-ever photograph —Lacanau, captured in 1986, which radiates the resounding silence carried by Tillmans' wider imagistic universe.
With museums across Europe and the Americas temporarily closed in the wake of the COVID-19 pandemic, Tillmans' charity Between Bridges has commissioned a series of limited-edition posters to be sold for only £50 each in support of culture and music venues, community projects, independent spaces and publications threatened by the crisis.