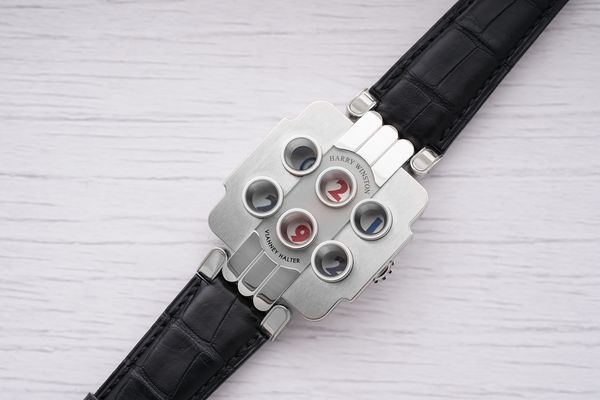 Lot 142 - Harry Winston Opus 3 - link
- by Alexandre Ghotbi, Head of Watches, Continental Europe and the Middle East
Harry Winston's Opus 3 created by the enfant terrible of independent watchmaking, Vianney Halter, is THE watch that put Independent Creative Watchmaking (a niche genre still in its infancy at time of launch in 2003 and not the horological phenomenon it has become today) on the radar of the general public.
The design directly inspired by the steampunk imagery of a Jules Verne was like something we had never seen and the time telling display gave a whole new meaning to the word "complicated".
The watch indicates time and date but is most certainly one of the most complex time only models ever made with a movement of extreme ingenuity and innovation consisting of 7 overlapping discs for the time and date indications but also a very playful and ingenious countdown of the last 4 seconds of each minute that can be read as follows:
- Top row from left to right: AM/PM and countdown indicator, date (tens), hours (units)
- Lower row from left to right: tens of minutes, date (units) minutes (units)
The Swiss watchmaking industry often recourses to genius independent watchmakers to create movements for them but the name of the said watchmaker is most often than not kept secret.
With the Opus series, the brilliant idea of Max Busser, the then CEO of Harry Winston Timepieces, was to offer a creative canvas and funds to independent watchmakers to create a timepiece in conjunction with Harry Winston and to have them co-sign the watch (F.P. Journe signed the Opus 1!)
Rarely has a watch had such relevance, important and influence on its epoch and with the Opus 3 there is a before and after.
To add extra appeal to an already extraordinary watch the present Opus 3 in platinum is number 1/25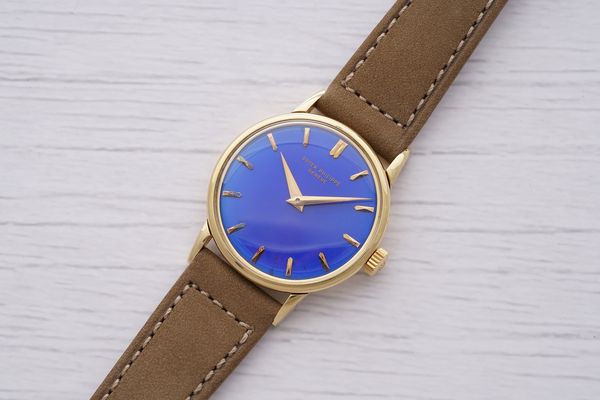 Lot 59 - Patek Philippe Ref 2494 with enamel dial - link
- by Marcello De Marco, Specialist and Business Development Associate
I have to admit that, when I first picked up this watch, i remained for a good couple of minutes in silent, motionless admiration of it: it was true love at first sight. It would be easy to ascribe the reason behind such a strong emotion exclusively to the indescribably beautiful translucent blue dial, but in fact it truly was the ensemble that captivated me.
Patek Philippe managed - probably one of the very few companies with the savoir-fair and taste necessary to pull such a stunt off - to create an undefinable hybrid: is this an understated or overstated timepiece? The simple (but not simplistic: have a look at how the lugs are subtly separated from the case body by a minuscule groove, for example) case design is as understated as a ref. 96, but the enamel decór is an obvious push in the opposite direction.
Somehow, however, the company succeeded in smoothly merging these two conflicting souls and created a watch that is at the same time flamboyant and subdued: the adrenaline rush from admiring such a piece is coupled with the rock-solid awareness that one is also looking at a pinnacle of elegance. Few timepieces manage to successfully and apparently effortlessly juggle two so incredibly opposing aesthetics into the same case: I think that is what truly left me speechless about this piece.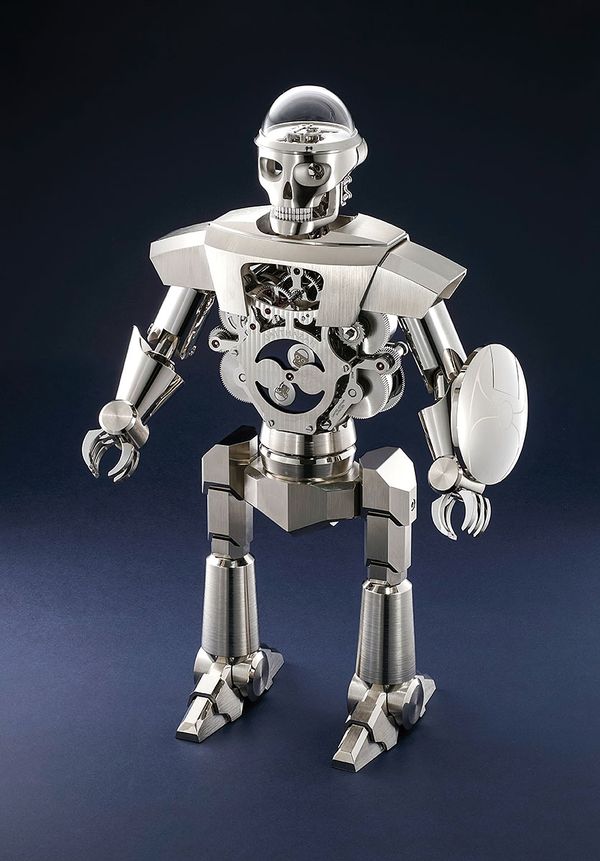 Lot 52 - MB&F "Balthazar" table clock - link
- by Virginie Liatard-Roessli, Specialist and Head of Sale
The first time I met Max Busser was when Luc Petavino and I were organizing Only Watch 2015. I remember Max pulling out of a box a wax cast of a 40cm height robot. This static statue was to become Melchior, one of MB&F's first animated table clocks made in collaboration with L'Epée 1839. For me it was love at first sight! Since that moment, I always kept an eye on MB&F's creation and even if the cute Melchior will remain my favorite, I very much like the entire MB&F – L'Epée family timepieces.
The philosophy behind Balthazar is a level higher than the other creatures, with the idea of everything and everybody having a second face and personality. Aside of this philosophical aspect, Balthazar's technical aspects are incredible. The movement features the same superlative fine finishing – Geneva stripes, anglage, mirror polishes, sandblasting, circular and vertical satin finishing – seen on haute horlogerie wristwatches but applied to surfaces that are 10 to 20 times larger, which is even more complicated. Looking at this creature is extremely enjoyable, but when you start interacting with it and manipulating it, it's pure ASMR. Every move is precise, controlled and well balanced, from the adjustment of the arms to the perfectly smooth rotation of the upper part of the body. The winding key perfectly fits into the shield and when winding the movement, you can hear each tooth crunching as you turn the key. This timepiece is for me a fantastic object that procures a great level of joy and satisfaction.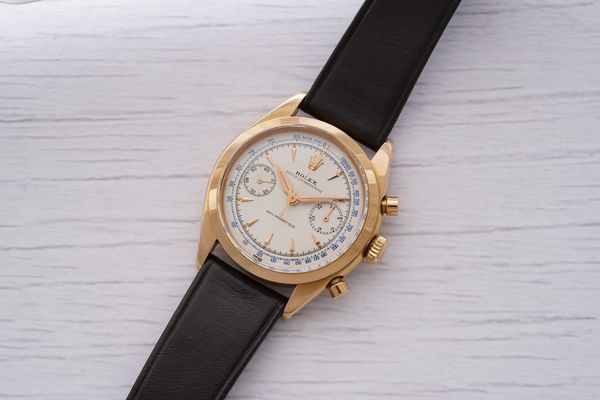 Lot 79 - Rolex Ref. 6232 in pink gold - link
- by Tiffany To, Specialist
I am absolutely enamored by this reference 6232 in terms of its condition and sheer rarity. An incredibly rare chronograph model, reference 6232 hardly ever appears on the market. It's completely understated and research suggests that the present watch is one of only twelve watches in existence, destined for the French market. The case is preserved in pristine condition, with French import marks stamped on the outside caseback - fitting as the graphics on the dial are also in French. There are virtually no spots or signs of tarnishing on the dial. Furthermore, the straight "Oyster Chronographe" text on the dial is so evocative of 1950s dials and gives the present watch so much charisma and character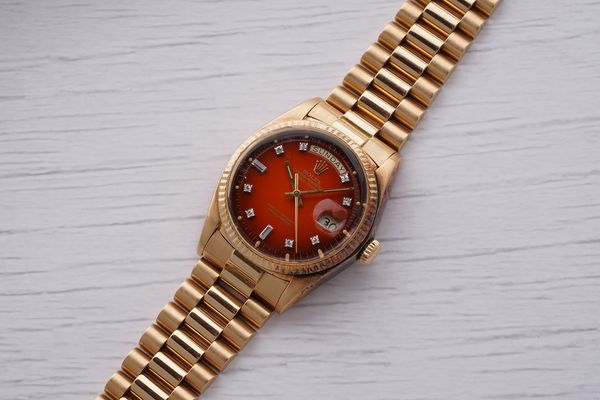 Lot 46 - Rolex Day-Date Ref. 1803 "Manhattan Sunset" - link
- by Arthur Touchot, Head of Digital and Secialist
I'll start with a confession. I'm not really a Day-Date guy.

That isn't to say I don't recognize the historical importance and grandeur of this watch. I can't think of many more important models when it comes to high-end Swiss made mechanical watches. Launched in the mid-1950s, this was the first waterproof, automatic chronometer to feature both day and date wheels, and it's a watch that has remained at the core of Rolex's collection during the following decades, becoming the watch of choice for world leaders, celebrities and famous athletes.
One can only admire the model from this point of view. However, and in the interest of transparancy, there are other models in Rolex's collection that appeal to me more than the Day-Date. Of course some of the more exotic Day-Dates, particularly vintage examples presenting precious stones, have made me reconsider this position but only very breifly.

All of this changed when I laid eyes on this example, a reference 1803 from the late 1970s, made in pink gold and featuring a gorgeous burnt orange dégradé dial, with (and this is a big "with"), diamond hour markers. And I know. This isn't your typical Day-Date. This is a superlative example, with a prominent position in what many consider the Bible for this model, The Day-Date the Presidential Rolex (by Pucci Papaleo Editore).
But it's a watch that I haven't been able to stop thinking about, and that has to count for something.
At their best, watches are objects that illicit joy and emotion, and the present Day-Date has done that in abundance. For that reason, this is one of my favourite watches in the auction, and one that I would recommend to any collector who is missing a Day-Date from his / her collection.