Artist Jay Sae Jung Oh.
In her critically acclaimed Savage Series, Seattle-based artist and industrial designer Jay Sae Jung Oh takes plastic detritus and assembles it into sculptural pieces of furniture that she then covers in cords of jute or cowhide leather. She has created a range of pieces, each unique, from side tables to chairs and sofas. In each example, the wrapped objects are concealed, though their outlines give hints of each object's identity and previous life. These pieces are intricately made and each requires up to four months to complete. This acute attention to detail and materials (surely informed by her work alongside the Italian designer Gaetano Pesce) has resulted in her becoming an exciting force within the contemporary design world. In addition to her practice in which she creates these sculptural yet functional pieces, she runs Boo Oh, a lifestyle brand that sells a range of minimalist pet products designed by Jay. In all aspects of her work—from her unique design pieces to her mass-marketed products—she shows particular attention to both aesthetic beauty and also practicality.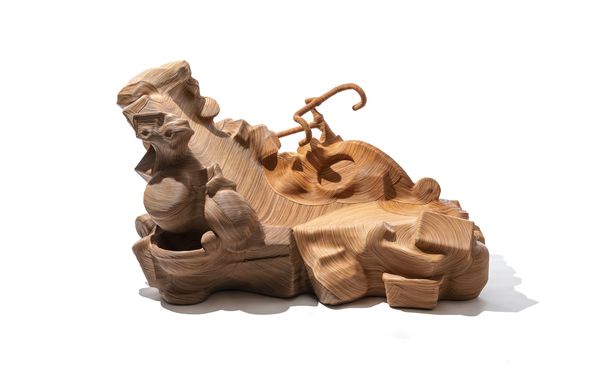 Jay Sae Jung Oh 'Savages' Lounge Chair, Raw Edition, 2019.
PHILLIPS: Is there a specific space or object within your home or studio that you draw inspiration from, or return to, when thinking about new ideas for your work?
JAY SAE JUNG OH: I have a small room in my studio where I store all ordinary and standard objects I have collected for my work in the Savage series.
They have become the backbone of my work not only as structural materials but also as a source of stories to help me dream. I always get inspired by them: mundane objects around us even if they are discarded or not, all of them represent our current culture and lifestyle, but at the same time, they all have their own stories even though sometimes I am not aware of all the details of every single object. It's interesting for me to see them together. Soon after, I start to imagine how they can conspicuously transform into new and unexpected forms. Out of the entire process, that particular activity is the aspect I find to be the most fun.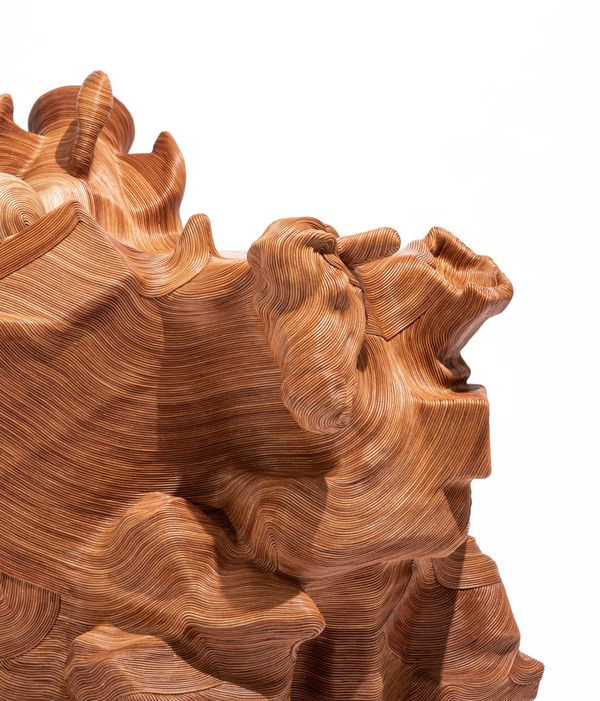 Jay Sae Jung Oh 'Savages' Stool 1, Raw Edition, 2019.
P: When deciding which materials you use in your work, what are the most important factors you consider? Are there any materials you'd like to explore next that you haven't tried yet?
J: I am always open to experimenting with new types of materials that can possibly lead to effectively conveying the message I am sharing through my work. That is the most important factor for me in choosing the medium. For instance, the two main ones in my work are natural material for the exterior surface and plastic mundane mass production objects that provide the essential structure of my pieces. My intention is to play with the meaning of value: common low-value objects transformed into one-of-a-kind, high-end, hand-crafted functional furniture. With this in mind, I wanted to provide a chance to reconsider the ordinary to provoke thought and a new perspective on the cultural condition of abundance.
P: What challenges do you often face in your design or creative process?
J: The biggest challenge I have lately is keeping a balance between my discursive design work and my commercial brand business. Both are equally important so it is crucial to be smart in juggling tasks and priorities.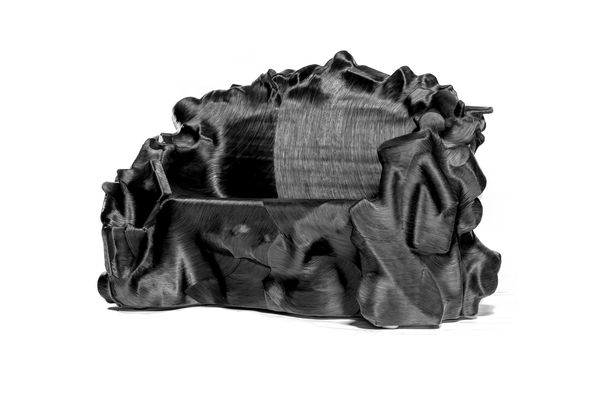 Jay Sae Jung Oh 'Savages' Sofa, Black Edition, 2017.
Collection of the Carnegie Museum of Art.
P: Having to step away from your usual day to day schedule, is there a book/film/project you'll take this opportunity to begin (or return to)?
J: For most of my life, I have lived in metropolitan cities like Seoul, New York and Chicago. Living in Seattle has made me come to realize how much I was missing nature. We are lucky to live right in front of Washington Park Arboretum which is one of the biggest parks in Seattle. Walking my dog around the park every day seems to work well to reboot and freshen up my mind. It really helps me return to my daily routine with a sense of clarity.
P: Where is the future of your practice headed?
J: My goal is to produce meaningful work that sparks curiosity and awareness to my audience.
Learn more about Jay Sae Jung Oh >
Jay Sae Jung Oh at Salon 94 Design >