Ingo Maurer Unique ceiling light, 1997-1998. Estimate: £10,000-15,000.
Offered in Hard-Edged.
In a conversation about his use of LED lights, Ingo Maurer, the German lighting designer who has been dubbed a "poet of light," said, "It all started in the late 1990s. An engineer showed me light‐emitting diodes. At that time LEDs were not very powerful as a light source. I was fascinated not only by the tiny light source, but also by the green circuit boards themselves, normally hidden behind a cover." It is this integration of aesthetics and technological innovation that sets Maurer's work apart and that characterizes the present work, which he designed in 1997 for a private commission. The ceiling light, included in our Hard-Edged online auction, is unique, but it is also representative of many of Maurer's design tenets that appeared in his earliest works.
Maurer gained initial notoriety as a lighting designer in 1966 when he produced his 'Bulb' lamp which featured an incandescent bulb illuminating within a larger glass encasement also in the form of an incandescent bulb. This irreverent and witty, almost tongue-in-cheek, approach to design remained steadfast in his work over the next five decades. Always trying to push the envelope—whether that be by creating surprising forms as seen in his 'Lucellino' wall light (1992) which features a suspended incandescent bulb 'flying' with cherub wings or by using surprising light sources as seen in his 'Wo bist Du, Edison…? (Where Are You, Edison?)' (1997) which produces a hologram in the shape of a bulb—Maurer, in his own words, "never stop[ped] making lights, but it [was] never redundant repetition."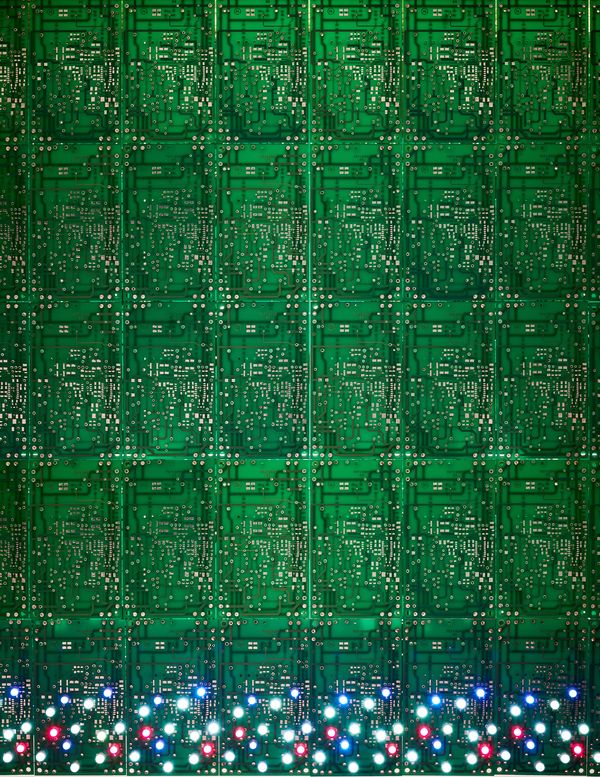 Ingo Maurer Unique ceiling light, 1997-1998 (detail). Estimate: £10,000-15,000.
The present work is another example of the designer's inventive and artful use of materials and light sources. The ceiling light features five rows of green circuit boards stacked atop each other and a free arrangement of light-emitting diodes (LEDs) along the lower edges, with a concealed light source between the panels of circuit boards. Upon first glance, one might think that the stacked circuit boards are actually pieces of shimmering Venetian colored glass. It is this unexpected surprise and whimsy that make this piece and much of Maurer's work so captivating. Maurer first used LEDs in 1997 in his 'Bellissima Brutta' table lamp—the year that the present lot was also commissioned, making it a particularly early example of Maurer's use of LEDs—and would go on to use them for the rest of his career. Before these examples, LEDs had not been used for interior lighting. The present lot was originally meant to only include LEDs that emitted white light, but Maurer surprised his client upon installation by including two additional LED colors (red and blue) and by programming four possible settings: the white lights alone, the addition of either the red or blue lights, or all of the red, blue and white lights.
Though the present work and his iconic 'Bulb' lamp, for example, assume different visual vocabularies, they take on the same conceptual framework in many ways. They both use the material itself not as a means to an end but as the form itself. It is not a question of form following function or vice versa, because the form and the function are one-and-the-same. Maurer's innovative design demonstrates his interest in the light bulb (or light source) as a design object independent of the light fixture and is a beautiful exploration of light's powerful ability to express what Maurer called "the spirit which catches you inside"—truly the work of a "poet of light."