Museum of Contemporary Photography at Columbia College Chicago.
PHILLIPS: During this challenging period, how is MoCP continuing to build upon its mission?
NATASHA EGAN (Executive Director): The museum has adapted to this challenging time by taking a digital‐forward approach while still staying true to our mission. We have developed a new approach to presenting print viewings to the public through a weekly online course called Photos at Zoom (the in‐person series is called Photos at Noon). These sessions explore pertinent themes in the collection while offering insights into photo history for a general audience.
We have also created a series of new virtual studio visits called MoCP Behind the Lens, featuring Zoom tours of artist studios. We are continuing our podcast series Focal Point, featuring interviews with artists, curators, and scholars. The MoCP is excited to engage with wide‐reaching audiences through these expanded digital offerings, while providing new educational learning opportunities for our core audience during this difficult time.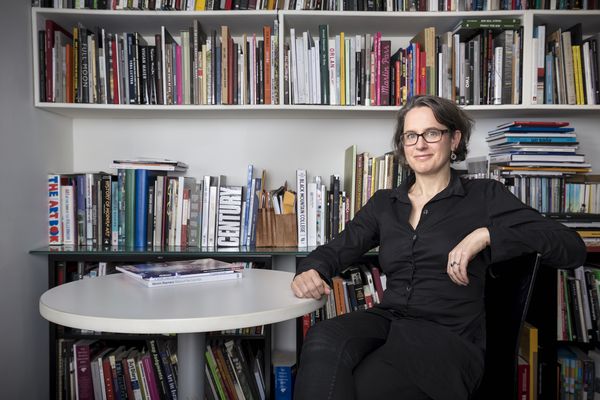 Executive Director Natasha Egan. Photo credit: Jonathan Castillo.
P: Has there been a unique or inspirational response to your institution?
NE: We have been so thrilled by the positive response to our digital offerings. These sessions have attracted both general interest participants as well as "virtual field trips" from college and high school classrooms across the US and beyond. We have had hundreds of participants ‐ it has been very inspiring! We have also been able to connect with audiences through our presence on social media. Our weekly behind-the-scenes Instagram Stories series #AskMoCP has been a huge hit! People have asked some great questions about the work we do at MoCP and in particular about our collection of nearly 16,000 objects!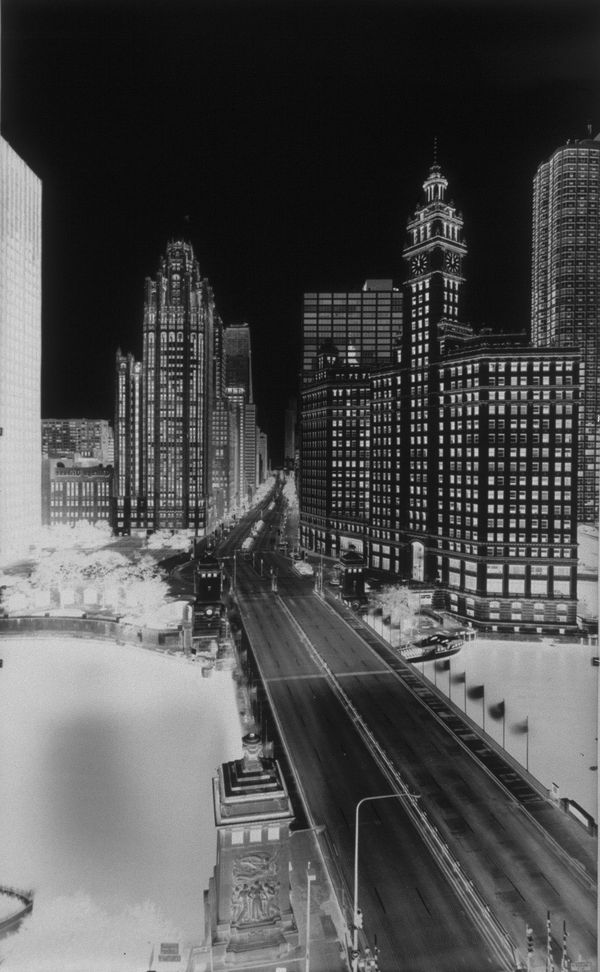 Vera Lutter 333 North Michigan Avenue, Chicago, IL, October 16, 2001, 2001. Permanent collection of the Museum of Contemporary Photography, Chicago.
P: Is there a work of Art that for you, captures this moment in time?
NE: There are many works of art that come to mind; unfortunately many of them are somewhat apocalyptic in nature due the state of the current global crisis. However, one work that especially speaks to me is Vera Lutter's 333 North Michigan Avenue, Chicago, IL, October 16, 2001, which is in the MoCP's permanent collection. In 2001, the MoCP commissioned Lutter to produce a series of camera obscure photographs taken throughout downtown Chicago. Due to the extended length of her exposures, her photographs rarely capture the movement of people or cars. Therefore, in this moment of sheltering in place, this photograph eerily represents what Michigan Avenue looks like today—devoid of the bustle of city life.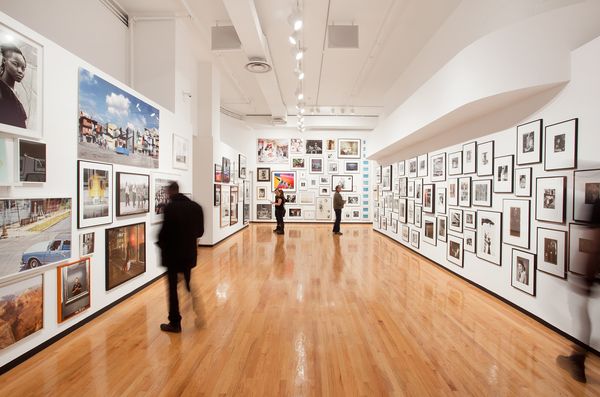 Gallery interior at the MoCP.
P: What are you reading/watching at the moment?
NE: When I can pull myself away from reading about the global pandemic, I have been catching up on a backlog of The New Yorker stories. I was particularly intrigued by Ed Caesar's story about Eira Thomas shaking up the diamond industry in the February 3, 2020 issue. I've also just started a book that has, admittedly, been on my bookshelf for years: Edmund de Waal's memoir The Hare with Amber Eyes. It is about five generations of the Ephrussis family and a collection of tiny Japanese wood and ivory carvings that were passed down through the generations. I love how de Waal interweaves the history of World War I and II with details of his eccentric family by taking the reader from Paris in 1871 to Vienna in the early twentieth century to Tokyo in the latter part of the century, and finally to present‐day London.