Curator Orianna Cacchione with Co-curator Wu Hung at the opening for The Allure of Matter: Material Art from China at the Smart Museum.
In the background: Gu Wenda's united nations: american code, 1995–2019.
PHILLIPS: During this challenging period, how is the Smart Museum continuing to build upon its mission?
ORIANNA CACCHIONE (Curator of Global Contemporary Art): The Smart Museum is unique in that we serve as a space for not just our University [of Chicago] community but many different publics to come together for discussions around art and ideas. In the midst of our museum's current closure, we have been trying to thoughtfully engage together as a team and to continue to create opportunities that reflect the multiple perspectives and interests of our community. For our current exhibition, The Allure of Matter: Material Art from China, we are working to re-conceptualize the exhibition website not only as a complement to the exhibition but as a way to re-engage college students, families, and scholars and re-activate the exhibition from afar. We are launching a new section where we will upload new content designed explicitly in response to this moment - be it programming that was originally planned to happen in our galleries reconceived as an online experience, a coloring book of works in the exhibition, a virtual student-organized symposium, or new mini object "visits" that dive deep into a particular work. My colleagues are finding new ways to engage our collections online to make them more accessible, while others are finding ways to transform our Family Day programming from big gatherings in our lobby to creative art-making projects you can do at home. Teaching is at the core of our mission, and I have been making appearances in Zoom classes at the university and around the country, taking students on virtual tours of The Allure of Matter.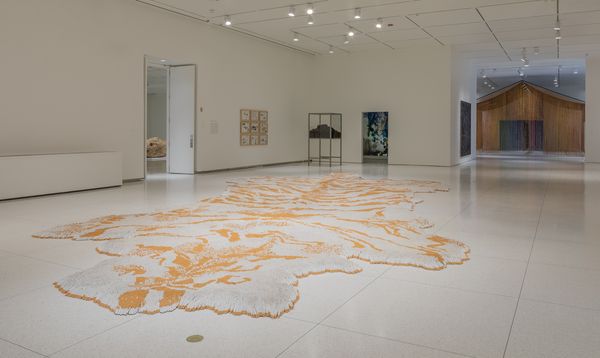 Xu Bing, He Xiangyu, Gu Wenda on view at the Smart Museum.
P: Has there been a unique or inspirational response to your institution or to the current exhibition, The Allure of Matter?
OC: Dancer, choreographer and frequent Smart collaborator Irene Hsiao planned a performance in the galleries that responded to the exhibition. It was originally scheduled to premiere this month. Two days after the Smart announced it was temporarily closing in response to the coronavirus outbreak, Irene sent me a score for the performance that would not take place. In the midst of experiencing a profound sense of loss knowing that the exhibition might not be seen by the public again, reading Irene's score immediately took me back into the galleries, watching the dancers and the artworks alike. It had a sense of live-ness that so many other virtual experiences seem to lack. The score has inspired me to think differently about the types of content that are possible and urgent in this moment. In this frenzied rush to put content online, how can we make something new? Something that responds specifically to our current lived realities? Something that can only just come into creation now? Something that enables an active engagement, imagination, "doing" in some form beyond just watching?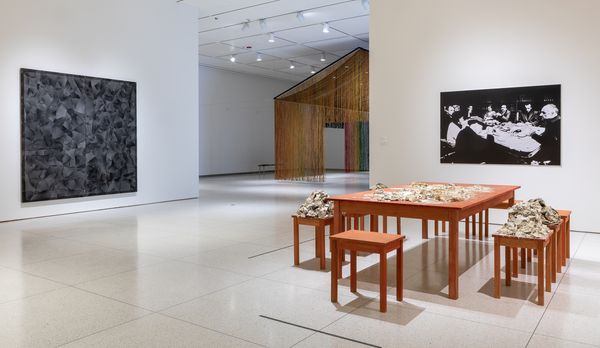 Ma Qiusha, Huang Yong Ping, Gu Wenda on view at the Smart Museum.
P: Is there a work of art that, for you, captures this moment in time?
OC: Zhang Peili's Document on Hygiene No. 3 (1991). For half an hour, Zhang washed a chicken with soap and water. At first, the chicken struggles to break free of the washing hands but eventually, the chicken succumbs to the careful and caring movement, relaxed but on guard. The work speaks to Zhang's personal experiences with illness and the public health campaigns that were frequently launched in China, but the video itself is mesmerizing. You are held captive in your gaze as time recedes.
P: What are you reading/watching at the moment?
OC: I just started a movie club with friends, our first film was The Whistlers. I listened to Michael Pollan's audiobook Caffeine: How Caffeine Created the Modern World. I'm reading Flour Water Salt Yeast while baking my first loaves of sourdough bread and started Ariana Reine's book of poetry, A Sand Book. Drive Your Plow Over the Bones of the Dead by Olga Takarczuk and Weather by Jenny Offill are queued up next.

Learn more about The Allure of Matter at the Smart Museum >