Bobbye Tigerman, Marilyn B. and Calvin B. Gross Curator of Decorative Arts and Design, LACMA.
PHILLIPS: How has your institution shifted its engagement now that you're physically closed? Have there been any surprising creative developments with this new shift?
BOBBYE TIGERMAN: LACMA has quickly pivoted to provide meaningful content through digital channels. Our website www.lacma.org now forefronts streaming short films and exhibition tours, curated audio soundtracks, links to digitized books and articles, and online learning resources. We also have a new weekly LACMA @ Home newsletter that features home art activities and new content uploaded each week. Sign up to receive the emails!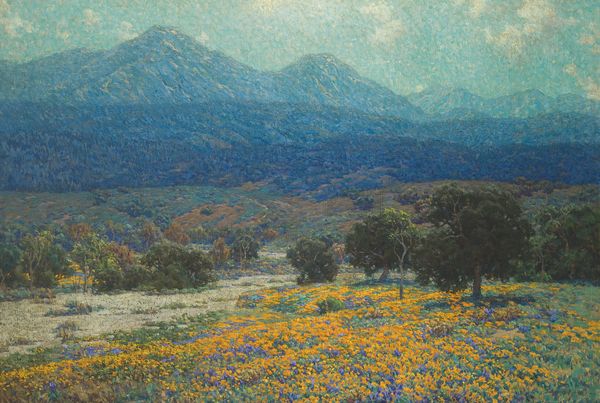 Granville Redmond California Poppy Field, circa 1926. Los Angeles County Museum of Art, Gift of Raymond Griffith.
P: Is there a work of art (or design) you've exhibited that comes to mind during this moment?
BT: In normal times, I am drawn to works of art or design that challenge my assumptions or offer alternative points of view, but during a pandemic, there has been a demand for art that provides comfort and spiritual sustenance. Landscapes are having their moment! It's poppy season in California, and I love going to the Antelope Valley to see the eye-popping carpet of bright orange blooms. I can't do that now, but I can admire Granville Redmond's California Poppy Field, and even make it my virtual background.
P: Having to step away from your usual day-to-day schedule, is there a book/film/project that you'll take this opportunity to begin or return to?
BT: Honestly, all of the competing responsibilities now (work, homeschooling and childcare, meal preparation, house cleaning, and making sure family and friends are safe) does not leave a lot of time for embarking on new projects. However, this experience has stimulated my thinking about the role that museums can play for those who are not physically able to visit them, whether for health, economic, or other reasons. I wholeheartedly believe in the transformative experiences by a physical encounter with a work of art, but when that is not feasible, how else can we offer authentic engagement to our visitors near and far? Where should we place our priorities to make the museum accessible beyond its walls? It requires a reallocation of resources, but I think a legitimate one to make what museums do reach even wider audiences.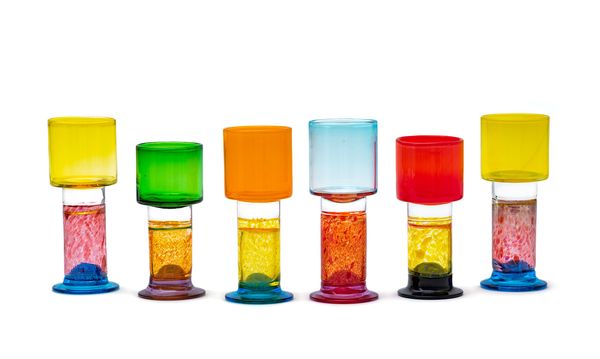 Kaj Franck (Finland, 1911-1989) for Nuutajärvi Glassworks, Goblets, model KF 486, designed 1968, these examples c. 1970–71, glass, largest goblet: 7 ⅝ × 3 × 3 in., Los Angeles County Museum of Art, Decorative Arts and Design Council Fund and partial gift of Marc Treib (M.2019.160.1–.6), photo © Museum Associates/LACMA
P: What's on the horizon at LACMA that you're looking forward to?
BT: I have been working for several years on the exhibition Scandinavian Design and the United States, 1890-1980 with Monica Obniski, who is now Curator of Decorative Arts at the High Museum in Atlanta. While the show was supposed to open in May, we'll have to wait a bit longer to see it here in the United States. It is scheduled to open at the Nationalmuseum in Stockholm in September 2021 and the Nasjonalmuseet in Oslo in March 2022, followed by stops at LACMA and the Milwaukee Art Museum. In the meantime, you can admire the beautiful images and read about the many interactions between American and Nordic design in the exhibition catalogue, which is now available from the LACMA shop.