Donna Huanca pictured at the London opening of The Store X The Vinyl Factory's Transformer curated by Jefferson Hack, October 2019. Photo: Darren Gerrish/Getty Images.
By Hettie Judah
Talking about her art, Donna Huanca often describes the Festival of Urkupiña, held every August in the small town of Quillacollo in Bolivia. She celebrated Urkupiña as a child, traveling from her childhood home in South Side Chicago to spend summers in the country of her parents. Swallowed whole by the song, dance, ritual and costume of the fiesta, Huanca experienced intense, multisensory stimulation in which apparent chaos gave way to loving order and a sense of belonging.
The disconnect between the Bolivian bubble of home, the Anglophone world beyond her front door in Chicago, and the altered reality of Urkupiña left Huanca feeling like a divided soul. She turns 40 this year, and is based for the most part in Berlin - a place in which she has said that she felt immediately at ease when she first arrived there - yet still considers herself essentially nomadic, de-racinated.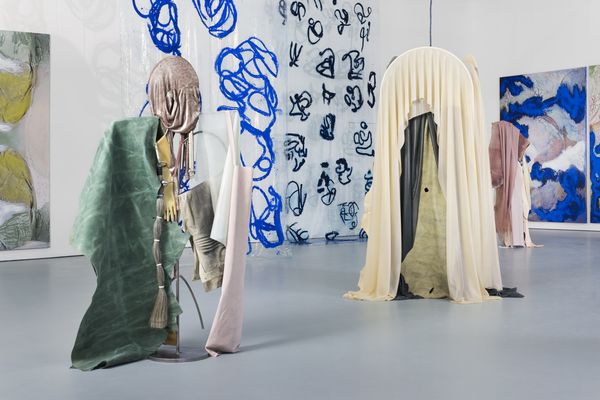 Donna Huanca SCAR CYMBALS, 2016, installation view at Zabludowicz Collection, London. Photo: Thierry Bal.
All this has come to inform the saturating, intensely satisfying and bodily environments for which she has become celebrated. They are composed of five interrelated elements, some permanent, others ephemeral: painting, sculpture, sound, performance and scent. Everything starts with the feminine body, which performs at once as painted surface, painting tool, moving sculpture and – linking one work to the next – the basis for Huanca's "skin" paintings.
Installing her environments, Huanca pushes the clinical artifice of the gallery to extremes. The walls and floor are whiter than white. The lighting is intense and tinged with blue. Freestanding painted panels and perforated sculptures occupy pools of sand as synthetically white as arctic snowfall. In this landscape without shadows, supporting surfaces disappear, leaving painted canvases, sculptures and bodies all apparently free-floating. The performances, enacted with her troupe of models, have the feel of "happenings."
The olfactory dimension of Huanca's work associates it with neo-shamanic practices. She has often spoken of the hallucinatory nature of her work, describing her performances as "live meditations." In recent works such as Scar Cymbals (2016) and Espejo Espiral (2019) the air carries woody notes of cedar and Palo Santo, both fragrant plants burnt to accompany ayahuasca and peyote ceremonies. You can smell Huanca's work before you see it. A diminutive total environment installed at the 2019 Frieze London fair progressively permeated the air of surrounding booths with smoky, bodily, resinous incense, creating an overlap between the work and the world beyond. It's a reminder that art is not confined to a tight frame, neatly set apart from life.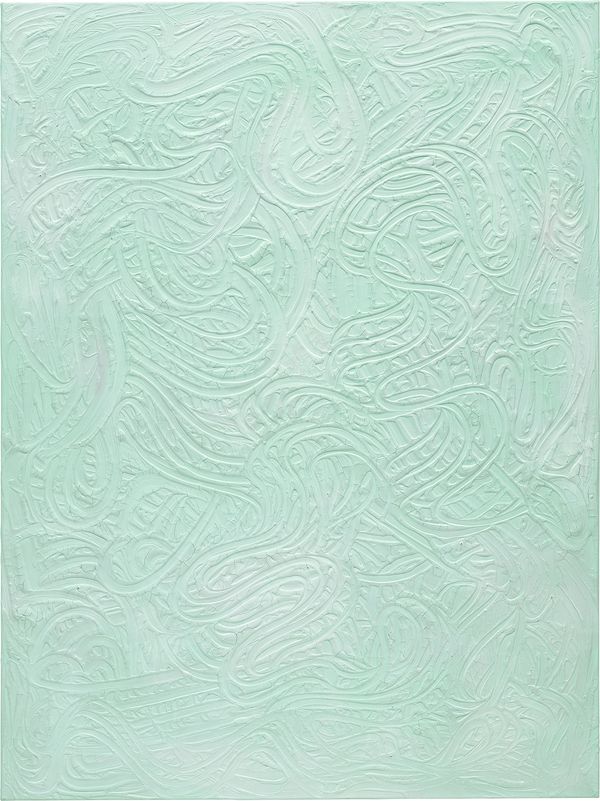 Donna Huanca PEDIALYTE, 2015. Estimate: £10,000-15,000. Offered in Desktop.
Huanca studied painting in Houston and Frankfurt, before more years of travels, work and residencies around the world, notably Mexico City, New York and Argentina (her paintings are now held in public collections in the US, China and Europe, including the Solomon R Guggenheim Collection in New York). But as well as her studies as a painter – albeit a rebellious one – Huanca has a background in improvised music, performing under the electronic alias Rua Minx and she has talked of the inspiration she finds in Berlin's nightclubs. The soundscapes she creates for her art are sparse and disconcerting. Field recordings of chattering birds, trickling water, purring cats and the human voice commingle with machine-generated ticks and whines. A percussive quality hints at rhythmic processes of the body – breathing, heartbeat, digestion – as if we and everything with us in the space occupied the interior of a much larger living being. Again – where does the work end, and where does it begin?
Huanca refers to the performers she collaborates with as "models." It's a term chosen to evoke specific associations with the power dynamic that traditionally existed between male artist and the exposed female body – perhaps most pointedly, the power dynamic between Yves Klein and the 'models' who performed as his human paintbrushes. The environments Huanca constructs are conceived as protective spaces for her models, who are asked to ponder and record their experience of the long, durational performances. The performances are improvised according to minimal instruction: slow, stately movement; engagement with sculptural works and paintings, against which the models become camouflaged or visible only in part; the smearing of paint from the body onto surfaces. Her models - often drawn from her circle of fellow creatives and friends - are viewed as collaborators, and Huanca is at pains to emphasize their agency in the work.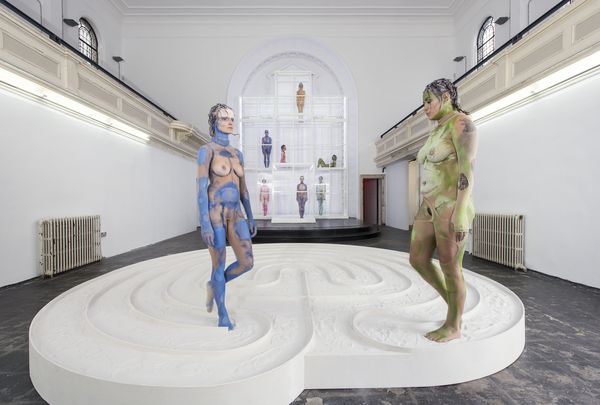 Donna Huanca SCAR CYMBALS, 2016, installation view at Zabludowicz Collection, London. Photo: Thierry Bal.
The paint applied directly to the models' skin combines warm, naturally derived pigments of turmeric and clay with cool artificial blues and whites. International Klein Blue melds with zinc whites and the cool greens of verdigris. Recently, Huanca has used spray paint to achieve graphic patterns and crisp lines on the skin, but she has previously also used her hands, smearing the body thickly with clay-like layers of color.
Photographs of the painted bodies from one work provide the basis for her large works on canvas in the next. These "micro paintings" that she discovers on the body are digitally printed onto canvas, and then painted over again, uniting the traces of model's body and artist's gesture. The expanding quality of her art extends not only from the artwork out into the world, but from one work to the next. Donna Huanca is an artist who defies boundaries.

Learn more about Donna Huanca's PEDIALYTE in Desktop >