Artist Wynnie Minerva during her Fountainhead Residency. Photo courtesy of Alex Nunez, taken as part of a collaboration with Untitled Art Fair, 2019.
PHILLIPS: Tell us a bit about Fountainhead and what your organization does.
KATHRYN MIKESELL (Co-founder and Executive Director): At Fountainhead, we believe artists are the spark that creates meaningful connection, discovery and inspiration. In a world racing before our eyes, it is their work that causes us to pause, experience the present, question our assumptions and aspire to a better future. Our programs support artists while building connections through the arts ecosystem and cultivating new audiences. Through Fountainhead Residency we bring national and international artists to Miami for a one-month residency. Fountainhead Studios provides affordable and flexible studios creating a community of Miami-based artists, Artists Open is a one-day event where over 350 artists across Miami-Dade County open their studios to the public. Over the years through our various programs, we've welcomed many artists that have gone on to become household names, like Derrick Adams, Gabriel Chaile, Hew Locke, Sandra Ramos, Juana Valdes and Kennedy Yanko. We've really emerged as a place from which to discover and engage intimately with incredible artists.
P: And how have you been adapting to the challenges surrounding the COVID-19 outbreak?
KM: Thankfully, both the Residency and Studios are open. While our current artists-in-residence are sheltering-in-place until they feel safe to go home, we look forward to rescheduling the artists who had to be postponed. To keep people connected, expand our community, and directly support artists, we launched Artists Open Online. The two primary components are Instagram Live Virtual Studio Visits @fountainheadresidency, offering a platform for artists to engage and provide an intimate view into their studios and inspiration behind their practice. The second is #artistsopenonline on Instagram, where artists are uploading works under $1,000 and thankfully, collectors are buying. We're loving the raw, unfiltered content. After all, we're human and it feels good to be seeing unfiltered human connection happen so broadly.
The artists we're introducing you to today represent the wide gamut of working artists today. Some are just starting out, others more established; and they work across mediums and have varying types of processes. Amani Lewis, Qinza Najm, and Norberto Rodriguez are all current Fountainhead artists in residence, and Rachel Lee and Sri Prabha are current Fountainhead Studios artists.
Amani Lewis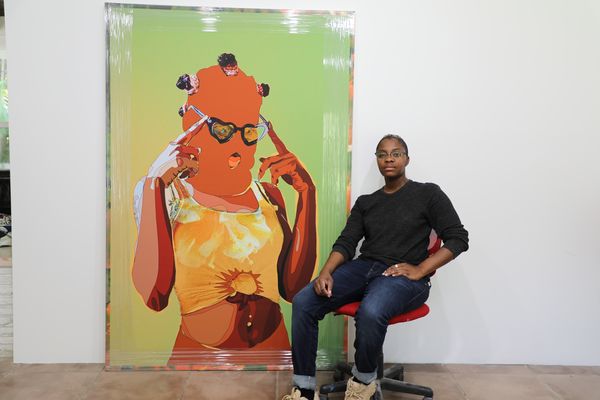 Fountainhead Artist-in-Residence Amani Lewis
P: How has your work developed or changed during this challenging period? Have you changed your use of materials or methods in any way?
AMANI LEWIS: I wouldn't say that my practice or materials have changed, but due to limited available funding and the fact that print shops and art stores are closed, I have had to get creative and use the materials available within the residence I'm staying in currently. There are magazines, books, paints, pencils and glue, markers, scissors, yarn and canvas. Naturally, I am collaging with all that I have, and I am excited to see what new directions come from this isolation and self-reflection.
Qinza Najm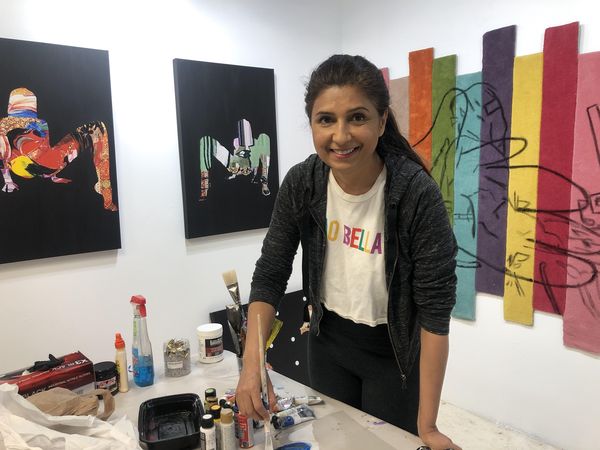 Fountainhead Artist-in-Residence Qinza Najm
P: Is there a work of art that for you, captures this moment in time? What inspires you at the moment?
QINZA NAJM: I directly address our current crisis in my work Forbidden Touch. This eight-by-five foot hand-tufted and painted woolen carpet displays the mired relationship between humanity and the environment, with figurative shapes resembling hands and large dots extending six inches out across the work imply many things to many viewers: perhaps mandated physical distance, or psychological transcendence, or the power harnessed by emerging technologies in the allusion to "0"s used in algorithms. I feel that technology will evolve at an accelerated rate from this moment. Now, nature has reclaimed herself from human development. Yet I wonder how technological development will accelerate in the years to come in the wake of this pandemic.
Norberto Rodriguez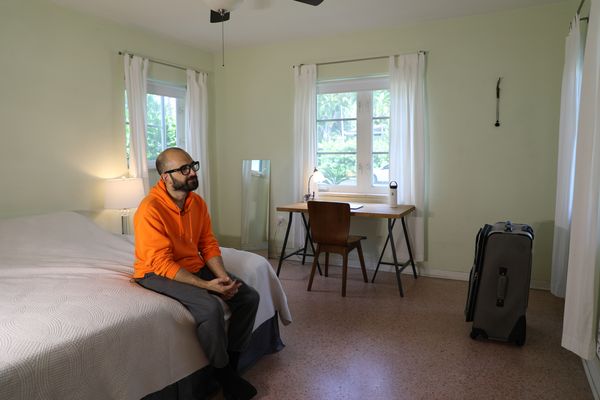 Fountainhead Artist-in-Residence Norberto Rodriguez
P: Having to step away from your usual day to day schedule, is there a book/film/project you'll take this opportunity to begin (or return to).
NORBERTO RODRIGUEZ: Actually, I live a very monastic life so my current day-to-day isn't very different from my previous routine. Although the biggest difference is that everyone else's day to day just drastically changed and I hadn't accounted for that happening so soon, so, I'm finding myself feeling like everything I've been doing up until now is already history, and I need to start thinking about the more distant future of what all this might evolve into so I can start working toward that.
Rachel Lee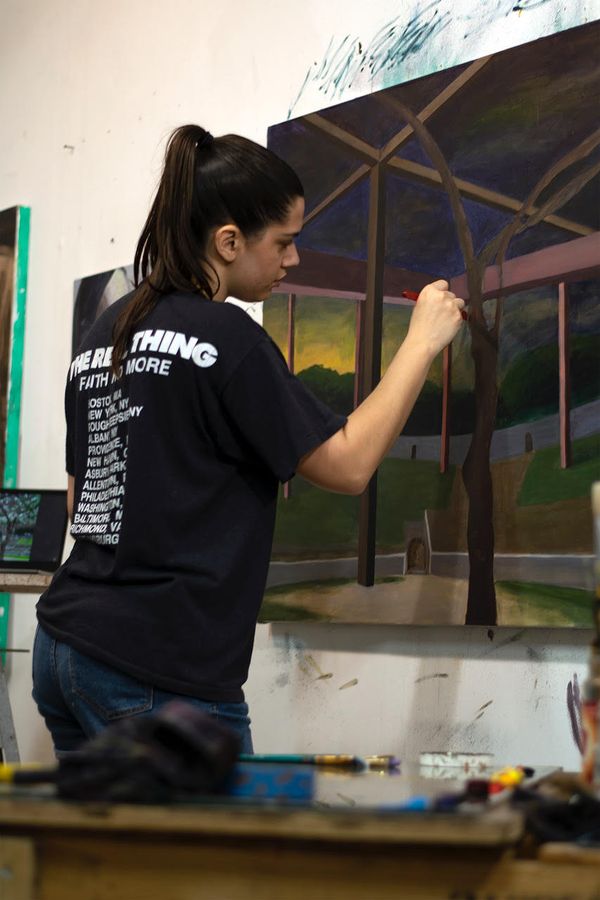 Fountainhead Studios Artist Rachel Lee
P: How, if at all, does your process relate to today's circumstances? In these few weeks, have you noticed a change?
RACHEL LEE: My work had been going through adjustments and growing pains a bit before quarantine began, and with everything going on now it's only encouraged me to further develop a new way of working. I've begun making small collages made of printouts of video game screenshots, music video and performance stills, cartoons, news clippings, fabric scraps and several kinds of crafting materials, like glitters and thread. I've always made it a point to work with what's around rather than buying brand new material, and with current restrictions, it's encouraged me to fully come back to the DIY mindset I try to maintain in my work and practice.
Sri Prabha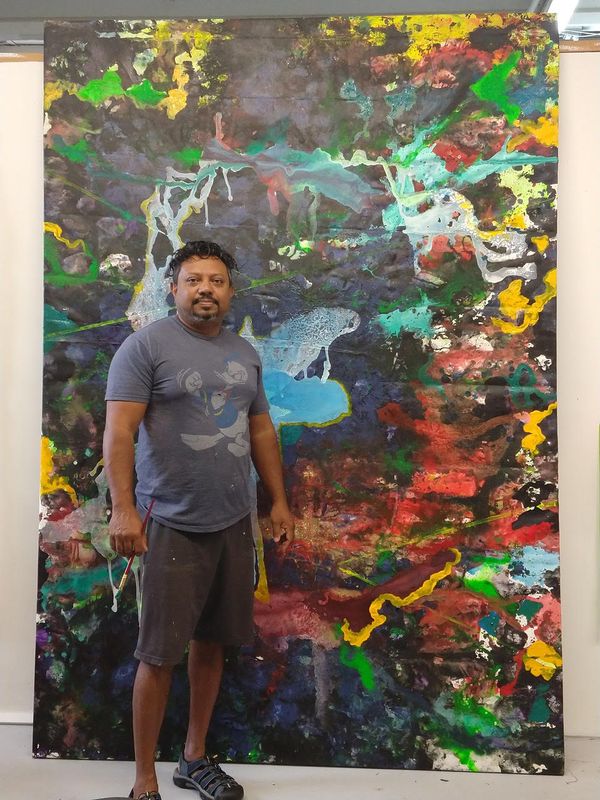 Fountainhead Studios Artist Sri Prabha
P: What is the broader meaning of your work, and how does it relate to the current global situation?
SRI PRABHA: My message in my artwork has been that humans need Earth. Earth doesn't need us. We are interconnected to either the vitality or the destruction we bring. What we focus on manifests. It's unfortunate that it takes a pandemic for everyone to stop 'business as usual' and be forced to reflect upon how we are stewarding the planet. Works that address the environmental stressors that humans are placing on the world are even more necessary than ever. My eco-based artwork hasn't changed due to the pandemic, it's now even more urgent. Encouraging a holistic approach, I have been making more photo-based works that are more regionally inspired.
Learn more about Fountainhead Residency and Studios >