Auctioneer and Head of Photographs, New York, Sarah Krueger
1. Foam Magazine Archives
I have a stack of Foam magazines on my desk at the office and was thrilled to see the digital archive now "open" to the public. The magazine is dedicated to the best of new photography now and only comes out 3 times per year. I've enjoyed going back to past issues, particularly from their Talent series which brings together a diverse selection of global, emerging photographers. In Issue 16 from 2007, I stumbled upon a profile of our very own Worldwide Head Vanessa Hallett!
2. MoMA Online
While MoMA's physical galleries are closed, the Dorothea Lange exhibition, Words & Pictures, is "opening" virtually on 30 April. MoMA is doing a full series of Virtual Views for their current exhibitions, and I'll be tracking all leading up to the Lange exhibition. MoMA also uploaded a PDF of Louise Lawler's tracings, and I'm planning a zoom coloring date with the little ones in my family.
3. Last Seen Podcast: WBUR Boston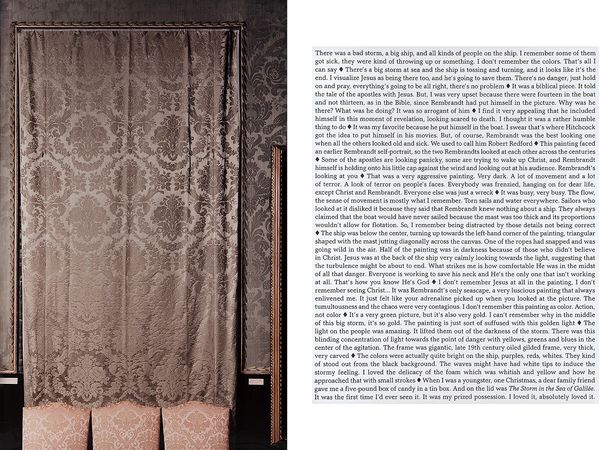 Sophie Calle Last Seen... (Rembrandt, The Storm in the Sea of Galilee), 1991.
Last year we offered Sophie Calle's Last Seen… a work that addresses Rembrandt's 1633 masterwork, The Storm in the Sea of Galilee, one of thirteen paintings stolen from the Isabella Stewart Gardner Museum in Boston in 1990. The title then became the inspiration for a WBUR Boston podcast which brings together their investigative journalism with the various unsolved theories behind the infamous art heist. It's completely enthralling and pairs well with the movie The Thomas Crown Affair. Fraenkel Gallery's website also has a lovely video on Sophie Calle (among many others artists!) where she discusses her most recent work.
4. Good Old-Fashioned Books
While working from home, I'm finding it's good to have some "off line" time and have been revisiting past reads and discovering new ones including Peggy Guggenheim's Confessions of an Art Addict and Sally Mann's Hold Still. Ninth Street Women is next up on my book list.
5. A Virtual Visit to the Broad
For a few minutes of zen – or non-zen – visiting Yayoi Kusama's Infinity Mirrored Room, The Souls of Millions of Light Years Away at the Broad has been a fun discovery on Instagram. I've visited her Infinity Rooms at the Mattress Factory in Pittsburgh, and also at the wndr museum in Chicago titled Let's Survive Forever, which feels especially relevant as a title now. When Let's Survive was installed in 2018 wndr produced a video of the installation for those looking to experience a second Infinity Room from afar.
6. Recipe Inspiration
I've temporarily put the gavel down and have picked up the spatula instead. Recently I started following Ina Garten and Mark Bittman for recipes on Instagram – both are reaching deep and being innovative with simple recipes, good food, and pantry staples.
7. A Little Togetherness
This "performance" from the Virtual Orchestra of Berklee College of Music is everything we need right now.
Learn more about Photographs at Phillips >