- By Tiffany To

Following the rise of continental travel, manufactures scrambled to produce a wristwatch that could tell more than one time zone simultaneously. While Louis Cottier had already invented the "World Time" mechanism in 1930s, it was not until the 1950s that Travel Time wristwatches truly proliferated. During this period, Rolex launched its own interpretation of the dual-time wristwatch, which would eventually become an instant classic and icon in the world of horology.

One of the most iconic models that Rolex ever produced, the GMT-Master today is instantly recognizable due to its bi colored multi-directional bezel, triangle-tipped 24 hour hand and luminous numerals. With its history spanning over sixty years, the model has made special appearances in film, culture and literature. The GMT-Master was originally conceived in conjunction with Pan-American airlines for pilots, enabling the wearer to instantly view two different time zones.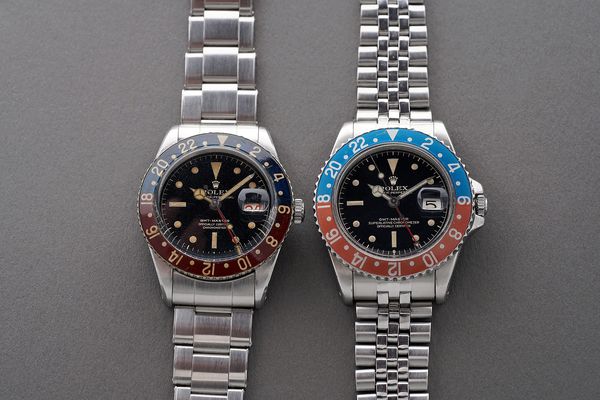 Launched in 1955, the original GMT-Master, reference 6542 was most notably fitted with a bakelite bezel, which was chosen for its high readability. By then, Rolex was already known for its technical watches for both land and sea. By conquering the sky, the manufacture added yet another indispensible tool for pilots and travelers alike. Reference 6542 was originally designed for pilots to use while traveling in different time zones. While examining the details of the model, it is immediately apparent that the watch was made for a specific purpose and does not have many aesthetic flourishes. The luminous hour markers and luminous bakelite bezel on reference 6542 ensured ultimate legibility and were conceived for clients who worked under different and extreme light conditions.

Furthermore, Rolex decided to use automatic chronometer certified movements, which ensured that the timepieces did not lose time. This was vital, as the GMT-Master was created for practical purposes. Time loss could lead to big consequences, especially for pilots. The movements were chronometer certified, and thus the watches had movement numbers. Reference 6542 was powered by the caliber 1065. Thus, the dials were printed "Officially Certified Chronometer" – these are known as "OCC" dials. It would only be later that Rolex would change the dial description. Furthermore, the dials displayed "Swiss" at 6 o'clock – similar to almost all of Rolex models from that period.

The reference was available in both yellow gold and stainless steel. Most notably, the watches did not have crown guards – this development would only appear on later examples. The watches were originally delivered with Bakelite bezels. However, due to its fragility, many were swapped out in favor of aluminum. Thus, to discover one in original condition is an incredible rarity.

The reference ceased production in approximately 1959 and was replaced by reference 1675. However, the model is forever preserved in popular culture, as Pussy Galore donned a reference 6542 in the Bond film "Goldfinger".

The example below is a particularly well-preserved example of reference 6542, and provides a benchmark of how these timepieces looked like when delivered. Displaying very little signs of aging, the bezel and dial are both intact. Furthermore, the dial has aged beautifully and displays warm patina. It is particularly rare and hard to find watches that still display their original bezel. Reference 6542 was available with either a riveted Oyster bracelet or Jubilee bracelet.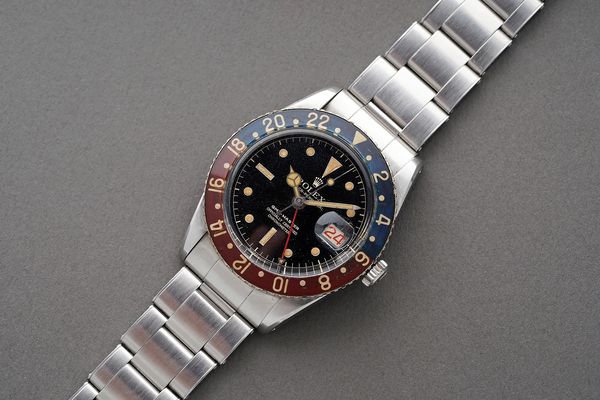 Years after the launch of reference 6542, Rolex continued to forge ahead with different interpretations of the original GMT-Master while always retaining important elements such as the rotating bezel and additional triangle-tipped hand. Here, we present a number of 'flavors' that makes the GMT a firm favourite of the wach collecting community. All of them feature in our upcoming auction, The Geneva Watch Auction: ELEVEN.

During the early 1960s, Rolex had already upgraded the case and bezel to a new reference – 1675. During this period, the manufacture transitioned and began to use tritium – during this period, dials displayed an "exclamation mark" at 6 o'clock, such as the example show below. Please note that the crown guards are pointed –this is a feature that is particularly beloved by collectors today.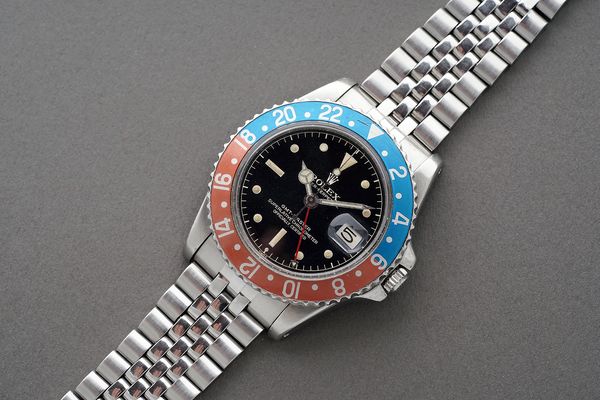 The Ref. 1675 offers a lot of variety, and we have another particularly stunning variant, to present next. Produced in approximately 1966, the watch retains many of its original documents which is no easy feat. Originally sold at the U.S. Navy Exchange in Yokohama, this timepiece is accompanied by its hangtag, invoice dated 19 August, 1967, guarantee, chronometer paper February 22, 1967, product literature, wallet and presentation box. It is even accompanied by a black and white photo of the U.S. Navy Exchange in Yokohama. Please note that by this time, Rolex had fully transition to using tritium, which was reflected on the "Swiss - T <25" designation at 6 o'clock on the dial.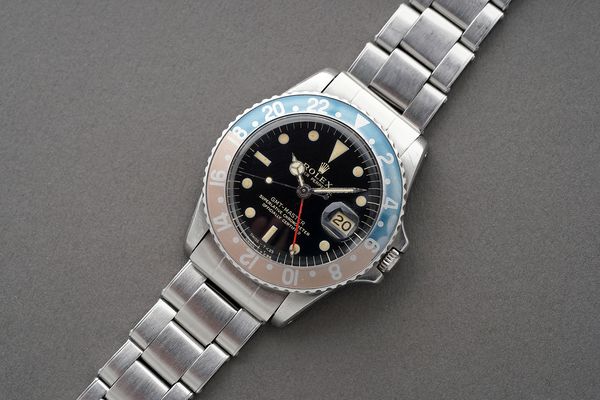 A particularly impressive later iteration is the reference 116589. Cased in white gold and lavishly set with sapphires, rubies and diamonds, this reference recalls the original "SARU" (reference 16758) and is a modern interpretation of Rolex's very first serially numbered sports models dressed in precious gemstones. This particular example is preserved in excellent condition and retains all its original accessories.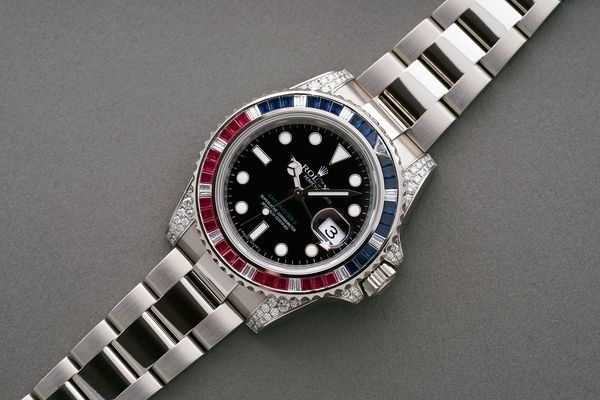 "Everyday" versions of the GMT-Master are also available for sale. Another example offered is a stainless steel and yellow gold bitmetal GMT-Master, reference 16753, seen below. Preserved in excellent condition, it even comes with a bi-metal Jubilee bracelet.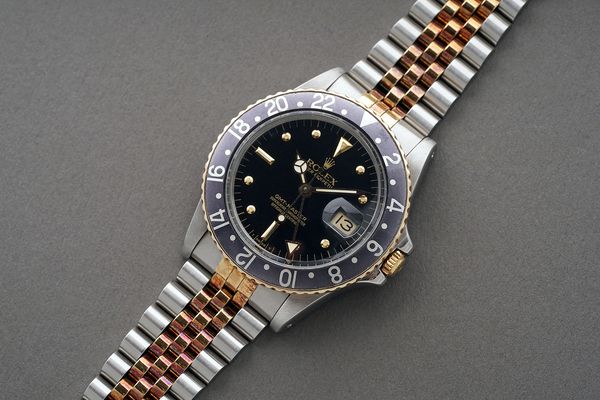 With a plethora of options available - including modern-day models that are difficult to obtain - there is something for every collector out there.