Phillips' New York headquarters.
As more of our community of staff, clients and partners becomes affected by the spread of the Coronavirus, we have decided to postpone all of our sales and events in the Americas, Europe and Asia. This includes The Geneva Watch Auction: ELEVEN, which was scheduled on May 9-10. Our upcoming 20th Century & Contemporary Art sales in New York will be held the week of 22 June 2020, consolidating the New York and London sales into one week of auctions. Our spring auctions in Hong Kong, originally scheduled for 31 May - 2 June, will be rescheduled for the week of 6 July. For the most updated spring sale schedule, please see the graphic below or check our auction calendar.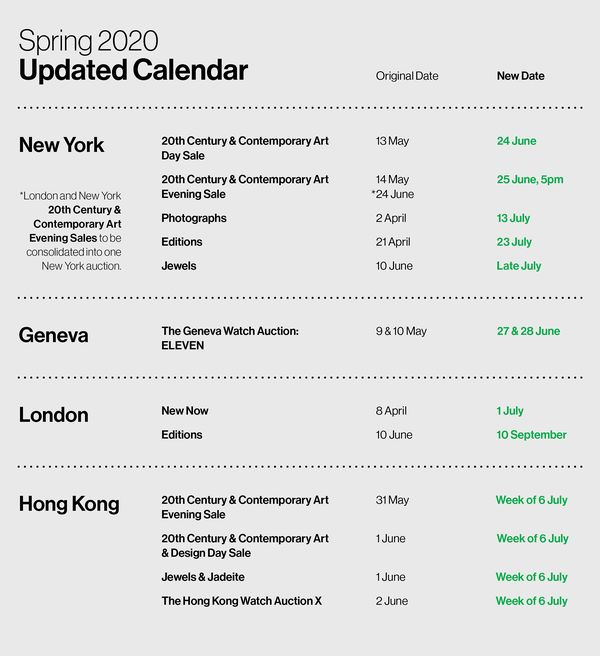 The health and safety of everyone remain our top priority and our thoughts are with those of you who have already been personally affected by the virus.
We have put in place arrangements for the vast majority of our staff to work from home. For those of you who do wish to engage with us during these difficult times, our teams will continue to be available online and on the phone and we will continue to share content online through phillips.com and our Phillips app. We are closely monitoring what is happening in all of our regions on a daily basis and will keep you updated on our plans for the rest of the Spring sales season as the situation unfolds.
We hope you all stay healthy and we look forward to seeing you at Phillips when this crisis has passed.
With best wishes,
Edward Dolman
Chief Executive Officer
Cheyenne Westphal
Global Chairwoman