Lot 23: Edmund de Waal 'Kamen', 2012 (detail). Estimate: £150,000-200,000.
Design at Phillips London, 19 June.
by Glenn Adamson
You can spend a lot of time counting Edmund de Waal's Kamen. The work consists of five cabinets, containing 115 round hand-thrown porcelain pots—all those circles held within a square. The vessels are between two and four inches tall, arranged in five to seven groups per cabinet, and from two to nine pots per group. It is an intricate numerology, suggesting that a math problem or a musical composition—or perhaps a passage from the Kaballah or some other ancient text—is being worked out before your eyes. The miracle is that despite this internal complexity, the convoluted rhythms cascading through the work, it projects an atmosphere of reflective calm. Negative spaces, the gaps between, are as important as the pots themselves. The intervals activate the whole.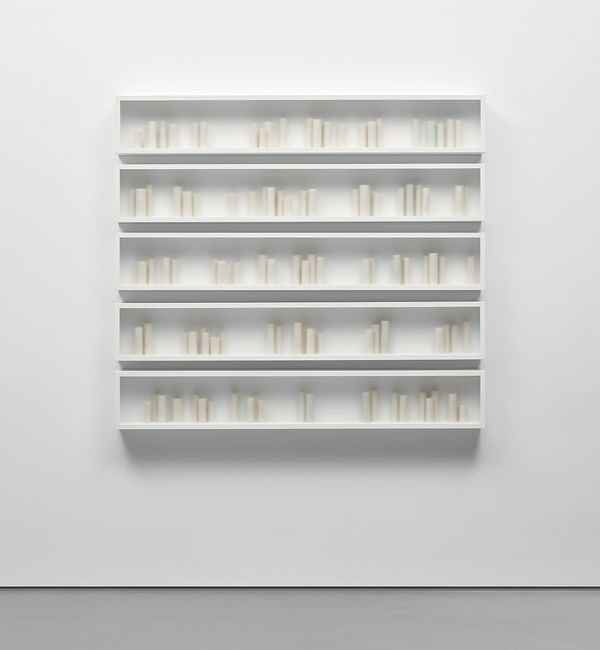 Edmund de Waal 'Kamen', 2012.
In conceiving this work de Waal was indebted to numerous sources, as he would be the first to tell you. There is, of course, Minimalism: the serially arranged boxes of Donald Judd, which exemplified the theory of gestalt, a sculptural whole that transcends its parts. There are the paintings of Giorgio Morandi, those marvels of acute observation, in which the color white is shown to be an infinite spectrum. And the work of other British potters: Bernard Leach, Lucie Rie, Hans Coper and Gwyn Hanssen Pigott. De Waal has studied and written about them all, for, as his many readers well know, he is as much a historian as he is an artist.
Still deeper in de Waal's personal archive is the garniture: a group of vases, typically of Chinese porcelain, set atop a cabinet or mantelpiece for the sole purpose of being looked at. This particular reference loomed large for de Waal when he first developed his vessel orchestrations, in 2007. It was then that he created his first wall cabinet works, lined with vessels of various heights and variously glazed. One of the first examples was aptly entitled A Change in the Weather, a phrase that describes both its own incrementally shifting tonalities and the larger transformation that was occurring in de Waal's career.
These first arrangements of pots were often set within carefully calibrated installations, located mostly in historic venues. De Waal describes these undertakings as "site sensitive," noting that they are about "playing architect, creating my own spaces, frameworks, in which to see the work." In 2007 he realized three such projects: at Kettle's Yard, Cambridge; MIMA, in Middlesbrough; and Chatsworth, the greatest of all English country houses, a place with many garnitures, as well as a whole porcelain room. De Waal's installation at Chatsworth, entitled A Sounding Line, took ghostly occupation of an old fireplace, transforming it into a sculptural situation.
Two years later, de Waal realized Signs & Wonders, a permanent installation for the Victoria and Albert Museum. It is a steel ring painted bright red, with a staggered line of white pots mounted within it. The work sits at the very top of the museum, an encircling halo, and a way of saying to the visitor, "you are here." Kamen is a more portable affair—it can be situated on any wall—but its message is the same. It exerts a quiet insistence, or perhaps better to say certainty, that acts of looking matter. They help to ground us. This intention is signaled in the work's title, borrowed from that of the poet Osip Mandelstam's first collection of verse. Kamen means "stone" in Russian, and was an apt choice by a poet who (as de Waal comments) "seems to concretize language, so that poems become things."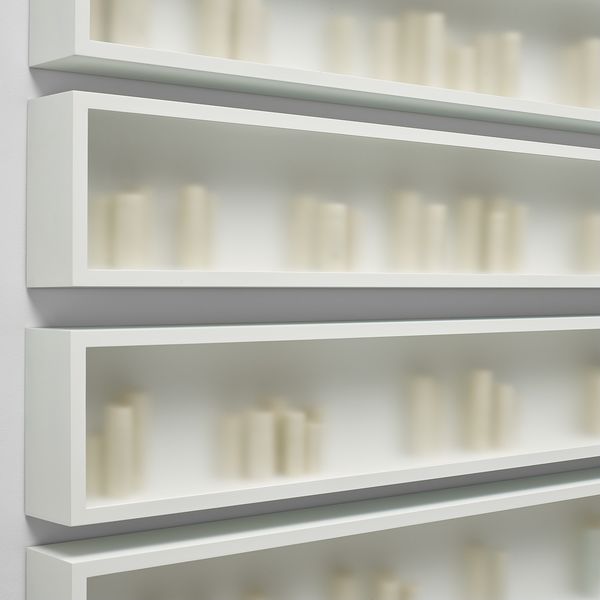 Edmund de Waal 'Kamen', 2012 (detail).
It is no coincidence that de Waal has developed his pot-arrays at the same time that digital technology was on the rise, a time of increasingly rampant distraction. He is a man in love with museums—he often speaks of his boyhood visits to the V&A and elsewhere, losing track of time as he gazed into the display cases, standing on tiptoe to peer at the upper shelves. He knows the seduction of stillness. Thus Kamen exerts a gentle pressure on the viewer's attention—analogous, perhaps, to the rabbit netsuke that centered De Waal's celebrated book The Hare with the Amber Eyes. That little carved Japanese object, a precious remnant from his family's tragic past, was something he felt he had to live up to. The netsuke placed demands on him, prompting him to profound exploration. While less obviously narrative in its operation, Kamen does resemble—among its other affinities—a neatly arranged bookshelf. And like a good library, it invites us in to wander, and learn.
And learn what, exactly? Above all, the value born of long experience. De Waal is a firm believer in the principle of "joy in labor," a phrase borrowed from William Morris. He likes to say that his happiest hours are those spent at the potter's wheel. These days he gets less opportunity to do that, what with the increasing demands of his practice and fame. But then, de Waal has a great deal of time already stored up in his head and hands. In 2012, the same year that he made Kamen, he chose to title a similar piece A Thousand Hours. This referred not to the duration of its own making—like any proficient craftsman, he's quick at his work—but rather to the steady accumulation of artisanal expertise. Such ideas have been much in circulation in the past few years, doubtless another reaction against the frictionless speed of the digital. Malcolm Gladwell helped popularise the notion in his 2008 book Outliers: The Story of Success, hypothesizing that it took about 10,000 hours to become really good at anything. It's one thing to consider such a rule in the abstract; quite another to embody it. This is what one is looking at, when looking at Kamen.
Nor is it only de Waal's own personal investment that is witnessed here. The porcelain itself, and the glazes on the pots—various intensities of green-tinged celadon—continue a trajectory from Sung Dynasty China (a path that de Waal again has explored in his writing, notably his 2015 book The White Road). And in the slight depressions and protuberances of the pots' profiles, one sees the echo of all the ceramics that de Waal has handled and emulated. Kamen is an impressive feat of sustained making, to be sure. It is also an act of reception, attentive to what potters have been doing for centuries, circling back again and again to the same forms and materials, refining, improving, extending, inventing. 115 pots: that's a big number. But to cite another of de Waal's titles, once is as good as never.