Lot 47: Studio Job - Job Smeets and Nynke Tynagel Table from the 'Robber Baron' series, executed 2007.
Estimate: £50,000-70,000.
Design at Phillips London, 19 June.
by Luke T. Baker
Job Smeets and Nynke Tynagel, the duo behind Studio Job, produce conceptual objects, lighting, furniture, and graphics that seem to delight in traversing between design and art, past and present. Their one‐off pieces draw inspiration from high and low culture in equal measure, often exalting everyday objects and iconography with extravagant materials and arcane craft techniques. By adopting a lexicon of symbols and playing with scale, Studio Job's works deploy a cartoonish humor to offer cheeky commentary on such serious subjects as capitalism, taste, and the legacies of art, design and the decorative arts.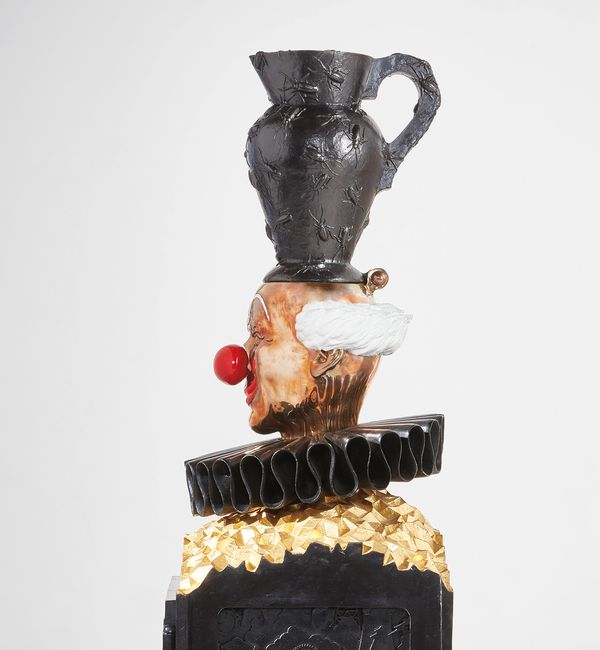 Studio Job - Job Smeets and Nynke Tynagel Jewel safe from the 'Robber Baron' series, executed 2007 (detail).
Studio Job released their Robber Baron suite of art furnishings in 2006, on the eve of the most disastrous economic crisis since the Great Depression. This limited-edition collection of five luxurious pieces was imagined as a tongue‐in‐cheek critique of wealth and power, inspired by nineteenth-century tycoons and designed to appeal to the oligarchs of the present day. Originally developed as an edition for Moss Gallery, the series comprises a table, jewel safe, cabinet, clock, and floor lamp, all figural, functional pieces, constructed from iconic works of architecture or modeled after precious objects housed in the world's great museum collections. The furnishings are exquisitely crafted from cast bronze, with polished and patinated details and gilded passages of graphic relief. But each piece features a surrealistic twist that counters its formality with a touch of irreverence: a hole blasts through the center of the Louis XIV cabinet, a train track to nowhere winds around the mantel clock, clouds of bubbles and piles of rubble serve as unlikely ornamental devices. These mysterious and dreamlike elements lend the objects an allegorical quality and invite contemplation of their larger symbolic significance.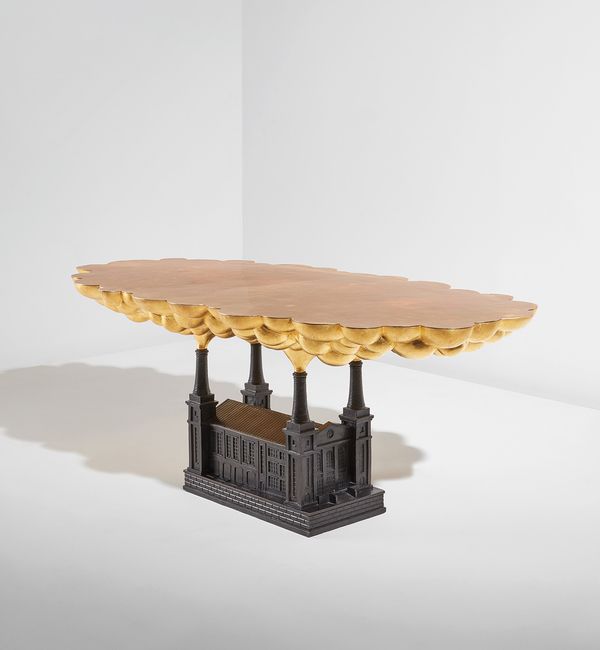 Studio Job - Job Smeets and Nynke Tynagel Table from the 'Robber Baron' series, executed 2007.
The Robber Baron table appears like a tiny factory, spewing plumes of pollution as it assiduously churns out widgets. Industrialism and its impact is a recurring target in Studio Job's oeuvre, which often champions traditional handcraft techniques such as glassblowing, stained glass, and inlay. Of course, industry also happens to be the source of vast wealth for America's steel, oil and railroad magnates of the nineteenth and twentieth centuries. As such, the architectural miniature that forms the base of the table was inspired by factory buildings, specifically Peter Behrens' archetypal turbine hall for AEG, designed in 1907, and the Battersea Power Station in London, built in the 1930s. Yet in Studio Job's interpretation, this diminutive bronze building looks almost church-like, its four smokestack "steeples" billowing clouds of holy smoke as though from a cathedral of commodities. These noxious fumes, rendered in gleaming, polished bronze, are truncated on top, forming a flat surface that literally smooths over and conceals the means of production in order to enable consumption.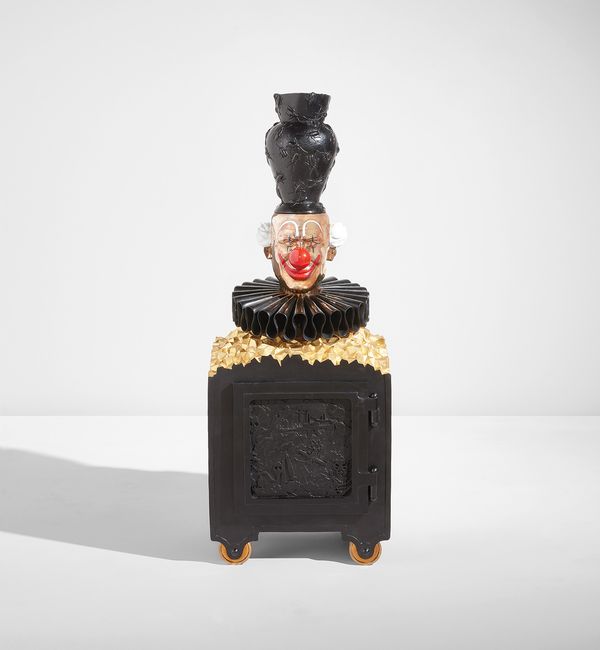 Studio Job - Job Smeets and Nynke Tynagel Jewel safe from the 'Robber Baron' series, executed 2007.
The bronze jewel safe from the series is transformed into a disquieting jack‐in‐the‐box by the garishly painted clown head that appears to be emerging from its top. Adding to the unnerving effect, the surfaces of the safe are decorated with reliefs of apocalyptic accoutrements, among them gas masks, nuclear cooling towers, assault rifles, grenades, and fighter jets. To open the door and access the vault requires turning the clown's red nose and confronting the grimacing figure face to face. In Studio Job's conception of a safe, the stockpiling of wealth becomes a game in which precious stones are equated with childish playthings, and the grandiosity of the sculptural bust is reduced to a mockery. Perhaps the heavy, wheeled object is meant to serve only as an elaborate stand for the cockroach‐covered vessel that's balanced atop the clown's head—an absurdist flower vase with a saucy, anti-capitalist agenda.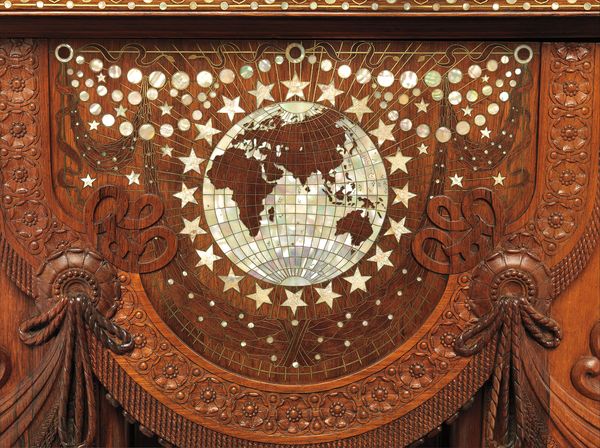 Detail of the library table designed by the Herter Brothers for William Henry Vanderbilt's Fifth Avenue mansion, 1879–82. The library table is held in the permanent collection of the Metropolitan Museum of Art, New York.
These works find a precedent in many narrative, symbolically charged buildings, interiors, and furnishings commissioned by the so‐called robber barons of America's Gilded Age, such as the Rockefellers, Carnegies, Fricks, and Vanderbilts. These newly‐minted millionaires sought out the nineteenth century's leading craftsmen to create spectacular designs that combined the fashionable taste of the day with references to past styles and loaded iconography, lending the imprimatur of history to families whose wealth and status had only recently been established. A prime example is the magnificent rosewood library table designed in 1882 by the Herter Brothers firm for the Fifth Avenue mansion of William Henry Vanderbilt, who became the country's wealthiest man after the death of his father, railroad mogul Cornelius Vanderbilt. This object, now belonging to the Metropolitan Museum of Art, employs conspicuous materials and historic motifs to communicate Vanderbilt's destiny as heir to his family's legacy. The table's carved lions‐paw feet and stylized palmettes allude to the grand furnishings of the Roman Empire, while inlays of Napoleonic heraldry recall iconography associated with one of history's greatest rulers. Globe details on either end tell of Vanderbilt's boundless domain. A mother‐of‐pearl constellation inlaid on the table's surface even memorializes the position of the stars on the fateful night of William's birth.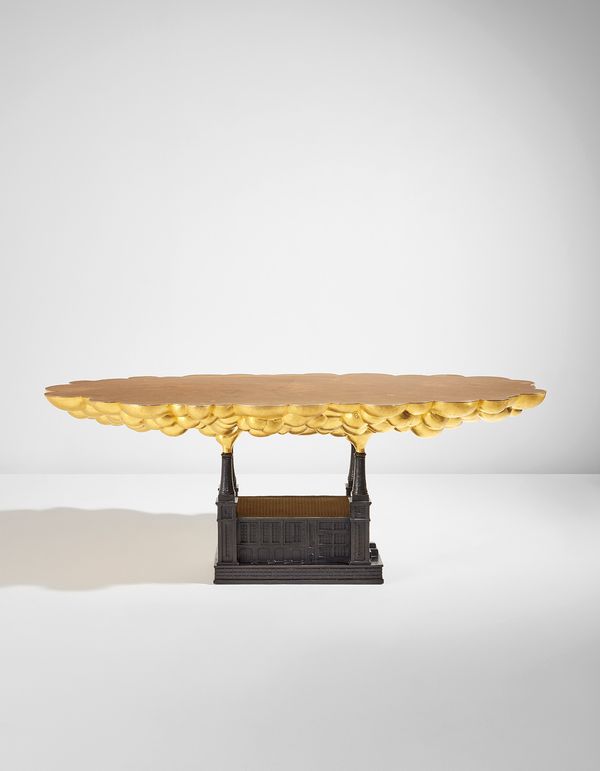 Studio Job - Job Smeets and Nynke Tynagel Table from the 'Robber Baron' series, executed 2007.
The Robber Baron series reflects a fascination with narratives of power and prestige embedded within historical objects like the Vanderbilt library table. Through the self‐conscious use of symbol and style, Studio Job create hyper-referential meta‐works that both celebrate and critique these traditions of myth-making within the decorative arts.