Anya Hindmarch's "I Am A Plastic Bag" totes
London designer Anya Hindmarch has been designing handbags since 1987, building what was once a cottage business into a global brand. In the face of a worldwide environmental crisis, Hindmarch's latest initiative, entitled "I Am A Plastic Bag," seeks to make a small difference by re-using discarded plastic to create durable tote bags and accessories. This is not Hindmarch's first foray into environmental activism, as her wildly popular "I'm NOT A Plastic Bag" canvas tote was among 2007's biggest trends. To celebrate the launch of her new line, Hindmarch held a launch party at Phillips' Berkeley Square headquarters during London Fashion Week, attended by luminaries in the overlapping worlds of art and fashion. We had the chance to speak with the designer herself and find out more about this exciting initiative.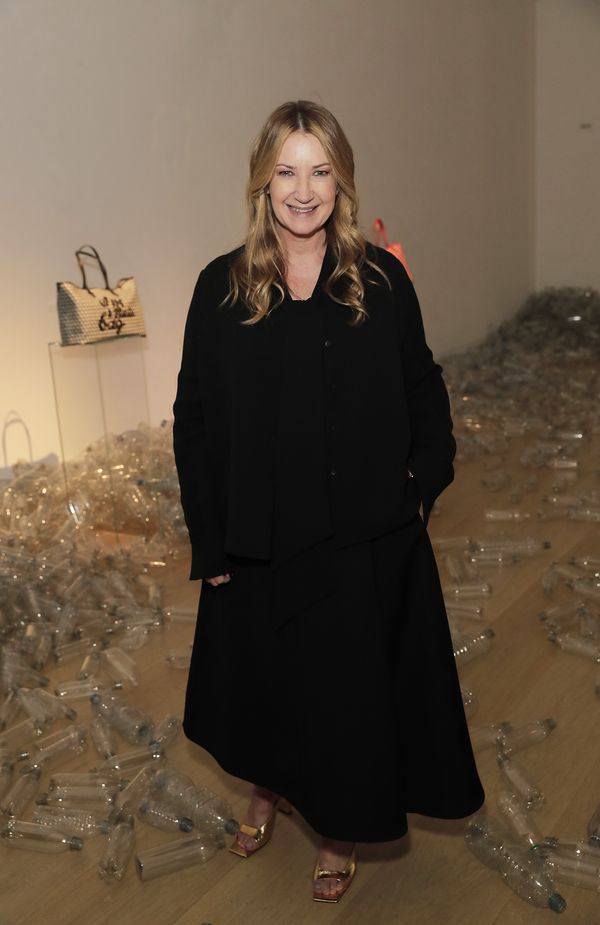 Designer Anya Hindmarch in Phillips' Berkeley Square galleries
PHILLIPS: Tell us a little bit about how you first became interested in sustainability as part of your business.
ANYA HINDMARCH: Back in 2007 I was approached by Antidote, an ad agency, and We Are What We Do, a social change movement, about a project to try to bring awareness to the problem of single-use plastic. It was the time when we were all beginning to hear about the word "environment" and yet weren't sure how we could make a difference as individuals. Their approach was a lightbulb moment for me as I realized that I could use the platform of fashion to encourage people to stop using single-use plastic bags.
P: How, if at all, has your perspective on this issue evolved since you launched your "I'm NOT a Plastic Bag" tote in 2007?
AH: I think it has only become much more serious. It some ways I think it is "our generation's war" and yet I think if we all get behind making some changes combined with big innovation efforts, I think we can turn the situation around. But it has to be now. Someone said to me in the course of this project that "the next 10 years of behavior will affect the next 1000 years of humanity."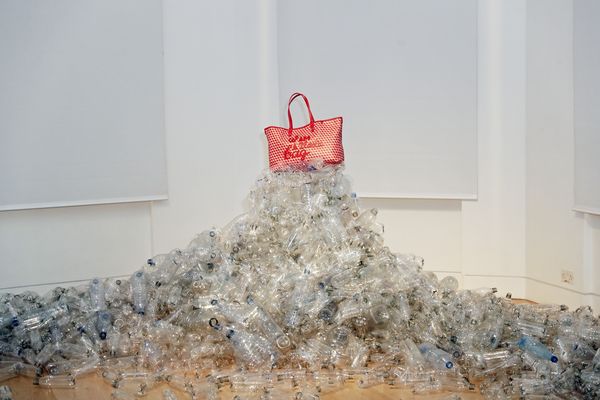 Anya Hindmarch's designs on view in our Berkeley Square galleries
P: How are your new "I AM a Plastic Bag" totes made? What was the process behind creating this fabrication method?
AH: They are made from 32 half-liter plastic bottles. The plastic bottles are smashed and then melted into pellets and then spun into yarn and then woven into a fabric that feels remarkably like cotton canvas. To protect the fabric, it is then coated in recycled PVB which is the laminate that goes between the glass in a windscreen to stop it shattering. The idea is about how we can keep things from going to landfills and how can we make them into beautiful things that you want to keep and that can stay in circulation and if not, be recycled. We need to stop making materials and then binning them. This project is about that.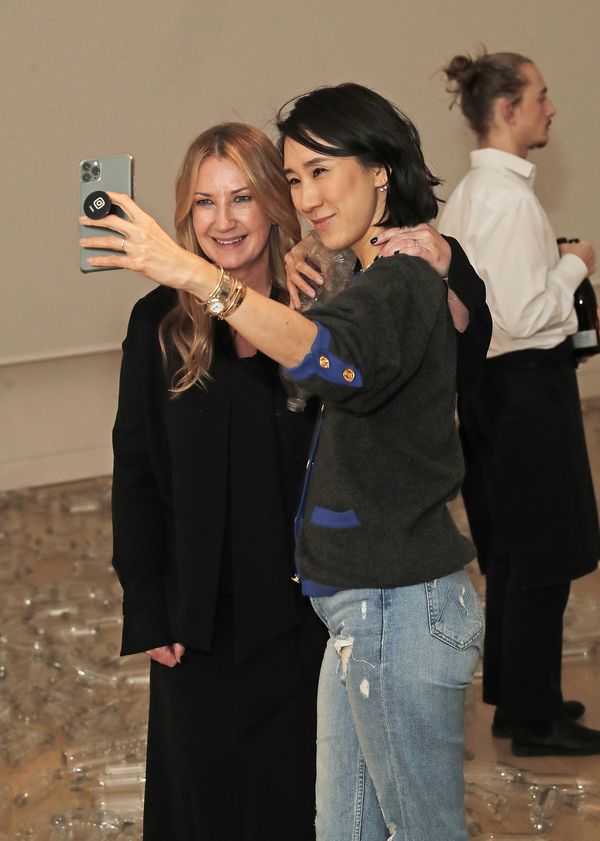 Anya Hindmarch and Eva Chen at the launch for "I Am A Plastic Bag"
P: Sustainability is a huge part of the current discourse in the worlds of both fashion and art. What do you think is missing from these conversations?
AH: Often common sense! We need to be responsible. Avoid waste: there is no waste in nature. Eat seasonally and locally and think about how we affect the planet and what each of us can do to make a difference. I think it is key to learn. In the course of this project, I visited a few recycling centers to understand how it works and how it doesn't. It informs your behavior. Take your kids to the open days. Get involved and it makes you think quite differently.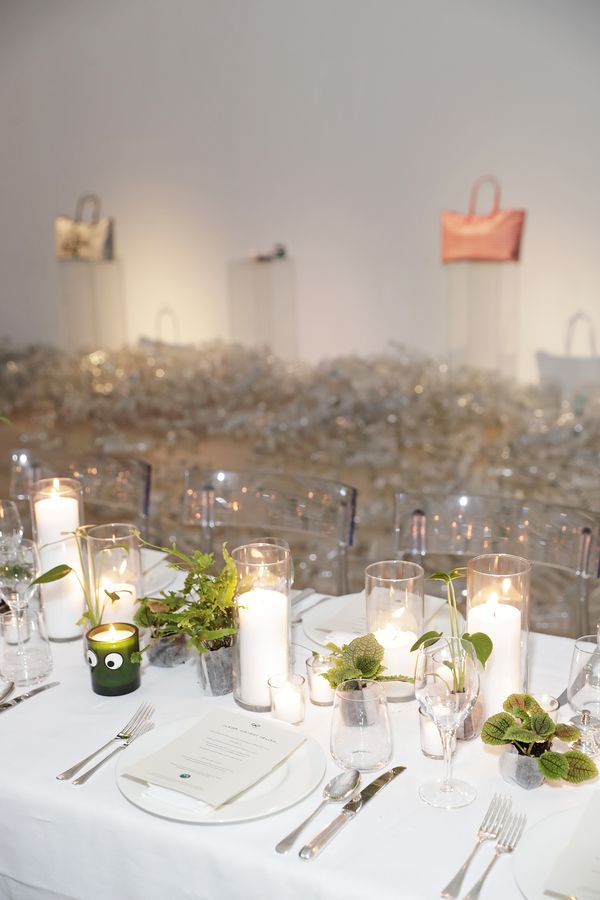 Anya Hindmarch's designs on view in our Berkeley Square galleries
P: Aside from your business, how has your passion for sustainability bled into other areas of your life? Has it affected your taste as an art collector?
AH: I am no eco-warrior... I am just trying to do my bit and to work out how we can make the changes we need and to use my platform to make people think about it themselves, too. I started trying to reduce plastic in my bathroom. It is an ongoing challenge but with a few changes, you can reduce waste massively. It is not difficult and is worth that little bit of effort.
In terms of art and fashion, I really think it is about having less but better. Don't buy lots of things you quite like and don't really use or love. Buy a few things you really LOVE that are worth the effort, and make it a badge of honor to wear them, use them and hang them a lot. This is sort of how our Grandparents behaved: less but better, and actually, it is a relief both financially and emotionally. Too much stuff is very draining.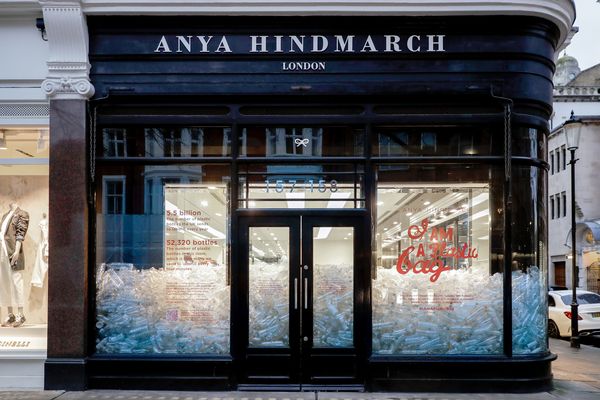 For London Fashion Week, Anya Hindmarch closed her three London stores and filled them with 90,000 used plastic bottles
P: Having now been in business since 1987, what advice would you give young designers or artists today?
AH: Passion for what you do. Grit. Hard work. Trust your gut. Zig when people zag. Be authentic. Build a wonderful team that you trust and cherish them. Laugh and be kind.
Learn more about the "I Am A Plastic Bag" project >