Derek Jarman gardening at Prospect Cottage. © Howard Sooley
Phillips is proud to partner with Art Fund, the UK's national charity for art, in fundraising to save Prospect Cottage: the home and garden of visionary British filmmaker, artist and activist Derek Jarman. This remarkable place is a site of pilgrimage for people from all over the world, who come to be inspired by its stark beauty and Jarman's legacy. But it is at risk. Art Fund is fundraising to meet the £3.5 million needed to secure the future of Prospect Cottage as a center of creative activity – for everyone. Against a deadline of 31 March, they have just £860,000 left to raise.
To raise awareness of the campaign, Academy Award-winning costume designer and Jarman's friend Sandy Powell has been collecting signatures of film world stars on her suit at this year's awards ceremonies, from the BAFTAs to the Academy Awards. Hundreds of stars have rallied to the cause, with Robert De Niro, Scarlett Johansson, Brad Pitt, Bong Joon Ho, and many more all signing the suit to show their support. Now, Phillips is hosting an online auction, offering the chance to own this incredible piece of film memorabilia, with all funds raised at auction going to the appeal to save Prospect Cottage. As Art Fund approaches the final weeks of the campaign, we hear from Sandy about her friendship with Derek and how this incredible project came together.
PHILLIPS: Tell us about your relationship with Derek Jarman. How did you meet and what role did he play in your life?
SANDY POWELL: I first met Derek in… it must have been either '83 or '84. I'd been designing theatre shows for a couple of years. Fringe theatre shows, mostly at the ICA, and I invited him to come and see a show that I designed because I'd done a bit of theatre and I was interested in film, and I'd seen Jubilee and The Tempest and loved them. I thought, "I'll just ask him to come and see this theatre show." And he came to see it. And that was my first meeting with him.
The first word I would use to describe Derek is "generous." I mean real generosity. And sort of like a puppy-like enthusiasm. Sort of like, bouncing up and down in his seat with enthusiasm. He just immediately made you feel comfortable, and you were never ever made to feel inferior. Even on a film set, he'd be sat there, waiting for the next setup, and I remember there were times when he would ask the person who was sweeping the floor of the set what he thought. He'd talk aloud about his ideas. He'd set something up and say, "What do you think about that? Should we do this?" and he'd actually listen to what that person had to say. Anybody. He'd listen to what any of us had to say, and I think we were all treated completely equally.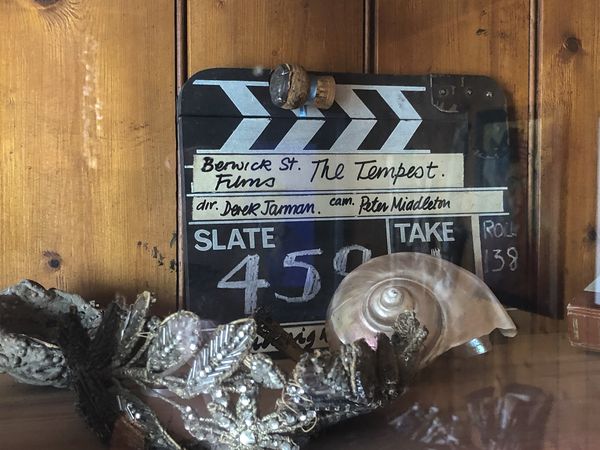 The interior of Prospect Cottage. © Howard Sooley
My very first ever film was in 1985, and it was Derek's Caravaggio. I thought that Caravaggio was how films were made, and what filming was going to be like. And of course, it wasn't ever again the same. Nothing's ever been the same as Caravaggio. Apart from the other Jarman films.
I think meeting Derek sort of determined the course of my life. I won't say it changed the course of my life because I knew I wanted to do something creative. I knew I wanted to be in that world somewhere. But actually meeting Derek really made me realize the kind of work that I wanted to do. He was a friend and a mentor and a complete sort of guide and inspiration.
I bring up this quote quite a lot, but one of the things that Derek said to me was that there was absolutely no point in going to work every day unless you went with the same excitement as if you were going to a party. With him, I'd get to work every morning and I would be so excited about going to work. Sadly, that doesn't happen in every film. It really has never been repeated. But I strive to feel the same thing. I strive to achieve that. I vowed never to work on things that I didn't have fun doing or didn't think I was going to enjoy doing. That's what he gave to me.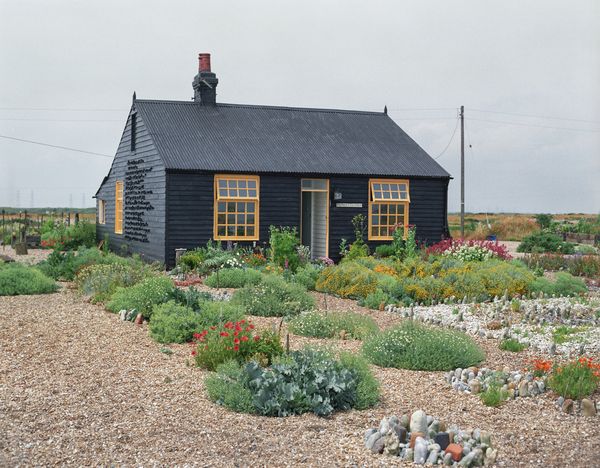 Prospect Cottage, Dungeness. © Howard Sooley
P: How did Derek use Prospect Cottage before his passing? What did the space mean to him?
SP: It's only after years of Derek being there when you realize, you go to the house and there's that creativity seeping out of the walls. You walk into that house and you can feel it. And I don't know whether Dungeness would be the same without it.
Where Prospect Cottage happened in his life, with the diagnosis, I think is key. It just focused him. It was something positive. He was actually making something grow and come to life, in this world where everything around him was falling apart. So many of his friends and people close to him were dying. And it was a sort of hugely creative thing to do. And for him to actually keep sane, I would have thought.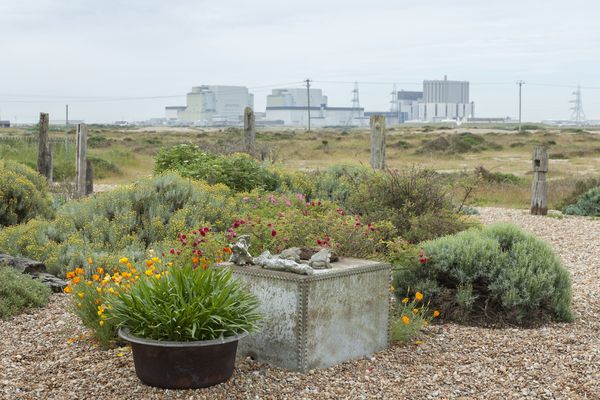 View from Prospect Cottage, Dungeness. © Howard Sooley
I did spend a lot of time there. I think I first went there quite soon after he bought it in the 80s. And we all thought he was mad at the time. Because there was nothing else there apart from the fishing cottages and the nuclear power station. And it was sort of right in the shadow of the nuclear power station. How can he think that this is a nice place to live? But after a while, you got a sense of the beauty and you could understand what he got out of it.
I remember it being just one of these places I'd visit. I'd call Derek and go for a day trip. And go for walks along the beach. And I saw the garden develop, and the house itself, and then everything that was going on in the house.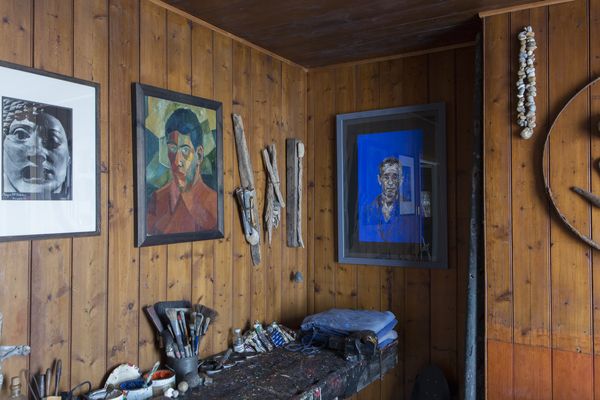 The interior of Prospect Cottage. © Howard Sooley
P: How did we get here? What was the impetus for you to partner with Art Fund, Creative Folkestone and Tate on this fundraising project?
SP: I think preserving the cottage this way is exactly what Derek would have wanted. What Derek did above all else was encourage young people. I remember that on Caravaggio the average age was 25, it was most people's first film. I don't think age meant anything to Derek at all. He'd never think "you're too young to do this." He was just really encouraging to all young people, and I think that's what this house could be. It's this really open house to encourage people to come and be creative and get as much as they can out of it, and I think he would have wanted that.
It's not just important as a piece of history, but also to preserve his legacy. It is so important Derek doesn't get forgotten, and that he can continue to inspire young filmmakers, artists and writers.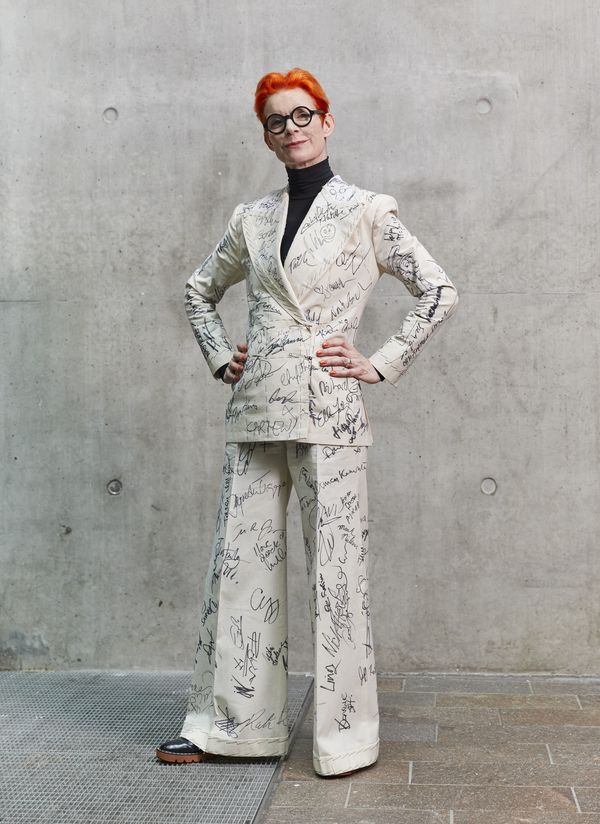 Sandy Powell wearing her signed suit to be auctioned to help save Derek Jarman's Prospect Cottage. © Janie Airey 2020
P: Tell us a bit more about your suit, now up for auction online with Phillips. How long have you been collecting signatures, and what gave you the idea originally?
SP: The fabric of the suit is calico, which is a sort of rough cotton, and it is a toile, which is a pattern for a suit. This started life a year ago when it was made for me as fitting for the suit I wore to the BAFTAs last year. I started the signing on the red carpet. It was quite fun. At the BAFTAs I bumped into Richard E Grant on the carpet and he kneeled down and signed my trousers. And then once we'd taken our seats, you have a few minutes before it starts and you can sort of sit there and sort of plot your targets in advance. And then every time there was a break I'd run up to somebody and I'd say "can you sign this?", and at the same time really quickly explain what it was for.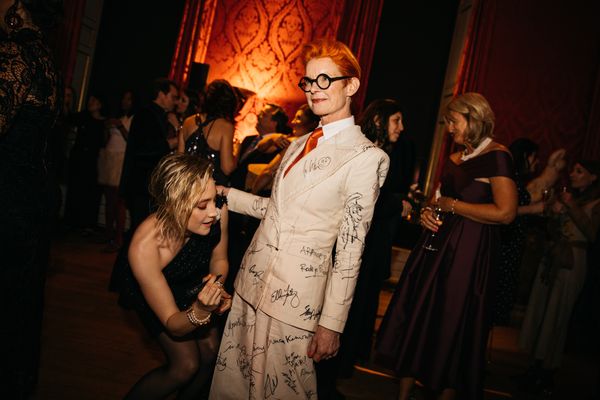 Sandy Powell with actor Saoirse Ronan signing her suit at the EE British Academy Film Awards Dinner and After Party, Sunday 2 February 2020 at The Great Room and Ballroom, Grosvenor House Hotel, London. © Iona Wolff
I had the best time at both BAFTAs and Oscars that I've ever had. Some people were aware of Jarman's work and knew who he was, but others weren't. We had little cards printed out with a picture of Jarman in the cottage and on the back the information of how to donate.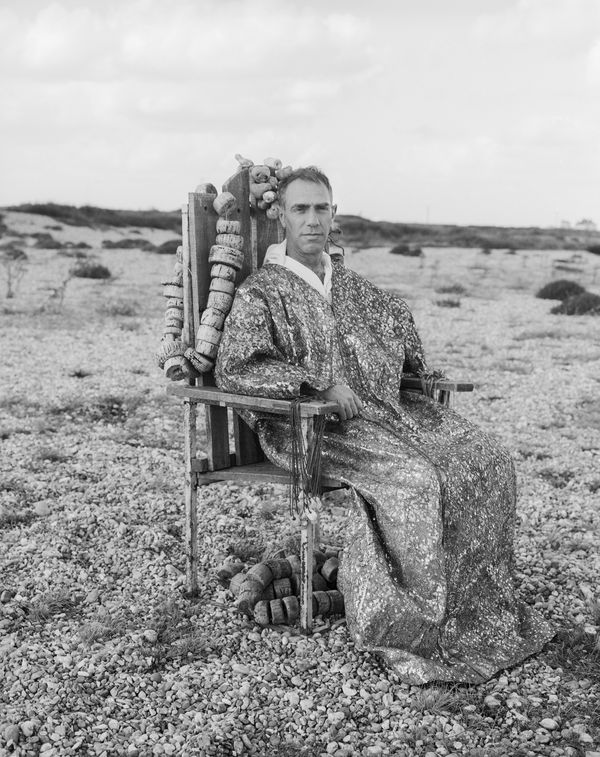 Derek Jarman at Prospect Cottage. © Howard Sooley
P: What would reaching this fundraising goal mean for the future of Prospect Cottage?
SP: What we're trying to do with the cottage is not just trying to buy it. The idea is to purchase it, conserve it and maintain it with the view to it being set up as a sort of permanent residence for artists, writers, musicians, gardeners, activists... anybody really who needs to have somewhere to go and work and a place of inspiration.
Learn more about Sandy Powell's Suit: An online auction in support of Derek Jarman's Prospect Cottage >
Learn more about Art Fund's campaign to save Prospect Cottage >