Fabio Salini, Carbon fiber, sapphire, diamond, white gold and titanium earrings
by Vivienne Becker
Fabio Salini, individualistic Roman designer-jeweler, believes that only a profound and considered concept underpinning design can ultimately lift the jewel to the level of a contemporary art form. In this first major showing of his work, both past and present, at Phillips New York, Salini sets out to demonstrate this conviction, to share his point of view and to showcase the varied concepts that preoccupy him and shape his designs. He does this by tracing 20 years of in-depth exploration of materials and meanings, signs and symbols, on a single-minded mission to build and refine a new and dynamic visual language for the 21st-century modernist jewel.
Enthralled from a young age by gemstones and minerals, Salini studied geology at the University of Rome, before working first at Cartier and then Bulgari, learning design, gem-buying, production and retail. He launched his own collection in Rome at Petochi, one of the oldest of Italian jewelers, in 1999. On the eve of the new Millennium, he drew on the house's long and rich history to envision a daring and dynamic future for the art of the jewel.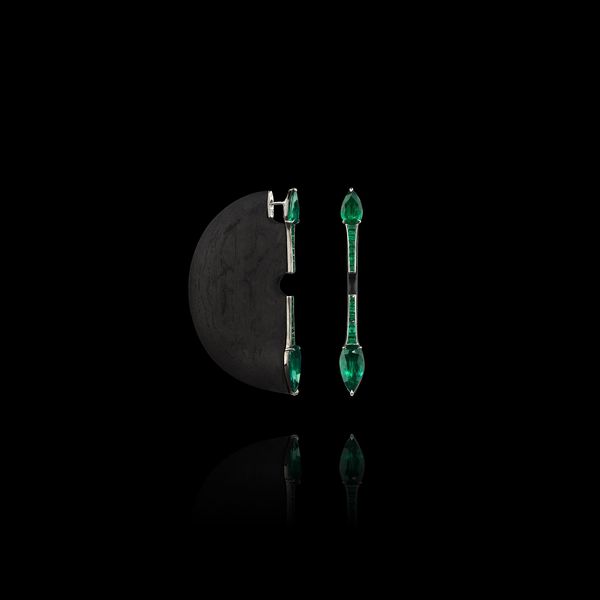 Fabio Salini, Carbon fiber and emerald earrings
Salini refuses to work in collections, a convention he says was imported from fashion, and focuses on concept rather than narrative. He deconstructs the relationship between the intrinsic worth of material components and the emotional and artistic value of a jewel. He rebels against the status symbol and feels strongly that today's jewel should be discreet, intensely personal, its richness even hidden, as in his 'jacket' rings or titanium earrings, in which peridots are sublime secrets, enticingly reflected in golden mirrors. The true preciousness of a jewel, says Salini, has to be discovered, revealed slowly, understood profoundly and most of all cherished by the wearer.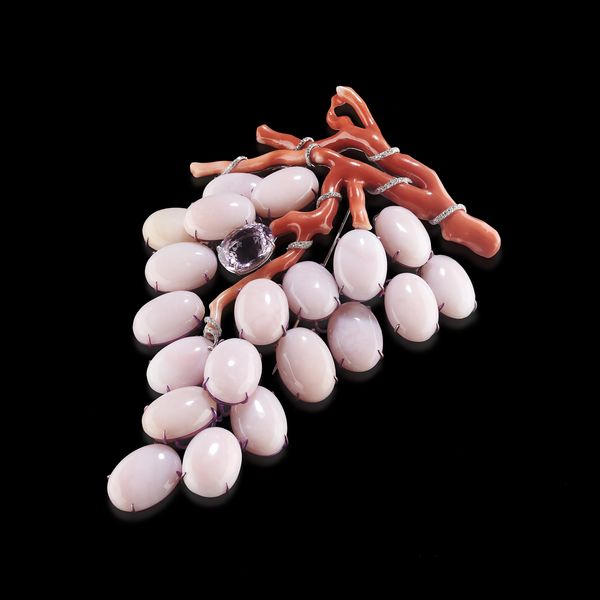 Fabio Salini, Coral, kunzite, diamond, white gold and titanium brooch
So much of a jewel's value has, through the centuries, become invested in its materials, and Salini's first challenge as a designer-jeweler was to explore different, often unexpected materials and their associations, both to challenge this entrenched idea and to shape, influence and inspire his designs. These range from his use of rock crystal in the 1990s, as a more refined, less ostentatious replacement for pavé diamonds, through leather and silk, merging jewels and fashion and giving diamonds a youthful edge, to organic materials, hinting at exoticism and tribal ornament, including shagreen with its echoes of Art Deco sophisticated luxury, and coral, so innately Italian, which Salini often leaves in its natural state to deliver an animalistic wildness. Even endangered Brazilian grass and bamboo were coaxed into jewels for a 2013 collaboration with the Campana Brothers. This early naturalistic mood inevitably led Salini to tackle that most classic and ubiquitous of jewel themes, the flower, which he re-imagined, contemporized and transformed from a delicate fragile emblem of femininity to one of strength and confidence.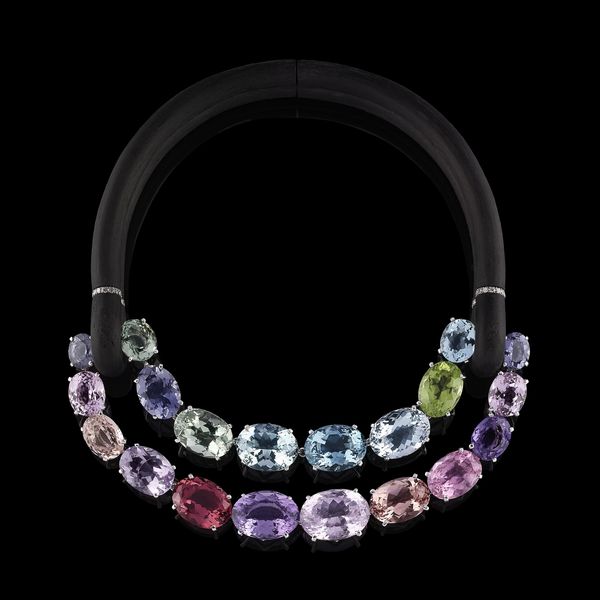 Fabio Salini, Carbon fiber, multi-color gem, diamond and white gold necklace
Finally, his experiments in material and techniques led Salini to carbon fiber: a space-age, industrial, high-tech, un-jewel-like material, offering unprecedented strength, volume and sculptural and textural possibilities. Salini explains how carbon fiber reminds him of Victorian Whitby jet mourning jewels, how he loves the idea of blackness, a void in which anything is possible, and how the matte texture reminds him of the magician's black velvet curtain; a device he uses to spectacular effect on his creole-shaped ear ornaments, fronted by classic emerald drop-earrings, creating a captivating illusion and contrast between barbarism and sophistication. Even more, in carbon fiber, Salini found a witty connection to the elemental composition of the diamond – pure carbon. Salini relished the engineering aspect of working with carbon fiber that forced him to design in a totally different way, yet enabled him to work with the perfection of geometric forms and to create striking contrasts and contradictions. His dramatic necklace, part lilting rivière of light-filled colored gems, part futuristic, taut black torque exemplifies the yin-yang harmony of clarity and opacity, lightness and dark, continuity and disruption, that characterize these dramatic, graphic jewels.
Fernando and Humberto Campana by Fabio Salini for Galleria O., Bamboo, diamond and rose gold cuff
As part of this revolutionary approach, Fabio Salini gives gold a new role. No longer merely a structural element or supporting act, in these jewels gold becomes a conceptual design feature in its own right, building and enhancing color and texture, line, form and silhouette, and as the exhibition shows, ultimately metamorphosing into pure light and myriad mesmerizing reflections.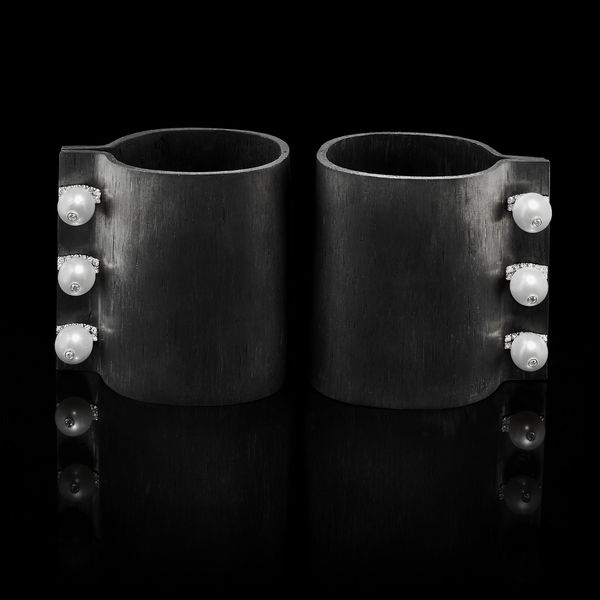 Fabio Salini, Carbon fiber, pearl, diamond and white gold cuffs
For Salini, pearls and the pearl necklace represent the ultimate, unchanging jewelry classic, deeply rooted in the past. They held out an irresistible challenge, to revere history and the story of the pearl, while reinvigorating its classicism. Salini delves into the pearl's associations with womanhood to pay tribute to the power of contemporary femininity, one of his overarching themes. He does this to perfection by constructing a deep bangle, designed as a masculine shirt cuff, fastening the dark, velvety night-sky carbon fiber with large and lustrous moonlit pearl buttons. It is just one of the series of monumental cuff bangles that celebrate Salini's muse, modern-day woman, drawing attention to the female wrist, and armor-like, summoning strength, power and protection.
Fabio Salini, Shagreen, sapphire, diamond, gold and titanium necklace
Underlying the series of symbols is Salini's determination to restore the original amuletic power and purpose of the jewel. His favored motifs and symbols, as he revealed to me over our several sessions of working together on the exhibition, all somehow signify wrapping, enveloping, tying and connecting, possessing. Salini admits to having a passionate, possessive idea of love, needing to keep people, and things, he loves close to him. He is drawn to the knot, recurring motif through jewelry history, from Herakles' unbreakable ties to the Victorian entwined bonds of undying love; the chain, symbol of authority, of connectivity, and to the open cage or frame, enclosing a precious gem or even empty, emphasizing structure and playing with negative space; the strap and buckle, tightly fastened and the envelope; the soft, openwork net and the tough horseshoe nail, another symbol of strength, telling of Salini's fascination with engineering and construction, and a link to his personal passion for horse-riding.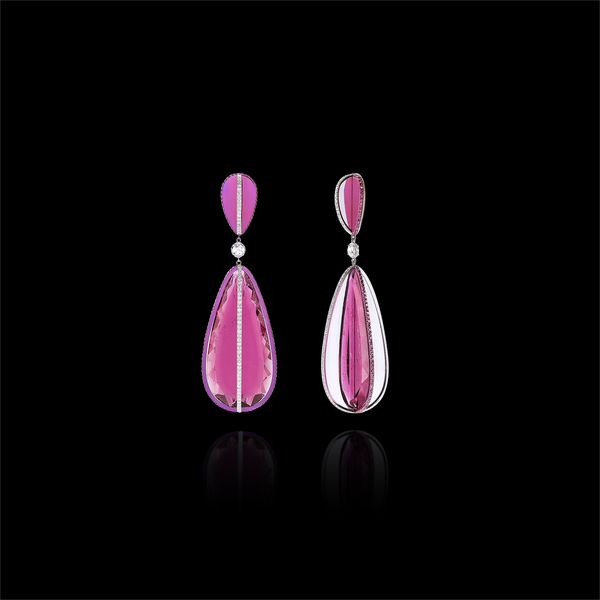 Fabio Salini, Rubellite, ruby, diamond, white gold and titanium earrings
Fabio Salini's intense focus on concept rather than narrative is reinforced by his inventive use of reflective surfaces in his most recent creations. The mirrors amplify the beauty, color and light of gemstones, mesmerizing us with the thrill of illusion, inviting us to look more closely: a slice of rubellite for example multiplied in the highly polished gold mirrors becomes a full, voluptuous pear-shaped drop. The mirror is a recurring theme in art, from 17th-century vanitas paintings to contemporary sculpture, symbolizing not only the transience of physical beauty but also truth, enlightenment and the door to the imagination. For Salini, the mirror brings visual excitement, structural complexity and an emotional layer to his designs; he believes the playfulness of the kaleidoscopic effect stimulates childhood memories. But most of all the concept revolves around the meaning of reflection as profound thought and contemplation. He urges us to consider the meaning, relevance and role of the jewel today and perhaps too, in these exuberant, ingeniously engineered and perfectly proportioned kinetic creations, he lures us into a magical 'other' world, beyond the worldly – which was, after all, the original source of the jewel's preciousness. And in these jewels of such striking modernity, architectural purity, seductive color and light, just as he balances tradition and innovation, so does Fabio Salini achieve his desired harmony between the physical and metaphysical – giving new expression to modernism: Revering the past and curating the future of jewels.