Tomoo Gokita N'danka N'danka, 2005. Estimate: $8,000-12,000.
We're thrilled to be presenting our first-ever online sale of curated works on paper, Paper Jam. Among works by iconic artists such as Eddie Martinez, Nina Chanel Abney, Tom Wesselman and Jim Dine, we have a number of exceptional works by Japanese artists. Originally invented in China, paper was first brought to Japan by Buddhist monks in the sixth century. Since then, it has remained central to the Japanese artistic practice, with washi (traditional Japanese paper) serving as the primary medium for watercolors, calligraphy, woodblock prints and of course origami through countless artistic periods. From Tomoo Gokita to Yoshitomo Nara, read on to learn more about the contemporary works we have on offer now at Phillips.
Tomoo Gokita
Best known for grey-scale paintings that combine abstract and figurative elements, Tomoo Gokita is one of the most internationally prominent contemporary Japanese artists. His signature works feature archetypal figures or groups with their faces obscured, evoking haunting film stills or magazine spreads. Gokita enrolled in a local art school in 1988, but dropped out two years later to pursue a career in graphic design, where he found success in the Japanese music industry. The present work, N'danka N'danka shares the name and imagery of a Flying Rhythms album, for which Gokita designed the cover in 2005.
Shio Kusaka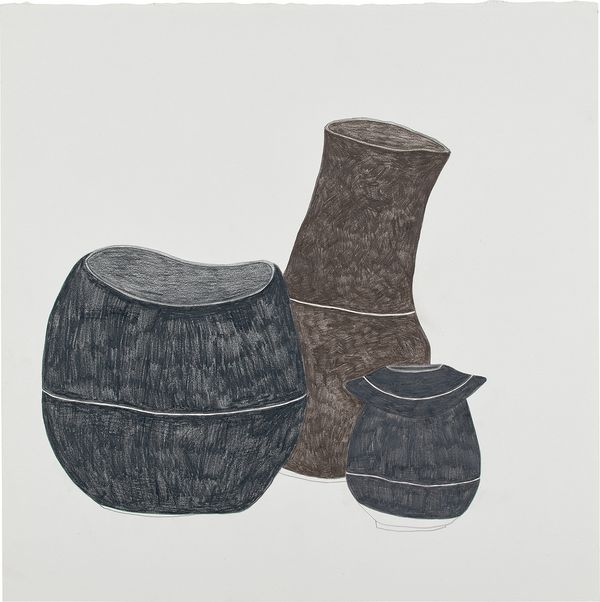 Shio Kusaka Untitled (pencil line black 4+3+2), 2009. Estimate: $3,000-5,000.
Shio Kusaka rose to prominence through her work as a ceramicist, a practice which was inspired by her close observation of vessels as a child attending traditional tea ceremonies with her grandmother. Her work often vacillates between figuration and abstraction, making use of pattern and shape to develop a distinct visual language. As seen in the present work, Kusaka's drawing and sculpture practices often blend, always sharing the visible presence of the artist's hand. Currently based in Los Angeles, Kusaka is married to fellow artist Jonas Wood, and exhibited jointly with him in 2017 at the Museum Voorlinden, Netherlands.
Yoshitomo Nara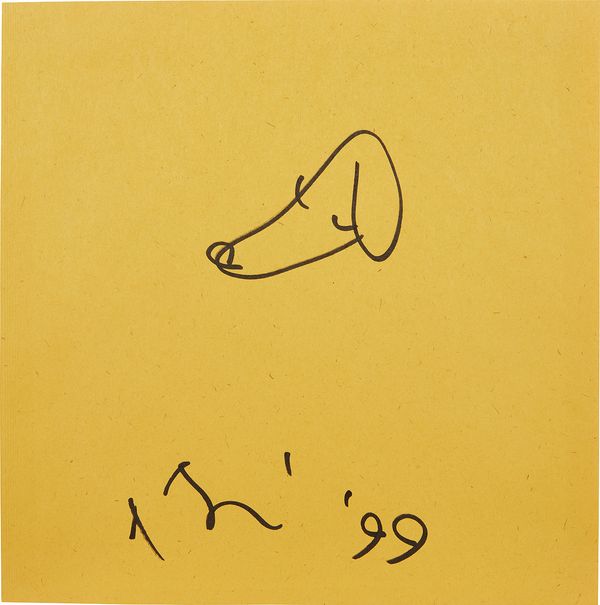 Yoshitomo Nara Dog, 1999. Estimate: $7,000-10,000.
Yoshitomo Nara is one of contemporary art's biggest stars. Born in Hirosaki, Japan, he studied art at the Aichi Prefectural University of Fine Arts and Music before moving abroad to study at the Kunstakademie Düsseldorf from 1988 to 1993. Nara first came to prominence as part of the Japanese Pop Art movement in the 1990s, and has a highly recognizable style that features bold lines, pastel colors and figures of children and animals with subtle emotional complexity. Executed in 1999, the present work demonstrates the power of Nara's confident line as the titular Dog is rendered with the utmost simplicity yet retains the artist's unmistakable style.
Mr.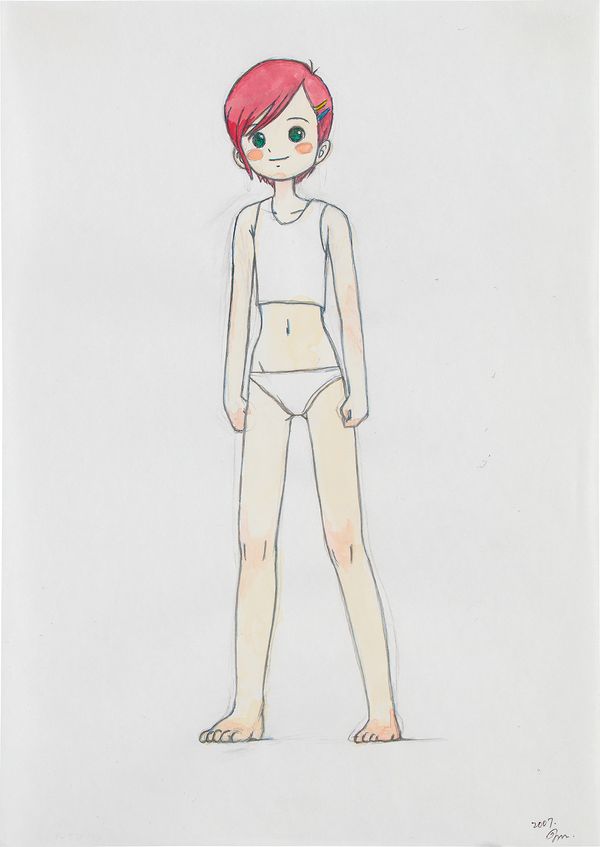 Mr. Return to the Tennis Club, 2007. Estimate: $2,000-3,000.
Mr. also made his artistic debut in the 1990s, first working in the Kaikai Kiki studio of his mentor, Takashi Murakami. Like Murakami, Mr. is considered part of the Superflat movement, and his work bears a distinct kawaii aesthetic derived from Japanese manga graphic novels. Though his characters display the innocence of youth, often sexual undertones or themes add a layer of ambiguity to his work, which the artist has stated can allude to the underlying anxiety of modern Japanese life.
Aya Takano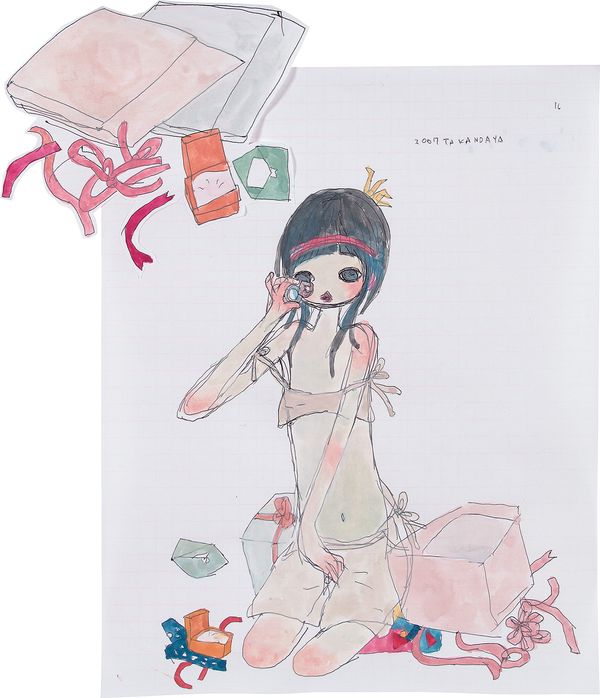 Aya Takano She's got a diamond/what is born and emerges from that, 2007. Estimate: $2,000-3,000.
Like Mr., Aya Takano started her career under Takashi Murakami's wing and is considered a major figure in the Superflat movement. However, Takano's androgynous waifs are portrayed from a distinctly female perspective, reappropriating an eroticized construct dominated by men. As in the present work, consumerism and wastefulness are frequent targets for critique by Takano.