- By Arthur Touchot
1. Twelve Watches Achieved More Than $1M
Twelve watches offered by Phillips made more than $1 Million in 2019. Twelve! Including five Rolex watches: a split-seconds Ref. 4113, a pink gold Ref. 6062 (new world record for the reference in pink gold), a stainless steel Ref. 8171, Jack Nicklaus' Day-Date Ref. 1803 (new world record for the reference), and Marlon Brando's GMT-Master Ref. 1675 (new world record for the reference).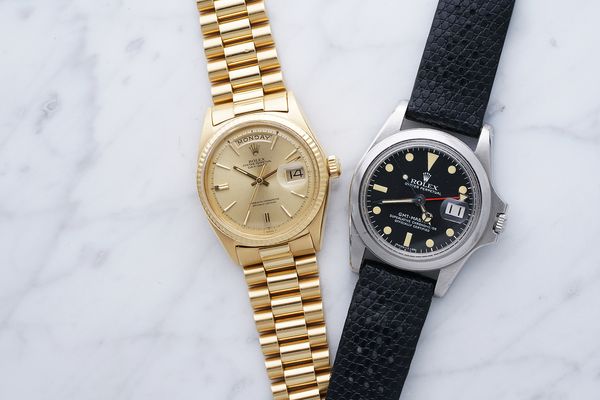 Lest we forget, the first time a Rolex watch sold for more than $1 Million was just 8 years ago, and since then, only a few of the Crown's watches reach that landmark every year. HODINKEE recently shared a great recap of all the Rolex watches that have sold above $1 Million – and it might surprise you to learn that there have only been 28.
Our 12 million-dollar watches also include five Patek Philippe watches, with a mix of modern and vintage pieces – notably, two white gold "Skymoon Tourbillon" Ref. 5002G, two very rare Ref. 2499 sold by Trucchi and Gübelin, and a pink gold Ref. 1518 with pink dial.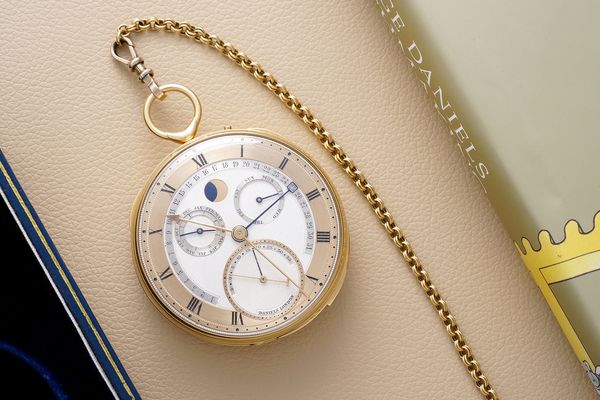 But perhaps most noteworthy of all are the two watches that complete (and top) this year's results. They are both marvels of independent watchmaking, made 31 years apart by very different brands: the George Daniels Grand Complication, one of the few pocket watches the great British watchmaker made and kept for himself, and a unique Urwerk AMC that borrows and perfects a centuries-old concept introduced by Breguet.
2. Record Attendance & Online Participation
Interest in collectible watches continues to grow worldwide. Not only did we welcome a record number of clients during our tours and exhibitions, including very popular tributes to George Daniels (and independent watchmaking in general) and Jean-Claude Biver, two mythical figures of the watchmaking, but our auctions once again attracted a record number of bidders.
We had to work double-time just to approve all of the registrations for online bidding we received – online registrations increased by 80% year-over-year, with bidders from 75 countries taking part in our auctions, confirming the international appeal of collectible waches and the incredible level of engagement of the global watches community.

Online bidders certainly made their presence felt during the auctions, placing bids on 87% of the lots listed in our catalogues. In some cases, it felt like the auctioneer was giving a geography lesson to those present in the room, as the names of cities all over the world were read out loud with each new bid received.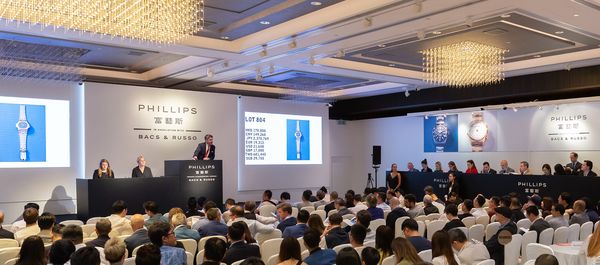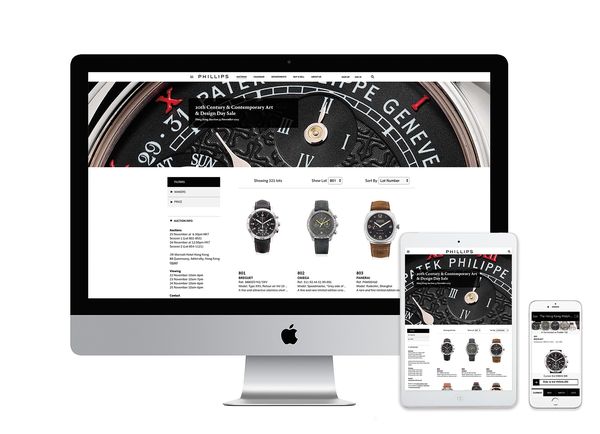 Thanks to the passionate bidding from our clients, every one of our auctions held this year had a sale rate above 90%, with not one but two "white glove" thematic auction, SPORTS in Hong Kong and GAME CHANGERS in New York, the highlights of another incredible year.
3. Most Expensive Watch Sold Online
One of the lesser-known records achieved this year was the result achieved by the pink gold Patek Philippe Ref. 2499 signed "Trucchi", the top lot of DOUBLE SIGNED. It achieved US$1.6 Million and became the most expensive watch Phillips has ever sold to an online bidder.
It's an interesting result as it showcases the drastic transformation of the watch market since 1972, the year the watch was sold to its original and first owner.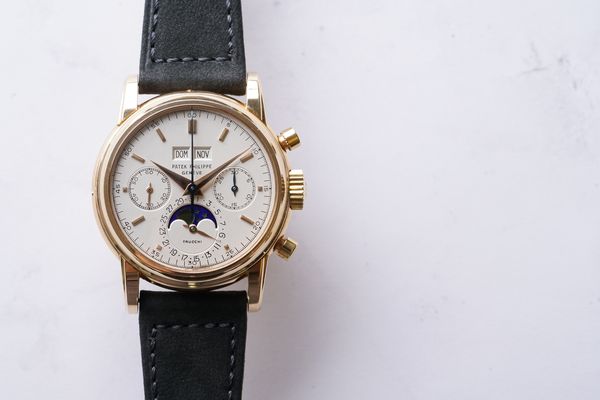 As the double signature on its dial indicates, this watch was exclusively available at Orologeria Trucchi, one of the most prominent watch retailers in Naples, Italy. To acquire the watch in 1972, one had to physically visit the boutique, push open its door to speak with a salesperson, and pay for the watch in person.

Who could have imagined the same watch would be sold at auction, 47 years later, to a distinguished gentleman living more than 4,000 miles away from where the auctioneer (and the watch) stood during the sale. But that's the state of the market in 2019.
4. Phillips PERPETUAL
In September, we celebrated the launch of Phillips PERPETUAL, a new platform for buying and selling watches, and opened our first dedicated boutique inside our London offices on 30 Berkeley Square. Specializing in high-end and rare collectible watches, Phillips PERPETUAL provides a unique private treaty experience aimed at collectors who have not traditionally used auctions as a consignment or purchasing tool.
Already Phillips PERPETUAL has delivered strong results, including achieving a new world record for a full set Omega Speedmaster ref. BA 145.022-69 with original crater box sold privately for CHF 140,000. Other highlights include the sale of a pink gold Philippe Dufour Simplicity white lacquer dial and blued Breguet hands, and a full set and wonderfully well-preserved example of a Patek Philipe Nautilus Ref. 3700, obtained from an important private collection.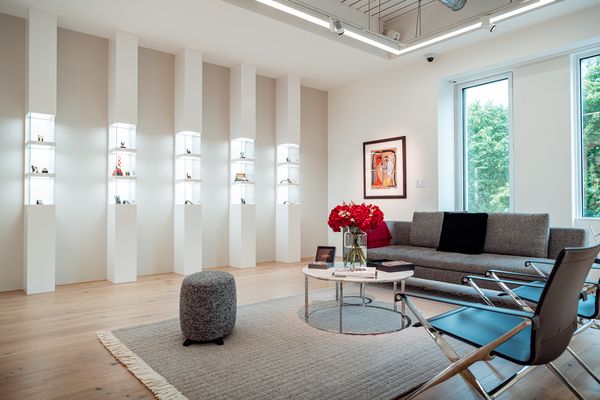 Phillips PERPETUAL also hosted several special events tying our love of collectible watches with other areas of interest, including a bespoke tailoring experience offered by Thom Sweeney, an exhibition dedicated to Alfa Romeo's iconic 1950s BAT concept cars. and one of the largest sales of vintage Swatch watches.

Finally, MB&F nominated Phillips PERPETUAL as a trusted partner for pre-owned watches and clocks in the UK.
We are already planning more exciting events in 2020. To stay up to date with Phillips Perpetual and view watches currently in stock, please visit Phillips PERPETUAL and follow our dedicated Instagram page @phillipswatches.
5. Honorable Mention
We have two this year:

First, we'd like to thank Zenith, for trusting us to design (and sell) a one-off platinum El Primero Ref. A386 with Lapis Lazuli dial. The watch set a new world record for a Zenith wristwatch sold at auction, but more importantly, it helped raise CHF 250,000 for Zoe4Life, a Swiss non-profit that is part of the Childhood Cancer International network.

We also had the pleasure of offering two limited editions El Primero models, designed by Phillips, one in yellow gold limited to 20 pieces, the other in stainless steel kept at 49 pieces. Together, the production runs of these two exclusive watches sold out in 18 minutes, which is faster than we could have ever imagined (or prepared for!). We're now delivering the first examples, freshly delivered by the manufacturer.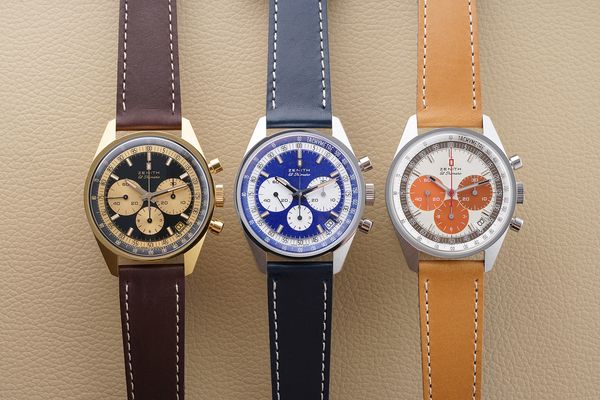 Second, we had the pleasure of welcoming TK Mak to our advisory board earlier this year. A dear friend and lifelong watch collector, TK turned his passion into Blackbird Watch Manual, a best-in-class watch publication - available in print and online.
TK Mak became the first Asian-based private collector to collaborate with an auction house for a watch sale when he helped curate the ground-breaking "Phillips & Blackbird: SPORTS" thematic sale that took place in Hong Kong in May 2019, resulting in a 100% sold "white glove" auction totaling US$9.3 million.

We would like to thank TK for bringing his unique knowledge and energy to our advisory board, and look forward to jointly developing our department's scope further.