From Design this December, lots 151, 152 and 153 comprise a set of furnishings designed by Claggett Wilson for the dining room of Mr. and Mrs. Sam Lewisohn. Wealthy and progressive young members of New York society, the Lewisohns found in Wilson a creative partner who conceived a highly original interior scheme. Discovered in the 1970s and held in private collections until now, this is the first time the present suite of furniture has come to public market since 1939.

Sam Lewisohn was the son of Adolph Lewisohn, patriarch of the New York branch of the Lewisohn family. Lewisohn senior arrived in the United States in 1867 to join his brothers in the New York branch of his family's business, the origins of which dated to eighteenth-century Hamburg. The various Lewisohn enterprises dealt primarily in animal-based products and, in New York, expanded to include metals. Within a few decades, the brothers had become extraordinarily successful in copper mining, processing and trading. Adolph Lewisohn established himself in American society through his advocacy and philanthropy, his political affiliations and, not least of all, his art collecting. Sam Lewisohn followed in his father's footsteps as a prominent businessman and philanthropist, and together with his wife Margaret Valentine Seligman, an accomplished advocate for education and patron of the arts in her own right, also amassed a considerable art collection. Works from the Lewisohn family collections are in the permanent collections of a number of New York museums, including the Brooklyn Museum, The Museum of Modern Art and The Metropolitan Museum of Art.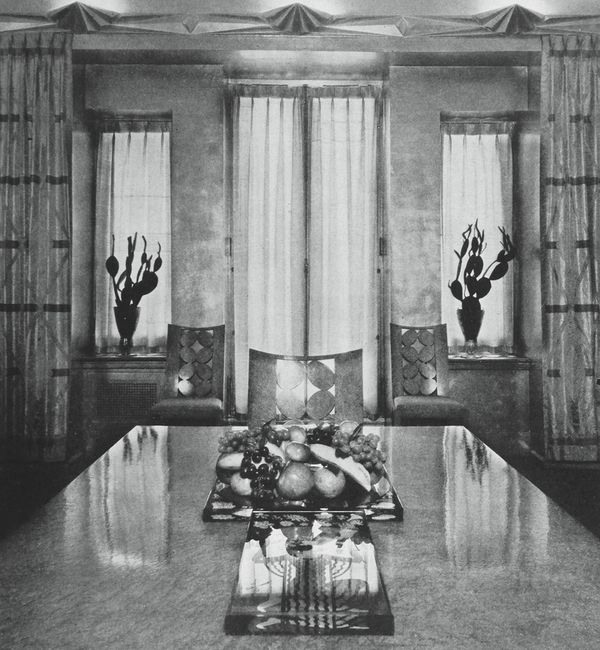 Dining room of Mr. and Mrs. Sam Lewisohn, New York, as seen in Town & Country magazine, June 15th, 1930. Photograph by Sara Parsons.
In 1915, Adolph Lewisohn commissioned C.P.H. Gilbert to renovate his 881 Fifth Avenue residence, and it was on a floor of this mansion that the young Sam and Margaret Lewisohn established their home. They enlisted Claggett Wilson to convert a former governess' room into a dining room that would draw inspiration from and complement their modern art collection. An article about the dining room by Wilson's friend and colleague Augusta Owen Patterson appeared in the June 15, 1930 issue of Town and Country and praised its thoughtful and modernist approach which provided an elegant backdrop to the Lewisohn's exceptional paintings and views of Central Park. An article about Claggett Wilson, probably published circa 1933 in the Boston Evening Transcript (a photocopy survives in the archives of one of Wilson's heirs), quotes Henri Matisse remarking on the room: "It is perhaps the most ideal background for my paintings I have yet seen."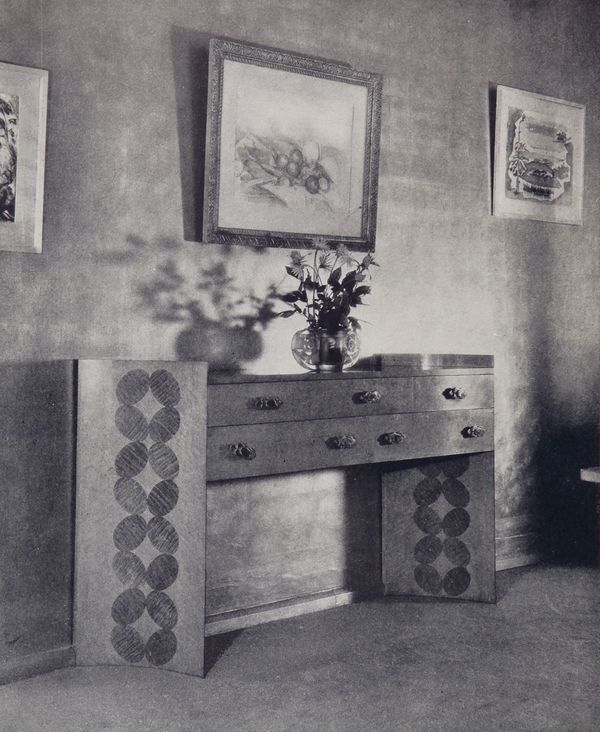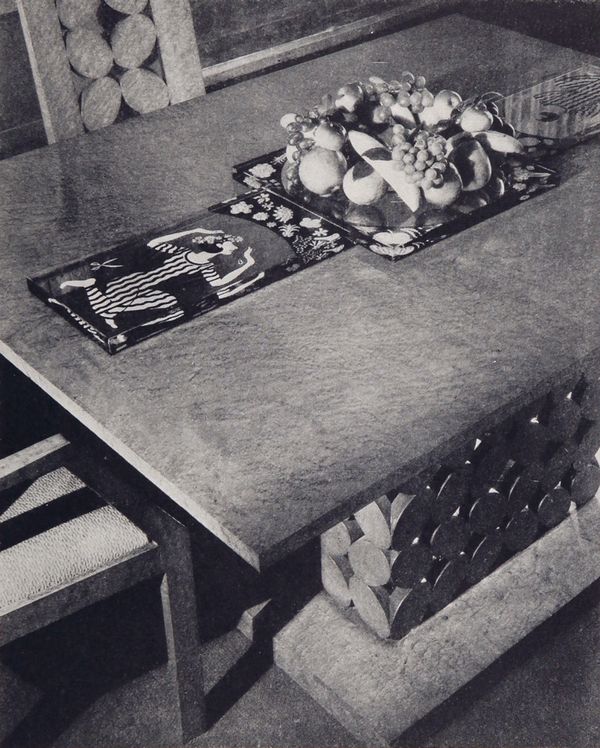 From top: Console table from the home of Mr. and Mrs. Sam Lewisohn, New York, as seen in Town & Country magazine, June 15th, 1930. Photograph by Sara Parsons. Detail of dining room table and chairs from the home of Mr. and Mrs. Sam Lewisohn, New York, as seen in Town & Country magazine, June 15th, 1930. Photograph by Sara Parsons.
Wilson was a modernist American artist best known for his work documenting World War I, for which he was nominated for a Nobel Prize. His paintings are now in the collections of the Smithsonian American Art Museum and The Metropolitan Museum of Art. Like many artists in New York at this time, Wilson did not discriminate among mediums, and in addition to painting and illustrating, he also designed costumes and sets. The Lewisohn dining room has been falsely described as his only known residential commission, when in fact he also worked as an interior decorator, painting murals and selecting interior furnishings for clients such as the actors Alfred Lunt and Lynn Fontanne. The diversity of his projects suggests he may have designed other pieces of furniture in addition to those for the Lewisohn dining room, now the only known extant examples.

Wilson's theatre design background was apparent in the iridescent walls (silver leaf applied with "transparent blue green lacquer"), the upper silvered geometric molding behind which uplights illuminated a yellow ceiling, and window niches containing large cactus plants framed by silver gauze curtains with appliques in blue, pink and green. A Paul Cézanne still life with fruit was literally and figuratively reflected in a fruit-filled, mirrored and lacquered glass surtout de table, also designed by Wilson. The whereabouts of this centerpiece as well as a set of chromium-plated and enameled candlesticks also by Wilson remain unknown.

Amidst this glamorous setting, the present dining room suite of sideboard, dining table and chairs took center stage. Each displays a motif of interlocking cactus-inspiring ovals, evocative of the Opuntia (paddle) cacti situated in the window niches. The motif is expressed in an openwork design on the chair backs and table base and as satinwood marquetry on the sideboard. The metal drawer pulls of the sideboard, which were also used as the door handles, are formed as overlaid ovals framed with the tiny points of cactus needles.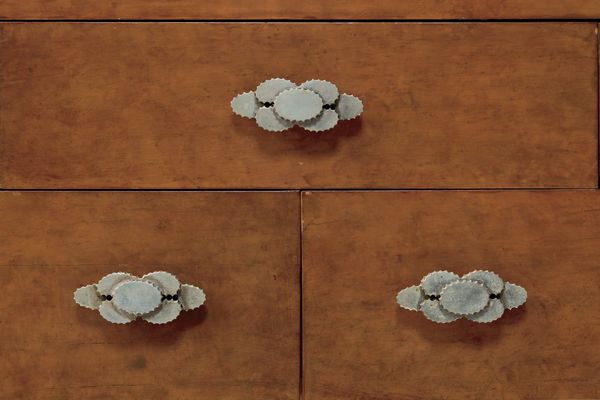 The stylized design of the cactus motif is reminiscent of Wiener Wertstätte designs of earlier decades, of which Wilson would have been familiar. However the motif and color scheme also point in an entirely different direction: the Southwest, a region that had captured the imagination of American artists and their patrons during this period. A 1929 painting by Georgia O'Keeffe, Porcelain Rooster, originally belonging to Alfred Stieglitz, and later owned by Sam Lewisohn—and notably completed the same year as the dining room, which is also the year O'Keeffe began spending part of her year in the Southwest—reflects the blues, greens and silver accented by brown and pink of the Lewisohn dining room.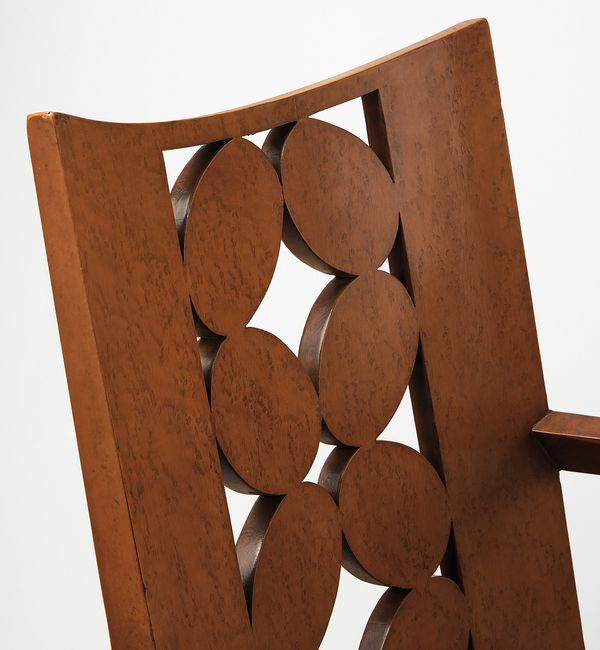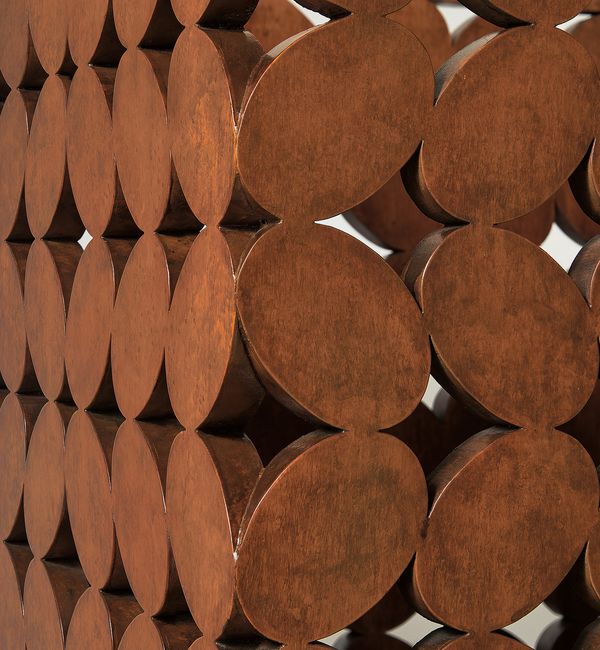 In 1939 the contents of 881 Fifth Avenue were offered at auction by Parke-Bernet Galleries. The dining room was illustrated in a full-page photograph, and by this time it appears that the Cézanne had been replaced by a painting by Moise Kisling. The curtains were sold together with the furniture and the table's centerpiece was offered but went unsold. The original set of fourteen chairs, of which twelve are now on offer here, were described as having seats upholstered in "old rose velours."
The furniture was acquired by William Henry Vanderbilt III and was then passed down to his daughter. One of the two chairs now separated from the set was included in the exhibition The Jazz Age: American Style in the 1920s, at the Cooper Hewitt, Smithsonian Design Museum and the Cleveland Museum of Art in 2017 and 2018.