Jean-Michel Basquiat Thermopolae, 1985 (detail). Estimate: HK$26,000,000 - 38,000,000.
20th Century & Contemporary Art Evening Sale at Phillips Hong Kong, 24 November.
Jean-Michel Basquiat, dubbed "the radiant child" by the American art critic Rene Ricard, was an extraordinarily gifted neo-expressionist painter with an ability to shock, inspire and get under the skin of his viewers past and present. Self-taught, with a restless and prolific mind, he developed a unique visual vocabulary drawn from his Haitian and Puerto Rican heritage, pop culture, history, poetry and his enduring fascination for Abstract Expressionist art. His intellectual curiosity led to a defiant insistence on portraying challenging themes, relying on layers of meaning enfolded within complex symbols to convey incisive social commentary and speak to dichotomies such as wealth and poverty, integration and segregation and the inner versus outer experience.
Thermopolae, created in the later years of Basquiat's brief but intense artistic career, is a reference to the Battle of Thermopylae in 480 BC, fought between the doomed Greeks and invading Persians at the narrow coastal pass of Thermopylae: in Latin, "the hot gates." In the hands of Basquiat's wordplay (a precocious child, Basquiat was fluent in English, French and Spanish by the age of 11), the title of the battle becomes bastardized - "a little heat," rather than the most famous military last stand of Western civilization. Through Thermopolae and its protagonist the anti-warrior, Basquiat gleefully dismantles cultural tropes of "the Other," a fundamentally reductive narrative of weakness and deficiency concerning non-Western peoples, which emerged from colonial thinking as a means of supporting established hegemonies and hierarchies of domination.
I don't think about art when I'm working. I try to think about life.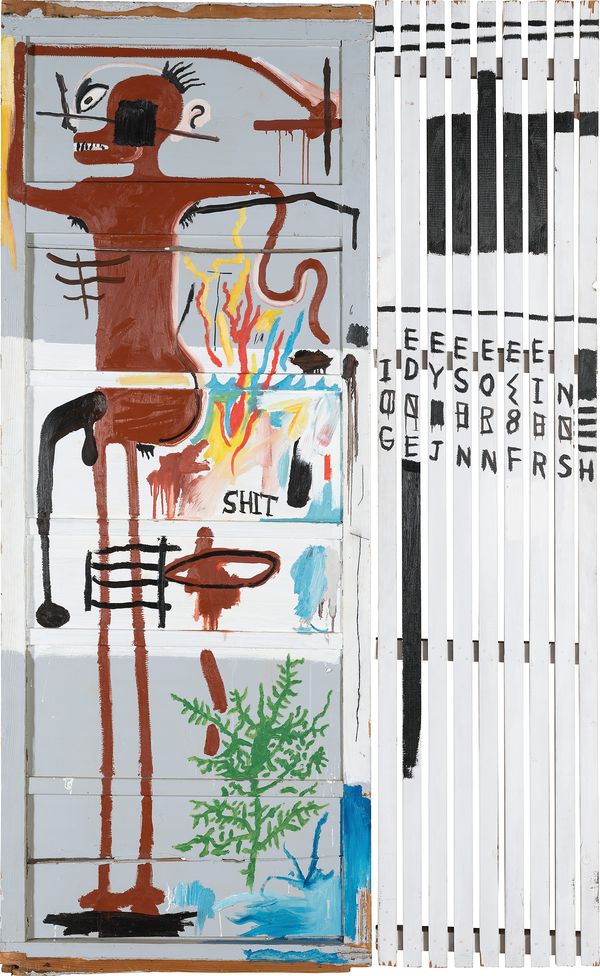 Jean-Michel Basquiat Thermopolae, 1985. Estimate: HK$26,000,000 - 38,000,000.
20th Century & Contemporary Art Evening Sale at Phillips Hong Kong, 24 November.
Basquiat's paintings were a "calculated improvisation." Like beat poets who composed their writing from shredded scraps, he remixed his materials and themes compulsively and instinctively, working on multiple projects at once in his studio using found materials, oil sticks, crayons, spray paint, pencil and acrylic paints at the same time. When he couldn't afford canvas, he fashioned them out of discarded wood found on the street, and consequently, Thermopolae is an ironic "diptych" fashioned from a repurposed door and fence.
Thermopolae's anti-hero sports dreadlocks remarkably similar to Basquiat's own hairstyle, and on the adjoining panel, we see the Greek letters "IDYSOΣIN", a syncopated version of "idiosyncrasy," or outsider. Basquiat's paintings became a tool for introspection and for identifying with his experiences in the African American community of his time, while inserting himself into the role of his subjects became a way of honoring and acknowledging their experiences. When read as a self-portrait, the burning bush and flames behind the protagonist's back take on new meaning as well. The story of the burning bush, aflame but not consumed by the fire, is a story told in the Book of Exodus about the moment God charged Moses with freeing his people from slavery under the Egyptians. The bush thus is an acutely political rallying cry: a criticism of colonialism and support for class struggle.