Jeweler Sevan Bıçakçı
Just a gemstone's throw from Istanbul's famous Grand Bazaar, in an atelier overlooking a quiet cobbled street, goldsmith Sevan Bıçakçı and his dedicated team of specialist artisans hand-craft the extraordinary and esoteric jewels that are amongst today's most lusted-after contemporary works of art.
His name, Bıçakçı, means 'Bladesmith", telling both of his Armenian metalsmithing heritage and the story of Ottoman jeweled arts: his enduring inspiration. Single-handedly, Sevan has revitalized and contemporized ancient Byzantine and Ottoman arts and craft, many of which have been handed down through millennia but have languished in modern-day Turkey. Sevan's story, imagination and ingenuity are all encapsulated in the impressive ring that he has so generously donated to this auction: 100% of the proceeds from the sale of the ring will go to One Drop, a charity that enables access to safe water and sanitation for some of the most deprived areas in the world.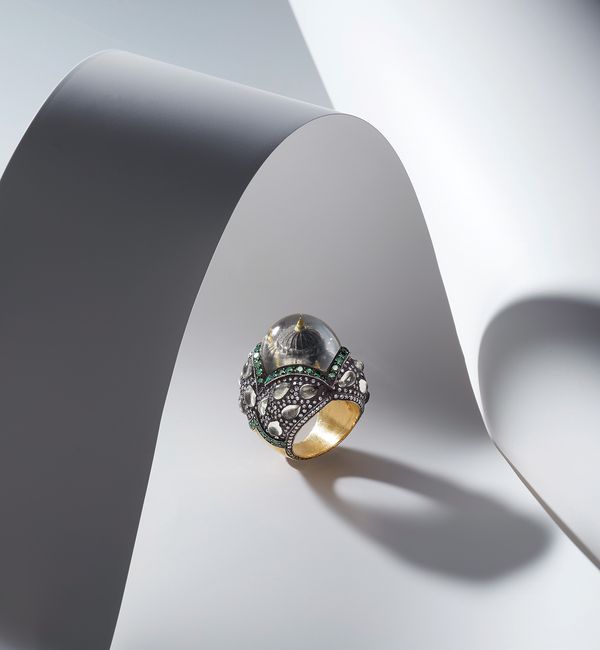 Lot 151: Sevan Bıçakçı A Rock Crystal, Colored Diamond, Diamond, Gold and Silver 'Oh God, Let it Rain' Ring
VIVIENNE BECKER: How did the collaboration with One Drop come about? When did you first get to know about the initiative?
SEVAN BIÇAKÇI: Guy Laliberté, the founder of One Drop, was in my atelier in Istanbul a few years ago. What he achieved with Cirque du Soleil, I feel am trying to do in my own small way, namely with my jewelry pieces, trying to fit created worlds into each one of them. We are definitely from the same beautiful and lonely planet. The minute I heard about the initiative from Guy, I did not think twice about creating a piece for One Drop. This year will be my second time participating.
VB: What is it about One Drop that particularly appeals to you and has fired your imagination?
SB: It was not easy at all to achieve what I wanted in life, but in the end, I can only consider myself very lucky. My family was quite poor; however, our parents still had relatively good opportunities to raise us well. They could afford the essentials like food, water, shelter and education, so that we were able to think beyond the bare necessities of life, to think about love and joy. Too many people in this world do not have the chance to think about anything other than surviving. Access to water is indeed just the beginning for them. It is not a bad thing for us to feel guilty about this unjust situation. No one can choose where and into what circumstances they are born.
VB: Can you tell us how you came up with the concept for this extraordinary ring?
SB: Here in Istanbul, we miss the way it used to rain. I was very much inspired by the lyrics of Turkish composer Mahmud Ogul's song Yagdir Mevlam Su - "Oh Lord, let it rain" in English - a song from the '80s, a time when we could enjoy life in Istanbul without praying for rain or having to run away from it. The ring is about depicting this pleasant balance in nature. The drop-shaped rock crystals symbolize raindrops falling onto Hagia Sophia's gigantic dome, which is one of my greatest muses as a jewelry designer.
VB: Does the ring use all of your signature techniques? Can you describe the intricacies of the creative and craft process involved in making this ring?
SB: Maybe not all of them, like any other work of mine, but it does incorporate a reverse-engraved intaglio inside its rock crystal dome at the very center of the piece. When you look at it, you would see how close the dome comes to the inner surface of the stone. As usual, this involved many trials that did not yield results up to my standard, until eventually this ring was created.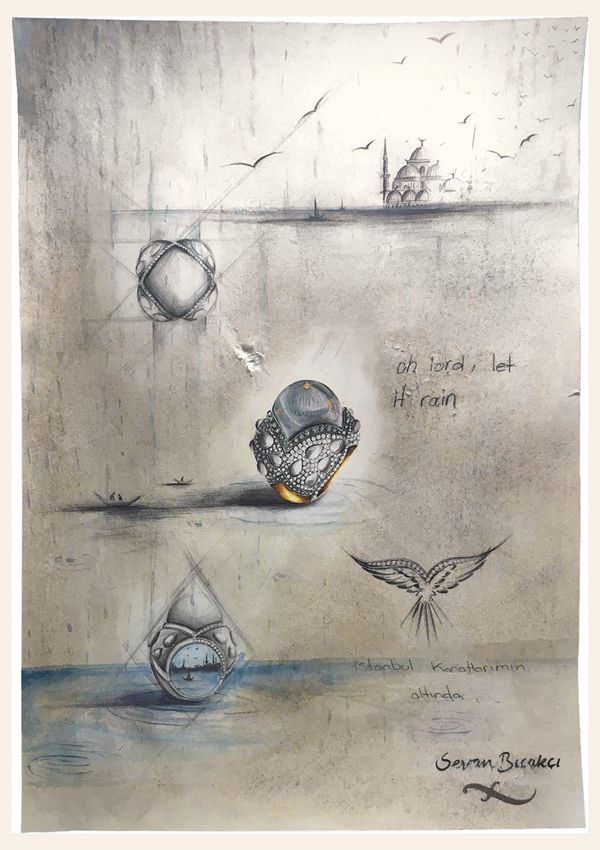 An original sketch of the present work, to be included for the winning bidder.
VB: How long did it take to make the ring, from the initial idea to the finished jewel?
SB: Close to four months...
VB: How many different artisans were involved in its creation?
SB: A goldsmith, a diamond setter, a metal engraver, a gem polisher, a metal polisher and a sculptor.
VB: For those who are not familiar with your work, could you perhaps explain your philosophy – what drives and enthralls you?
SB: I believe that each piece of jewelry, especially a ring, has to be as unique as the person wearing it. I dedicate my time accordingly to the creation of one-of-a-kind jewels. Things and places that keep me happy now and hopeful about the future are inspiring, such as Istanbul with its historical role sheltering a rainbow of cultures and mother nature.
VB: How would you say your style has evolved over the years since you first launched your own collection?
SB: Craft techniques and materials have gradually become more intricate, very much like my conscience, and my muses. At this stage, I don't want anyone's mind to get polluted with feelings of conflict and hostility when she or he gets to see any work of mine. I can only crave the opposite.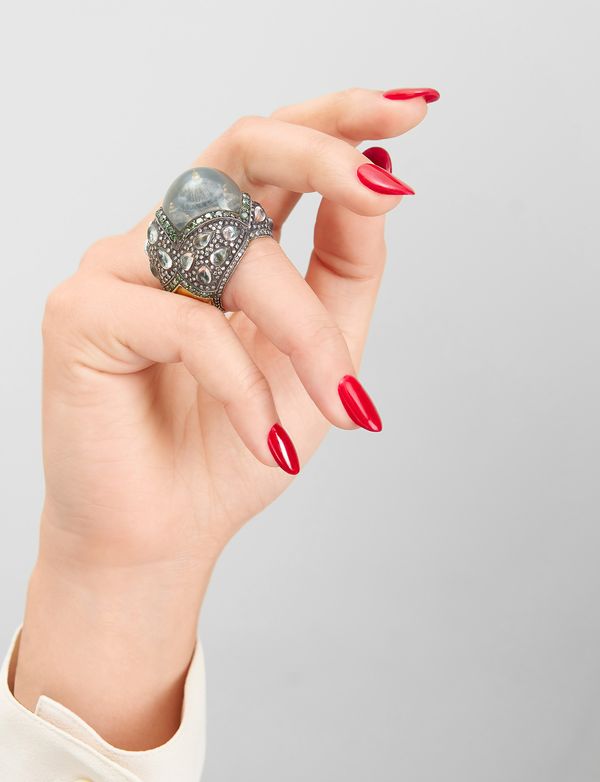 Lot 151: Sevan Bıçakçı A Rock Crystal, Colored Diamond, Diamond, Gold and Silver 'Oh God, Let it Rain' Ring
VB: What does jewelry mean today?
SB: Probably the same meaning it has had since ancient times: The matter that is most essential to the individual wearer, a unique manifestation of one's values...
VB: What are your plans, hopes and dreams for the future?
SB: My plans are to further evolve my techniques and style in order to further enjoy what I do. Instead of dreaming big, I prefer to hope that all kids will be given a chance for a bright future.
Learn more about the initiative at One Drop >