Tiffany & Co. An Important Fancy Intense Diamond and Platinum Ring. Estimate $1,500,000 - 2,500,000. Jewels at Phillips New York, 9 December.
by Susan Abeles, Head of Department, Americas, and Senior International Specialist
Blue diamonds are among the rarest colored diamonds in nature. This exceptional blue diamond was chosen by Tiffany & Co. as a "stone of distinction," masterfully cut to maximize its inherent beauty.
Understanding how finite the market is for blue diamonds, Tiffany carefully procured this 3.02 carat fancy intense gem. Most likely, this diamond was re-cut from their initial purchase so as to conform to their high standards — most notably, quality. Tiffany prides itself on delivering the finest gemstones, applying the most rigorous guidelines to produce the ideal cut. It is no small feat that they have imbued this blue diamond with optimum brilliance, fire and scintillation, nor is it by chance that they have determined that the stone's natural beauty can best be captured in their signature mounting. On every level, this diamond, this ring and its signature are all exceptional.
Blue diamonds were first sourced from the legendary Golconda mines in India, which are now depleted. 17th-century French explorer and gemstone merchant Jean-Baptiste Tavernier recorded these finds in The Six Voyages during his travels to Turkey, Persia and the East-Indies. Tavernier is also known for the discovery of the 'Tavernier Blue', which was re-cut and sold as the 'French Blue' to Louis XIV in 1668. This diamond was later stolen and re-cut yet again, surfacing nearly two centuries later in the collection Henry Philip Hope as his most prized gemstone. Today, the 'Hope Diamond' is considered one of the most famous blue diamonds in the world, residing at the Smithsonian in Washington, D.C.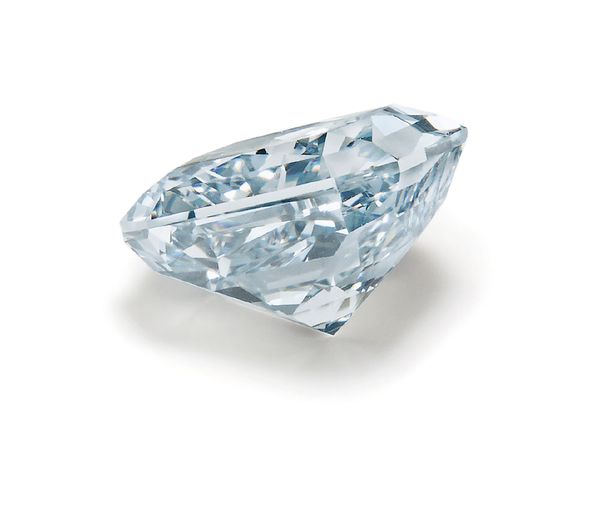 In recent years, the main source of blue diamonds has been the mines in South Africa. In September, the Cullinan Mine produced a beautiful 20.08 carat rough, an exceptional find. One must understand that it will take months of study before a window is cut, allowing the lapidary to determine how and where the color and inclusions sit within the crystal. The final cutting and polishing of the stone may take a year or more before a faceted gem is achieved. While other areas such as Sierra Leone, Borneo and Brazil occasionally produce blue diamonds, these exceptionally colored diamonds are only found in a few areas, making them more valuable.
Today, the 'Hope Diamond' is considered one of the most famous blue diamonds in the world.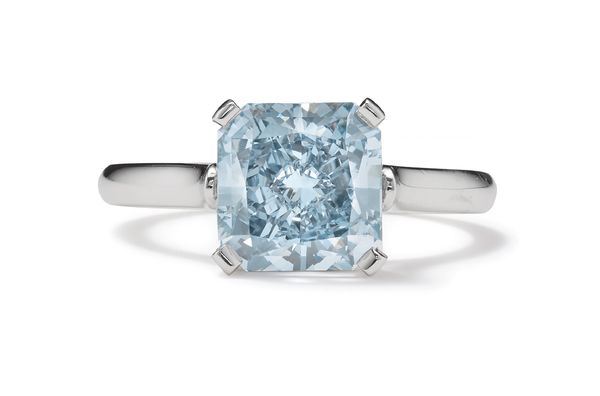 For most blue diamonds, their color is caused by trace amounts of the element boron, which substitutes some of the carbon atoms in the diamond's crystal lattice. Unlike other diamonds, which form in Earth's upper mantel at approximately 90-140 miles beneath the surface, blue diamonds form even deeper in the lower mantel at depths between 250-400 miles. Recent studies indicate that boron, which dissolves in water, settles at the bottom of the ocean and, through subduction, when the tectonic plates collide, is carried below the mantel when one plate sinks. This process moves boron to a lower depth, suggesting that the water cycle goes far deeper than previously thought.
Other aspects that make blue diamonds rare are the challenges involved in cutting the rough. Unlike most diamonds, which form as octahedrons or dodecahedrons, blue diamond crystals are typically asymmetrical. Additionally, care must be given to maintain color, especially if the rough contains color zoning. Blue diamonds without any modifying color are indeed rare, with only a small fraction of every diamond graded by the GIA assigned a 'natural blue' diamond.