Helen Frankenthaler Scorpio, 1987. Estimate HK$7,500,000 - 9,500,000.
20th Century & Contemporary Art Evening Sale at Phillips Hong Kong, 24 November.
© 2019 Helen Frankenthaler Foundation, Inc. / Artists Rights Society (ARS), New York
Helen Frankenthaler
Helen Frankenthaler was an American second-generation Abstract Expressionist painter, whose practice was crucial to the development of the Color Field movement. Active for over six decades, she spanned several iterations of abstract painters while continuing to produce vital and ever-changing new work, gaining particular critical acclaim for her pioneering use of the "soak-staining" technique in oil painting.
Frankenthaler began working on and exhibiting large-scale Abstract Expressionist paintings in the early 1950s, and was included in the seminal 1964 Post-Painterly Abstraction exhibition curated by the legendary art critic Clement Greenberg. By the early 1980s, Frankenthaler had amplified her painterly approach and readjusted her pictorial vocabulary: she laid down monochromatic fields of atmospheric color and superimposed dabs, dots and dashes of more tangible pigment. Scorpio is a prime example of works from this period, creating an imaginary landscape in which the sand leads towards a calm sea, set against a beautiful sky streaked with shades of blue and grey. Clouds emerge from the parts of the canvas untouched by the poured pigment. Bubbles rise like balloons into the sky, adding splashes of color to the composition. Her technique, although extraordinarily refined, renders an inner vision onto the canvas with perfect spontaneity and improvisation. Scorpio was recently featured in an exhibition at the Clark Art Institute in Williamstown (2017), in which some of Frankenthaler's paintings and woodcuts were reassessed in light of her close relationship with nature. The exhibition highlighted the fact that Frankenthaler used a number of cues from the natural world — preliminary outdoor sketches, earth tones, textured layers of paint — to create her abstract canvases.
Frankenthaler's thinking paralleled that of great Asian modern masters such as Chu Teh-Chun, Zao Wou-ki and Zhang Daqian. Using diluted ink wash-like oils, these artists created sweeping painterly surfaces emulating natural movement. Zhang in particular, one of the most renowned and prodigious Chinese artists of the twentieth century who prefigured the journey of many of Chinese painters from guohua (traditionalist) painting to modern expressionism, combined his training across the cultures of the East and West to create expressionist masterpieces reminiscent of Tang Dynasty splashed-ink paintings, its spontaneity mirroring the divine process of creation.
Chu Teh-Chun
Chu Teh-Chun Le 30 mars 1982, 1982. Estimate HK$4,200,000 - 6,200,000.
20th Century & Contemporary Art Evening Sale at Phillips Hong Kong, 24 November.
Chu Teh-Chun was a celebrated Chinese-French modern painter who pioneered a singular style unifying traditional Chinese painting techniques and Western abstract expressionist art. Trained at the National School of Fine Arts in Hangzhou under the tutelage of Wu Dayu and Fang Ganmin, both of whom were considered fathers of Chinese oil painting, Chu became known as one of the 'Three Musketeers' of Chinese modernist art alongside friends and former schoolmates Zao Wou-Ki and Wu Guanzhong.
Eager to learn more about the art of Monet, Cézanne and Renoir, Chu left his professorship at the National University in Taipei and set sail for France in 1955. An extremely gifted realist painter, he won a silver medal at the French Artists Art Fair for an academic portrait of his wife which was dubbed "the Mona Lisa of the East". But in 1956 a visit to the retrospective of the abstract painter Nicolas de Staël at the Musée National d'Art Moderne in Paris left Chu strongly shaken, and he made the decision to reject figurative painting and start anew.
The creation of Le 30 mars 1982 marked a milestone in his growing critical success: an important retrospective of paintings and drawings made since Chu's 1955 arrival in Paris, shown at the Musée des Beaux-Arts Andre Malraux in Le Havre. Now at the height of his expressive powers, Le 30 mars 1982 channels a sublime, spiritual energy and a poetic complexity of feeling. The blue oceanic expanse echoes the fateful journey by boat which brought Chu to France, the same journey where he crossed paths with his future wife Ching Chao and encountered for the first time the exotic lands of Cairo, Djibouti, Sri Lanka, and Vietnam. The quiet, contemplative mood is pierced by a luminous ray of light breaking through the thick, dark clouds – a motif Chu developed throughout the 1970s following his encounter with Rembrandt's strikingly-lit oil paintings in the Netherlands.
With a transcendental, universal aesthetic that sets him apart from Western abstractionists and his Chinese peers, Chu has been the subject of major institutional retrospectives. 2020 will be a significant year for Chu's legacy, with a large traveling retrospective exhibition scheduled to open at the National Museum of China, Beijing, in April, followed by a second exhibition at the end of 2020 in Suzhou, the city of Chu's birth, focusing on his works on paper.
Wang Guangle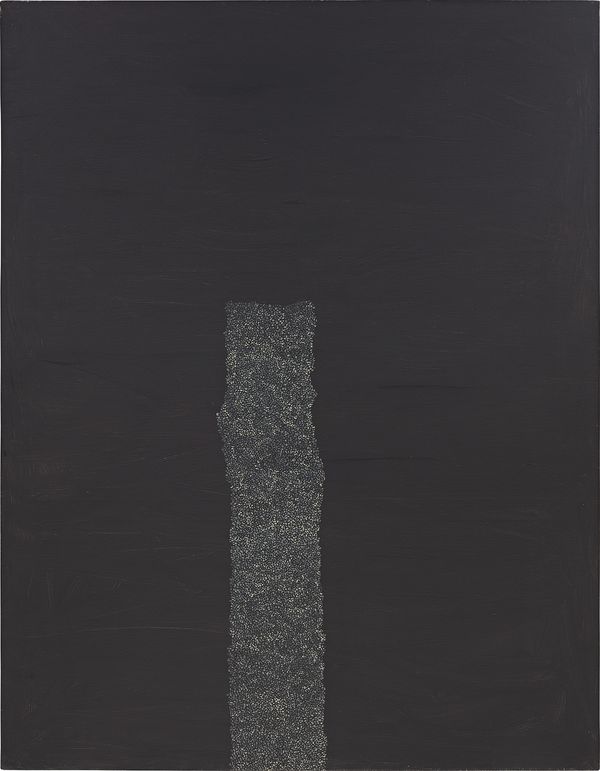 Wang Guangle Terrazzo No. 9, 2003. Estimate HK$2,000,000 - 3,000,000.
20th Century & Contemporary Art Evening Sale at Phillips Hong Kong, 24 November.
A graduate of Beijing's renowned Central Academy of Fine Arts, Wang Guangle is widely recognized as a pioneer of conceptual painting in China. Resisting conventional labels such as 'representation' or 'abstraction', his critically-acclaimed paintings represent a significant artistic breakthrough, embodying the physical effort of painting and capturing metaphysical concepts such as the passage of time.
As a founding member of N12, a collective of young artists unified by a desire to break away from the traditions of representational painting in favor of individual expression, Wang spearheaded a new generation of Chinese artists dedicated to exploring "all possibilities beyond the rules of the Academy." Rebelling against Social Realism (the officially sanctioned artistic style of the era), his 2000 graduation show at the Academy showcased five paintings which had taken him almost half a year to complete. The title of the series, 3pm to 5pm, referred to the period when Wang would paint in his studio, working to capture the rays of light projected across his studio floor by the setting sun. Terrazzo, a composite material consisting of chips of marble, quartz, granite, or glass poured with a binder, first appeared in Wang's oeuvre as flooring within the 3pm to 5pm series. Originally focused on portraying the light projections on the floor, after a month Wang realized there were two directions to take: either he could attempt to capture the narrative aspect of the scene with light entering the room, or he could choose to emphasize the painting process itself by focusing solely on the terrazzo and stripping out all other details.
Terrazzo No.9 (2003), an important early work from Wang's Terrazzo series, depicts a slender, elegant slab of terrazzo set against a deep, inky-black background. Utilizing his academic training in realist techniques, Wang applied slow, methodical brushstrokes and an unemotional rendering of color to create a startling new form of painting. Rejecting the simplistic label of 'abstraction,' he sought to make clear that his work was the result of a concept, namely the time he spent laboring on the painting: "One painting could require three months or more. The time I spent on the painting was for me the important part for me" (quoted in Garcia Frankowski, 'Interview with Wang Guangle', Intelligentsia). Once he had managed to capture "every stone detail, every different shape and size, round/square/triangle" then he would consider the work finished. The laborious, quasi-ritualistic act of painting, akin to the traditional process of grinding ink sticks with water to make Chinese ink, gave him new insights into the nature of time: "The sensation of the passage of time always inspires me. Time changes everything, and when I can detect the pure movement of time, nothing else seems to matter. In these moments, there is very little else I would want to do" (quoted in Lorraine Rubio, 'artnet Asks: Wang Guangle', Artnet).
Pat Steir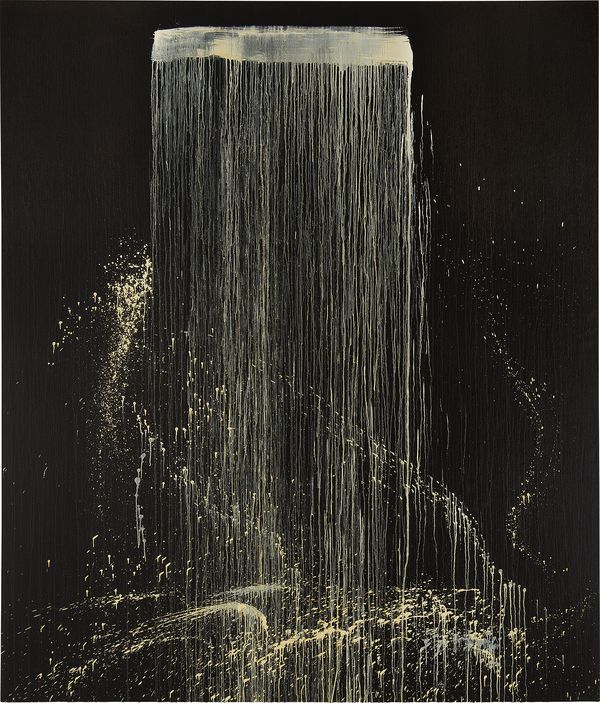 Pat Steir Summer Waterfall, 2007-2018. Estimate HK$3,000,000 - 5,000,000.
20th Century & Contemporary Art Evening Sale at Phillips Hong Kong, 24 November.
Pat Steir is an American painter and conceptual artist best known for her Waterfall paintings, a series she began working on in the 1980s which engages with ideas of chance and East Asian philosophy.
In a career stretching over five decades, Steir has undergone multiple transformations as an artist. Graduating from the Pratt Institute in New York, she rose to fame in the 1970s with her "intimate" conceptual monochromatic canvases of crossed-out roses and other subjects, which sought to destroy images as symbols. She subsequently underwent a formative period of artistic self-reflection, which culminated in The Brueghel Series (A Vanitas of Style) (1982–4), a pivotal work comprising 64 painted panels, each reinterpreting a section of a still-life vase of flowers by Jan Breughel the Elder in the style of a different artist or school.
In the 1980s, struck by the radical ideas of artist and composer John Cage on integrating "chance-controlled" elements into his work (most notoriously 4'33") Steir's working methods pivoted once again. Liberating herself from the confines of representation, she began to produce dripped, splashed and poured paintings, allowing nature and elemental forces to take charge. Steir particularly drew inspiration from the Chinese Tang dynasty yipin (逸品) painters, who rebelled against orthodox painting methods in favor of explosive bursts of energy and spontaneity, splattering or using their hands to smear ink. Setting basic parameters around palette and canvas shape, Steir would begin to throw, pour and stream oil pigments of various viscosities down the upright, primed linen canvas. With different speeds, drying rates and effects for each of the multiple, diaphanous layers, the final appearance of each work was subject to infinite variations: "My idea was not to touch the canvas, not to paint, but to pour the paint and let the paint itself make the picture." (quoted in Phyllis Tuchman, 'Gravity's Rainbow: Hot on the Heels of Key Showcases, Painter Pat Steir Preps Major Washington, D.C. Exhibition', ARTnews).
Summer Waterfall, executed over more than a decade, is a sublime work capturing the sensation of warm falling water. Steir explained why she has dedicated over 30 years of her life to the Waterfall series: "It's chance within limitations […] Being more attached to the process than the conclusion, it's an incredible freedom." (quoted in Hilarie Sheets, 'Pat Steir Gets Discovered, Again', The New York Times, 18 January 2019, online).
Tomoo Gokita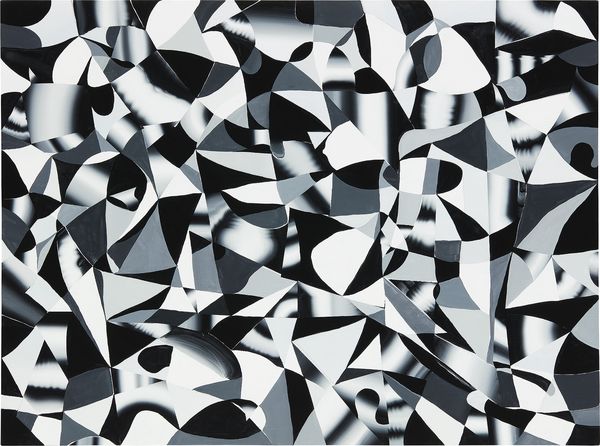 Tomoo Gokita Kookie Limbo, 2012. Estimate HK$450,000 - 650,000.
20th Century & Contemporary Art & Design Day Sale at Phillips Hong Kong, 25 November.
Tomoo Gokita's signature monochrome paintings typically draw upon an assortment of distinctive, kitschy pop-culture motifs ranging from pin-up girls to cowboys and Mexican wrestlers. Images appropriated from television, advertising and pornography are deconstructed with a series of deftly-applied smudges, distortions and gestures that render the forms of Gokita's subjects unrecognizable yet uncannily familiar.
Once considered an outsider by the Japanese art establishment, who struggled to accept his cryptic use of low-brow cultural imagery and background as a commercial illustrator, Gokita's breakthrough came in 2005 when a curator's chance encounter with Gokita's book Lingerie Wrestling (2000) in a museum shop led to his inclusion in the New York group show "Stranger Town". The renowned American critic Roberta Smith profiled the then-unknown Japanese artist: "One of the show's high points is the stunning wall devoted to drawings in charcoal, ink or pencil by Tomoo Gokita […] Mr. Gokita's vocabulary barrels across illustration, pornography, abstraction, children's drawing, calligraphy and sign-painting, with a perfect control, velvety surfaces and tonal range that makes black-and-white feel like living color" ('Invading Genres Breach the Art World's Porous Borders', The New York Times).
Kookie Limbo puts the artist's versatility on full display. Devoid of figuration, the composition is instead a jigsaw of flat, planar shapes, quilted together in a distinctly expressionist manner. The work's distinctive title actually references a song by the anonymous musician Kookie Joe, who released Caribbean Limbo music in the early 1960s. Gokita got his start as a graphic designer making album covers for music labels, and has stated "My creative sensibility is somehow much more stimulated by viewing the cover jackets in record shops than by viewing works of art in museums and galleries… For instance, the other day, I was so excited that the title of the music I was listening to, while painting, coincidentally and perfectly suited that particular painting." One of today's foremost artists working on an ever-more global stage, Gokita eschews rigorous planning and always leaves open an element of chance when he works: "To start the work in an improvisational way causes various unexpected accidents. These accidents allow me to perceive some confusion and wonder, and they provide me with a strange motivation to create works, which is so stimulating that I feel a distinct pleasure" (quoted in Steven Cox, 'Tomoo Gokita Interview,' Hunted Projects).