Norman Rockwell Before the Shot, 1958. Estimate: $2,500,000-4,500,000. 20th Century & Contemporary Art Evening Sale at Phillips New York, 14 November.
I guess everyone has sat in the doctor's office and examined his diplomas, wondering how good a doctor he was...
By the late 1950s, Norman Rockwell's covers for The Saturday Evening Post had already made him a household name, and the magazine's circulation soared to almost 7,000,000. The artist's images from the time—regarded as the pinnacle of his career—earned him the reputation as one of the most influential 20th-century artists in the United States. It was during this decade that Rockwell painted some of his most renowned covers, such as The Runaway, 1958, Norman Rockwell Museum, Stockbridge, and Saying Grace, 1951.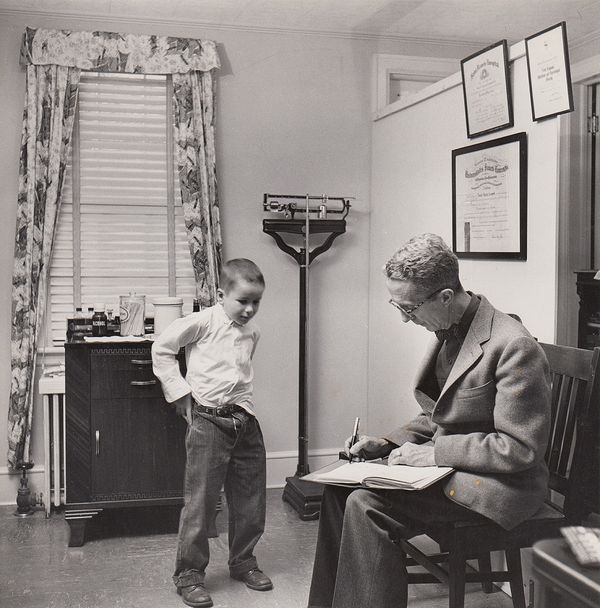 Reference Photo for 'Before the Shot', 1958. Norman Rockwell Museum Collection, Photo by Clemens Kalischer. Copyright © 1958 the Norman Rockwell Family Entities
The first version of Before the Shot, created for the cover of the March 15, 1958 issue of the Post, features one of Rockwell's most iconic images. While dropping his trousers and standing on a wooden chair, a young boy is depicted inquisitively inspecting diplomas on the wall. He awaits the physician's hypodermic syringe, which, according to Rockwell, contained a dose of gamma globulin commonly applied to one's bottom to treat various illnesses.
While Before the Shot exudes humor and nostalgia upon first glance, it touches on the discomfort all of us have experienced during a doctor's visit. A trip to the doctor is a great social equalizer: nearly everyone has felt that rush of adrenaline, or nausea, upon receiving a flu shot or having blood drawn; the very presence of a doctor also carries associations of birth, life and death. Art history is filled with renderings of these doctor-patient interactions, such as in Thomas Eakin's The Gross Clinic, 1875, Philadelphia Museum of Art; Luke Fildes' The Doctor, 1891, Tate, London; and Pablo Picasso's Science and Charity, 1897, Museu Picasso, Barcelona. In 1341, Pietro Lorenzetti painted a disheartened physician giving up on a case in Beata Umiltà Heals a Sick Nun, Gemäldegalerie, Berlin; over four centuries later, Vincent van Gogh depicted his personal doctor, melancholic yet compassionate, in Portrait of Dr. Gachet, 1890, Musée d'Orsay, Paris.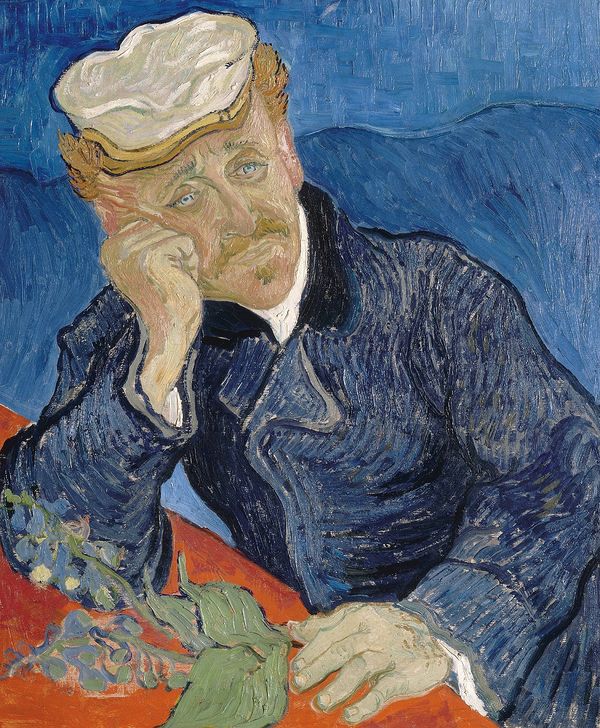 Vincent van Gogh Portrait of Dr. Gachet, 1890. Musée d'Orsay, Paris © RMN-Grand Palais/Art Resource, NY
The universality of the apprehension felt during a doctor's visit has more recently been exploited in The Dream of the Doctor, 1997, by John Currin, who has repeatedly acknowledged Rockwell's influence on his work, and Damien Hirst's medicine cabinets, which speak to the pervasive pharmaceutical layer of everyday life.
Similarly, Rockwell used Before the Shot to make light of the medical advancements of his time: the Post's description of the cover reads, "The science of doctoring certainly has changed since the days symbolized by such potions as Grandma's Sulphur-and-molasses, injected intramouth." The 1950s were, in fact, characterized by many scientific developments, from Jonas Salk's invention of the polio vaccine to the synthesis and mass production of penicillin to the first use of chemotherapy. However, Before the Shot acts as a larger meditation on the fact that—despite and because of these advancements—there is nothing more timelessly human than a trip to the doctor's office.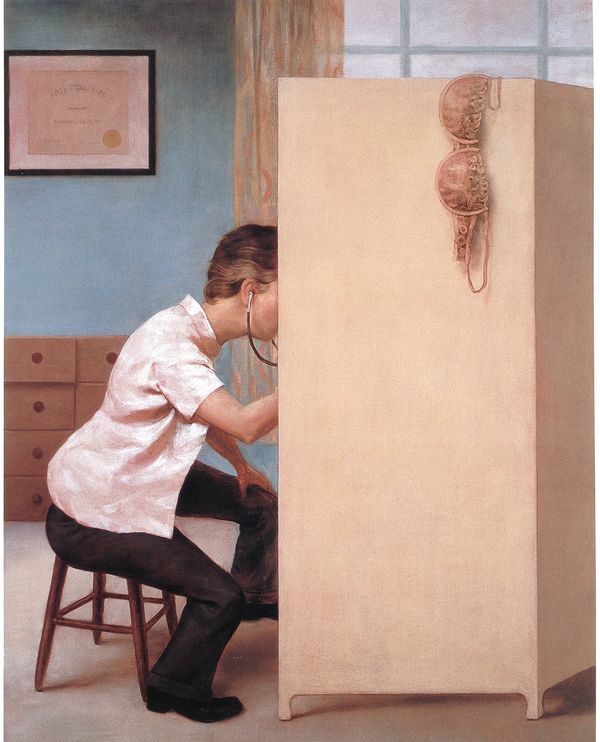 John Currin The Dream of the Doctor, 1997. Private Collection, Artwork © John Currin
The doctor-patient relationship is one that Rockwell knew well: his family relocated from Vermont to Stockbridge in order for his wife to be treated at a psychiatric hospital in town, and he himself was treated by renowned psychoanalyst Erik Erikson. The artist also had three young boys at the time, who no doubt provided him with many opportunities to study children nervously interacting with physicians and ensured that he was well-informed of advancements in pharmacology.
The subject matter is a universal experience; it continues to resonate today...Rockwell was a genius visual story-teller.
— Elizabeth Goldberg, Deputy Chairwoman
The legacy of Before the Shot was further sustained when Rockwell gifted the work to Dr. Campbell himself—even originally writing, "To my friend Dr. Don Campbell, Norman Rockwell" on the floor before later painting over the inscription—who then sold it a family of fellow doctors, in whose collection it has remained ever since. The work captures an amusing moment relatable to everyone. It is this shared experience that makes the painting not only a hallmark image of 1950s American culture but also one that resonates universally today.