Richard Diebenkorn with Berkeley #41, 1955 and Man and Woman Seated, 1958 in Berkeley, 1959. Photograph by Fred Lyon, Artwork © The Richard Diebenkorn Foundation
With its textured surface and rich palette, Berkeley #66, 1956 is one of the most exquisite examples of Richard Diebenkorn's pioneering style. Created at a pivotal moment in his career, this painting represents a critical juncture in the artist's development right before he would abandon abstraction for representation. Belonging to a series of roughly sixty abstract paintings made while living in Berkeley, California between 1953 and 1956, Berkeley #66 received an award from the San Francisco Art Association when it was shown in their 75th Commemorative Artist's Council Award exhibition the same year of its creation.
Having already solidified his place in the burgeoning San Francisco arts scene, Diebenkorn had his first solo exhibition in New York in 1956 at the Poindexter Gallery, signifying his growing influence on American abstraction at large. As such, Berkeley #66 is uniquely positioned as one of the last, celebrated abstract paintings he would make until his renowned Ocean Park works ten years later, one which illustrates his first experiments with representational modes. Housed in the same private collection for almost a decade, Berkeley #66 has been extensively exhibited since its execution, signifying its importance in the artist's body of work.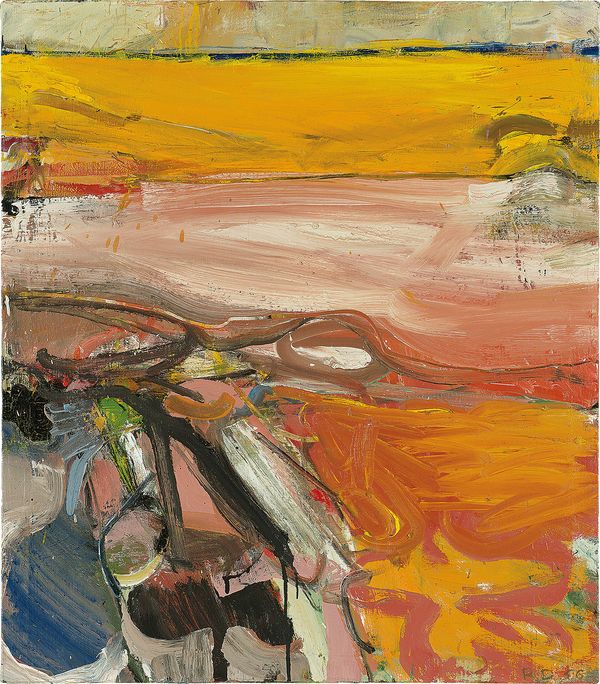 Richard Diebenkorn Berkeley #66, 1956. Estimate: $3,500,000-4,500,000.
20th Century & Contemporary Art Evening Sale at Phillips New York, 14 November.
After leaving his teaching position at the University of Illinois, Urbana in 1953, Diebenkorn moved with his family to Northern California. Just missing the cut-off to apply for teaching jobs for the academic year, Diebenkorn was able to focus entirely on painting. Situated between the San Francisco Bay and the Pacific Ocean – surrounded by both the urban landscape of the city as well as the hilly terrain of Marin County – Berkeley's unique topography served as the perfect inspiration for Diebenkorn's next body of work. Timothy Anglin Burgard described of its effect on the artist in the exhibition catalogue for Richard Diebenkorn: The Berkeley Years, 1953-1966, M. H. de Young Memorial Museum, San Francisco, 2013: "The gradual rise of the Berkeley Hills up from the bay has the effect of creating a natural amphitheater for optimal viewing of the surrounding landscape. The shimmering surface of the bay can assume an astounding spectrum of color from blue to green to gray, or, alternately, a silver or gold mirror-like state at sunrise and sunset. The cyclical arrival and departure of the Bay Area's distinctive fog creates disorienting spatial effects."
One thing I know has influenced me a lot is looking at landscape from the air.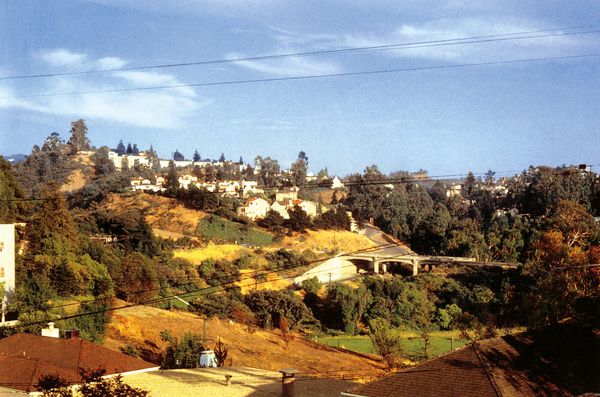 View from the porch of Richard Diebenkorn's Hillcrest Road House, circa 1962. Images Richard Diebenkorn/© Richard Diebenkorn Foundation Archives (RDFA)
In Berkeley #66 from our upcoming New York 20th Century & Contemporary Art Evening Sale, bands of ivory, gold, blush and magenta layer atop one another across the expanse of the canvas with palpable density, diminishing along the right side. Despite the regularity of these horizontal bands in the upper part of the composition, perspectives collapse to the left and below as cooler blues and violets encroach inward, creating disruptions resembling "thrusts drawn from Cézanne landscapes," wrote Gerald Nordland in Richard Diebenkorn: Revised and Expanded, 1987. Perhaps the warmth conveyed by the hues in the right side of the painting were inspired by a setting sun over the Golden Gate Bridge, a site Diebenkorn would have become very familiar with during his time living in Berkeley. Upon close inspection, the darker brushstrokes could be the winding, hilly streets of San Francisco, juxtaposed with the blue water of the bay on their left.
As such, Berkeley #66 exemplifies Diebenkorn's use of the abstraction he developed in Albuquerque and Urbana to embark upon representational painting. His peers and friends including David Park and Elmer Bischoff were the founding members of the Bay Area Figurative Movement beginning in the early 1950s, forming a group of artists with a common desire to abandon the prevailing Abstract Expressionist tendencies for a return to figuration. At first, Diebenknorn resisted this shift in the early part of the decade, having already established himself as the abstract voice on the West Coast. By the middle part of the decade, however, he began to entertain the idea. "In the rush of painting that I did in 1954-1955, I had experienced my first kind of opposition," said the artist. "It was a struggle all along, but that is the story of being an artist! But in 1955 things started to slow down, and I was attributing this to my being in a stylistic straightjacket. I felt that perhaps I had too many rules, that there was too much Abstract Expressionism hanging over my head, and so…there was need for change."
I think I was saying to myself in Albuquerque that, OK, I'm going to damn well paint what I want.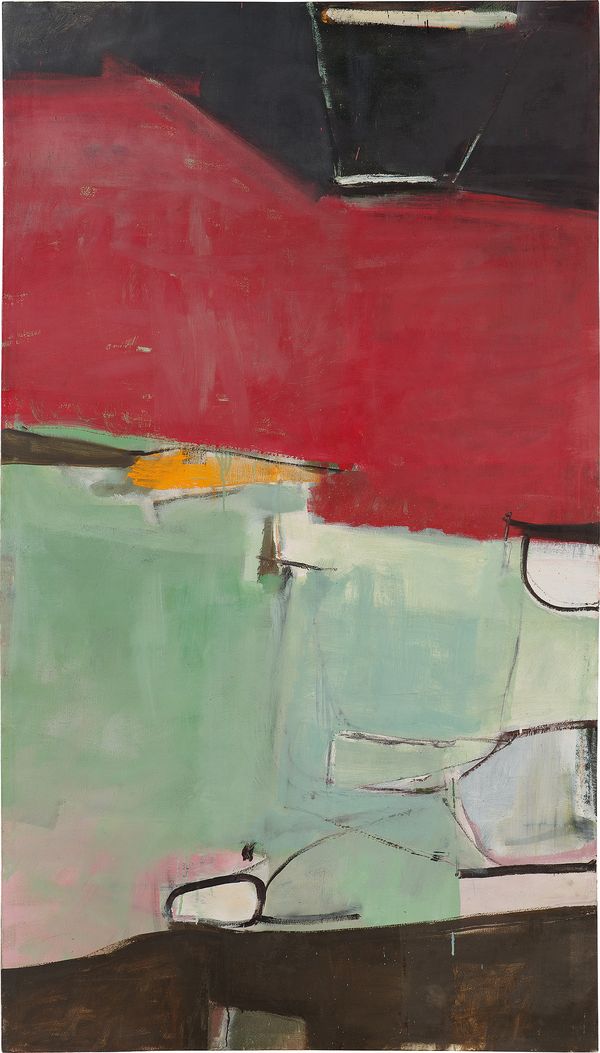 Richard Diebenkorn Albuquerque #7, 1951. Estimate: $900,000-1,200,000.
20th Century & Contemporary Art Evening Sale at Phillips New York, 14 November.
Painted in 1951 prior to his move to Berkeley (and the resulting Bay Area series of canvases), Albuquerque #7 originates from one of the most fruitful periods of the artist's prolific career and represents the peak of his early explorations in abstraction. Almost six feet tall, its vertical composition is defined by four bands of paint inspired by the resplendent colors of the New Mexico landscape. Influenced by modernists such as Henri Matisse and Joan Miró, and inspired by his contemporaries including Willem de Kooning and Arshile Gorky, the works Diebenkorn produced during his master's program at the University of New Mexico between 1949 and 1952 were critical in his artistic development. Through painting, drawing and a few metal sculptures, the artist found his abstract voice, one which would inspire the Berkeley paintings of the years following, as well as the Ocean Park series of decades later. Exhibited internationally—beginning most notably with his traveling retrospective in 1997 starting at the Whitney Museum of American Art, New York, and most recently in 2015 at the Royal Academy of Arts, London—the present work is only the third major Albuquerque painting to come to auction in the past ten years.

Formally, the Albuquerque paintings offer a most intimate look at Diebenkorn's practice. Expanses of rich color reveal underpainting beneath the surface, illustrating the artist's mind at work. As he explained of his process behind these paintings, as quoted in Artforum's April 1963 issue, "[A painting] came about by putting down what I felt in terms of some overall image at the moment today, and perhaps being terribly disappointed with it tomorrow, and trying to make it better and then despairing and destroying partially or wholly and getting back into it and just kind of frantically trying to pull something into this rectangle which made some sense to me." Albuquerque #7 reflects improvisation and spontaneity, with certain areas built up as if to hide what's beneath while others reveal black contours suggesting an earlier composition. Indeed the Albuquerque works reflect similar preoccupations with color and line as those of Mark Rothko, and yet the importance of place is uniquely Diebenkorn.
Albuquerque #7 could be a portrait of a sunset – the small passage of orange in the center-left part of the composition peeking through the reddish-pink peaks of the Sandia Mountains over green forestry flanking the Rio Grande. Clearly New Mexico's rich landscape was not lost on Diebenkorn, who once said his "primary concern in painting is space, which to me is the most characteristic thing about New Mexico…[large, blank areas in his paintings] reveal that openness of the desert, the vastness of the sky" (the artist quoted in Albuquerque Journal, May 2, 1951). Indeed, Diebenkorn was not the only artist to be inspired by the natural beauty of the West; among him were artists such as Georgia O'Keeffe and Agnes Martin who would also be transfixed by the wonders of the desert.

Representing his shifting approach to Abstract Expressionism prior to his later exploration of figuration, both Berkeley #66, 1956 and Albuquerque #7, 1951 will be on view at 450 Park Avenue from 1-12 November prior to the 20th Century & Contemporary Art Evening Sale on Thursday 14 November at 5pm EDT.