Kehinde Wiley Untitled, 2001
A contemporary manifestation of Old Master portraitists such as Velázquez, Holbein and Titian, Kehinde Wiley engages the visual rhetoric of the heroic and majestic to explore pressing issues surrounding race and sexuality, ultimately placing black figures into the canon of art history. "They're assuming the poses of colonial masters, the former bosses of the Old World," Wiley explains, "Whenever I do photoshoots for paintings, I pull out a stack of books, whether it be something from the High Renaissance or the late French Rococo or the 19th century, it's all thrown together in one big jumble. I take the figure out of its original environment and place it in something completely made up." Having gained international acclaim for his portraits of African Americans over the past 15 years, Wiley became the first black artist to paint the official presidential portrait for the Smithsonian National Portrait Gallery in 2018.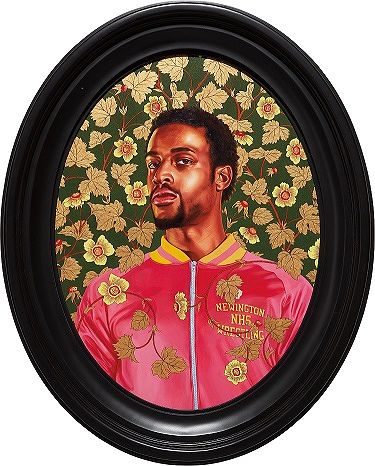 Kehinde Wiley Portrait of Garrett Gray, 2017. Sold at Phillips New York for $243,750.
Untitled, an early piece created the year Wiley received his MFA from the Yale School of Art, stands as a precursor to what would become his iconic classical portraits. The poses he selects for his full-length portraits are extracted from famous art historical paintings, and Wiley also gleans figurative poses from classical sculpture, selecting figures in dramatic poses or in a direct state of contemplation.
The present lot illustrates a young woman seated in a vast and dry desert-like environment, reflecting Wiley's current West Coast surroundings. Though nude, our seated figure still confronts the viewer with her direct gaze, conjuring the visual brilliance of Édouard Manet's illustrious painting Olympia, 1863. The pose of her body calls to minds the depictions of women in a reclining state often found in the mosaic imagery of ancient Greece and Rome. Hailing from Greek mythology, the Naiade Nymphs of river, marshes and streams are often seen lounging, resting on one arm amidst an outdoor scene.
Though early in his magnificent career, Untitled anticipates Wiley's continuous art historical investigation into the poignant portal of mankind. The artist ponders, "What is portraiture? It's choice. It's the ability to position your body in the world for the world to celebrate you on your own terms."