M.C. Escher Eye, 1946
Dutch artist M.C. Escher is best known for geometrically-inspired prints that explore symmetry, pattern and perspective, ultimately questioning reality and the limits of possibility. After studying art in Haarlem, Escher spent over a decade living in and traveling through southern Europe, where the lush Italian landscape and Moorish architecture of Spain significantly inspired his work. Following the rise of fascism in Italy, Escher returned permanently to the Netherlands in 1941. Despite having much in common with the Surrealists thematically, he never made contact with them and Escher's work was essentially ignored by the mainstream art establishment until the very end of his lifetime. Escher's aesthetic became world-famous through his posters, puzzles and other commercial products, however, these should not be confused with his original prints and drawings – fine art printmaking at the highest level – for which he explored various methods during his long career.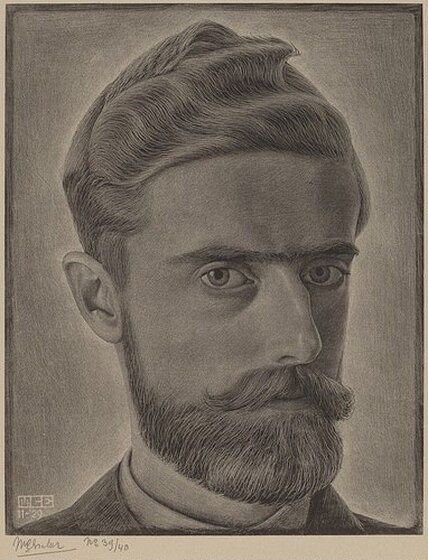 M.C. Escher Self-Portrait, 1929
In 1946, Escher became interested in mezzotint, a classically northern European technique capable of achieving extremely subtle graduation of light and dark. This complex procedure was used to create the present work, Eye. The mezzotint is a burnishing process that uniquely captures subtle gradient tonality and works from dark to light. Essentially, mezzotint can be compared to drawing via erasure, but on a metal plate. Unlike the traditional etching technique, which involves incising precisely engraved lines, mezzotint does not cause the same linearity to carry over into the finished work, allowing for a more organic appearance that better mimics the velvety quality of light and shadow.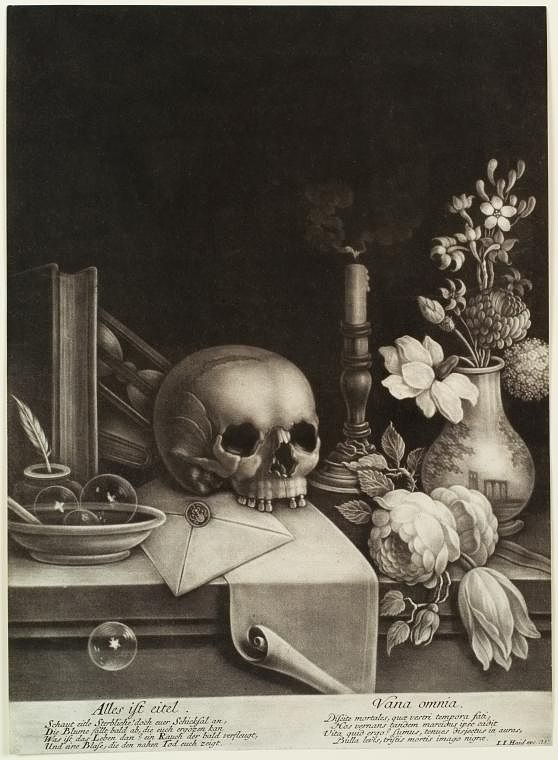 Johann Jakob Haid Everything is Vanity, c. early 18th century
Though new to Escher at the time, the process of mezzotint was developed in 17th century Germany and named mezzo-tinto, or "half-tone." Historically, the medium was often applied to works depicting dark or mysterious scenes, taking full advantage of mezzotint's penchant for creating visual drama. In Everything is Vanity, by German artist Johann Jakob Haid (c. 1704-1767), this strong contrast in color, achieved through subtle gradation, is clearly visible. Haid takes full advantage of the medium's possibilities in exploring texture, achieving notably distinct appearances in objects like clear soap bubbles, perfectly smooth and reflective, a skull with a softer, more matte appearance and a small puff of barely-there smoke fading into the inky-black background.
Thanks to the medium's sumptuous effect, English artists and printmakers found it to be a perfect medium for portraiture, which became ever-more popular thanks to a growing middle class. By the 18th century, it was the most popular reproductive printmaking method in Europe. Lasting well into the 1820s, the mezzotint later spread to the United States where it found footing among graphic artists.
Eye has two handwritten notes that reveal a bit more information about the present work, and what Escher thought was significant about it. Directly beneath the image, on the right, a short note stating "eigen drunk" (hand-printed) is present, subtly referencing the highly-skilled nature of this particular printmaking process, and differentiating this particular work in the context of Escher's typical woodcuts. Further down, another annotation, "zwarte kunst prent 'Oog'" (black art print "Eye"), denotes the work's title and further emphasizes Escher's use of mezzotint as a means of achieving specific formal qualities.
White and black, day and night, the graphic artist lives on these. — M.C. Escher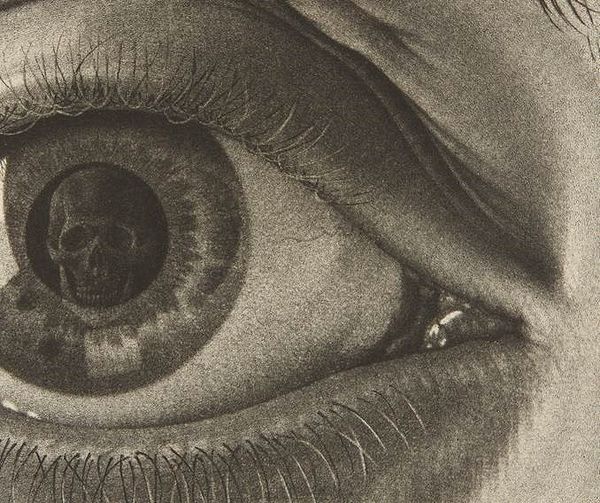 M.C. Escher Eye, 1946 (detail)
Per Escher himself, this work is a self-portrait: "… a last example of globular reflection: an eye, which is of course my own, copied as faithfully as possible in a concave shaving glass. It was necessary and logical to portray somebody in a pupil, an observer, reflected in the convex mirror of the eye. I chose the features of Good Man Bones, with whom we are all confronted whether we like it or not."
Mezzotint is a highly laborious process, and Escher produced only eight examples during his entire career: a feat given the fact that so few artists embrace the demanding technique today. He referred to mezzotint as 'black art,' and these prints are, undoubtedly, among his most alluring. "White and black, day and night," said Escher, "the graphic artist lives on these."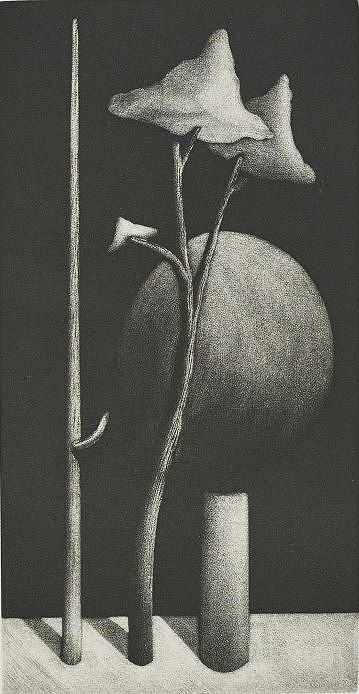 Nicolas Party Three Trees, 2016
Though rare, the art of mezzotint is not completely dead. In fact, some of the art world's most of-the-moment stars value the medium for the exact same reasons as their 17th-century forebearers. Swiss artist Nicolas Party has engaged with mezzotint, even putting on an entire solo show of work in the medium for the Glasgow Print Studio in 2016. Like Escher (and Haid), Party utilized mezzotint to heighten the perceived drama of banal, everyday objects, endeavoring to elevate still-life into the realm of portraiture. In Three Trees, sold at Phillips in 2019, each tree is imbued with an individual personality, as texture, size and shape are manipulated across the work. Light, falling from a mysterious source, lends an eerie quality to the work, which is only increased as the trees' shadows become starkly enveloped in total darkness behind them. Rather than a landscape, Three Trees evokes a still-life, or even actors on a stage, curtain drawn behind their backs, a spotlight shining brightly from above.
Escher once said, "I could fill an entire second life with working on my prints." Eye is an excellent example of the known, yet unknown diversity of his oeuvre, which sought to explore various mediums in printmaking along with some of life's most fraught questions.