Wolfgang Tillmans apple tree (f), 2004
In this edition of ULTIMATE, we have curated a multifaceted collection of exclusive works, ranging from rare masterpieces to unique works and sold-out editions. As this exciting program evolves, so does our criteria for entry. If it's the first, the last, special, unique, a one-of or the only chance to own it, then it might just be the ultimate…
We are thrilled to present three masterworks that are emblematic of each artist's social and cultural concerns as well as aesthetic sensibilities: our cover lot, Wolfgang Tillmans' introspective image of ripened apples taken outside his London flat (lot 11), Idris Khan's 2004 homage to the Bechers' typologies (lot 12) and Peter Beard's haunting aerial view of 756 elephants migrating (lot 10). Debuting at Phillips is Bastiaan Woudt with his beautiful monochromatic portrait thula (lot 16) and Amanda Means with her unique large-format color Polaroid of an incandescent light bulb (lot 17).
Peter Beard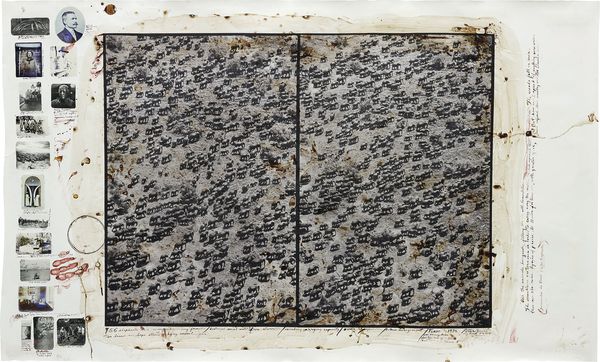 Peter Beard 756 elephants, 1976
756 elephants is a tour de force of Peter Beard's unique compositions. The monumental photograph depicts the aerial view of the unfathomable mass migration of elephants that resulted from a catastrophic drought. At the time, Beard was working in Tsavo East National Park where he witnessed and recorded the tragic die-off of elephants – the animal most deeply ingrained within The End of the Game. Captured from the air in such quantity and density, the once majestic animals appear tiny in Beard's remarkable yet haunting photograph. The massive herd seems to be moving in one direction, compelling the viewer to feel its intent and urgency.
To the left of the composition is a collage of small photographs mainly featuring traditional and Western hunters who came to Africa in the early 20th century to hunt big game. The intrusive presence and activities of these early Western hunters triggered an ecological and social disharmony that eventually resulted in the mass extinction of game in Africa. To the right is an excerpt from Leonardo da Vinci's Prophecies in Beard's distinctive handwriting:
All the animals languish, filling the air with lamentations. The woods fall in ruin. The mountains are torn open in order to carry away the metals, which are produced there. But how can I speak of anything more wicked than men who raise hymns of praise to Heaven for those who, with greater zeal, have injured their country and the human race (The Prophecies, circa 1490).
756 elephants presents the quintessential Peter Beard – visual poet, alchemist, prophet – and epitomizes his unique aesthetic and socially conscious approach. Once described as "Odysseus with a camera," he is a visionary ahead of his time whose powerful work continues to resonate long after its creation. The exceptional work offered here has remained in the same collection since it was originally acquired in 2004 and is appearing at auction for the first time.
Wolfgang Tillmans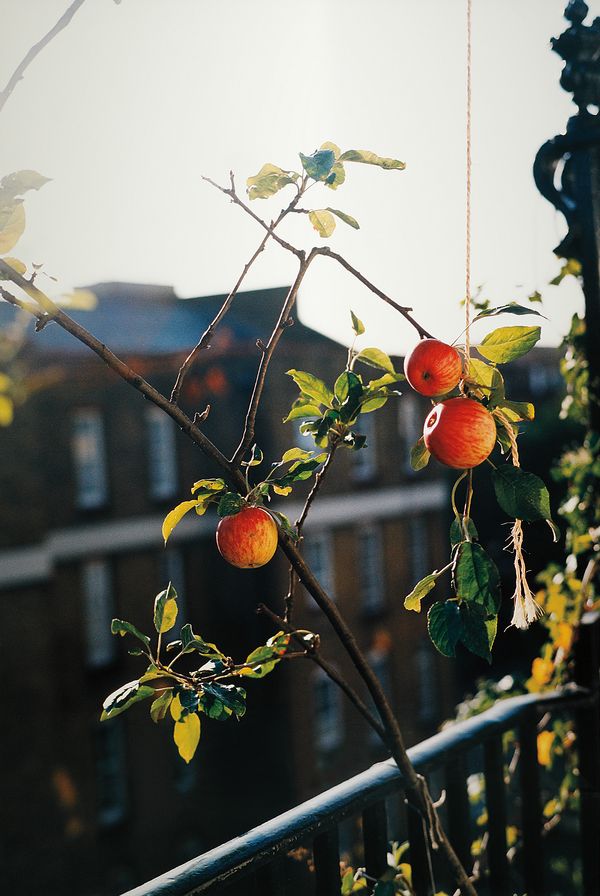 Wolfgang Tillmans apple tree (f), 2004
Wolfgang Tillmans' long-term apple tree series developed organically. In the spring of 2001, he planted an apple tree in a container outside his London flat and began to photograph it. He recalls the story:
I moved to an ex-council flat which had one of these balconies where you access the flat from an outdoor walkway and I began to collect more plants. And then I bought an apple tree. In the first year I had the tree, children were stealing all the apples, so on the last one I put a post-it note saying 'Please leave this one.' I began to photograph it – not really as a project, but it was just an intuitive reaction because every day I walked past this developing growth and these ripening apples. That is typical for how I work, that things often only afterwards turn out to be serious.
In 2002, Tillmans took two photographs, day and night, which were released to help fund the accompanying catalogue to his 2003 Tate Britain exhibition if one thing matters, everything matters. inner city apple tree, a photograph of the blossoming tree, was created in the spring of 2003. Realizing that he needed to plant at least two different apple tree varieties to make apples, he added two more trees, and in the following year, 2004, he photographed the seasonal trajectory of an apple tree from blossom to ripe apples, resulting in apple tree (a-j), which includes the present image. apple tree (k), created in 2006, was followed by apple tree (2007) and the series concluded in 2010 with the final work inner city apple tree II.
In 2006, apple tree (f) was shown alongside the 13 other apple tree photographs as 24x20-inch exhibition prints for his first US survey at the Museum of Contemporary Art Chicago. Since then these works have been exhibited both individually and as a series, most recently at Fondation Beyeler in 2017.
apple tree (f) presents the tree at its peak with ready-to-pick apples in red and golden shades. Created as an oversized stand-alone work, this lot epitomizes the way in which Tillmans sees the world. "In the most innocent sight, a tree growing, I can find great joy," states the artist. "And I sometimes find that this is a tremendously subversive and free act, that you are empowered with your eyes to access the world the way you want to see it."
Idris Khan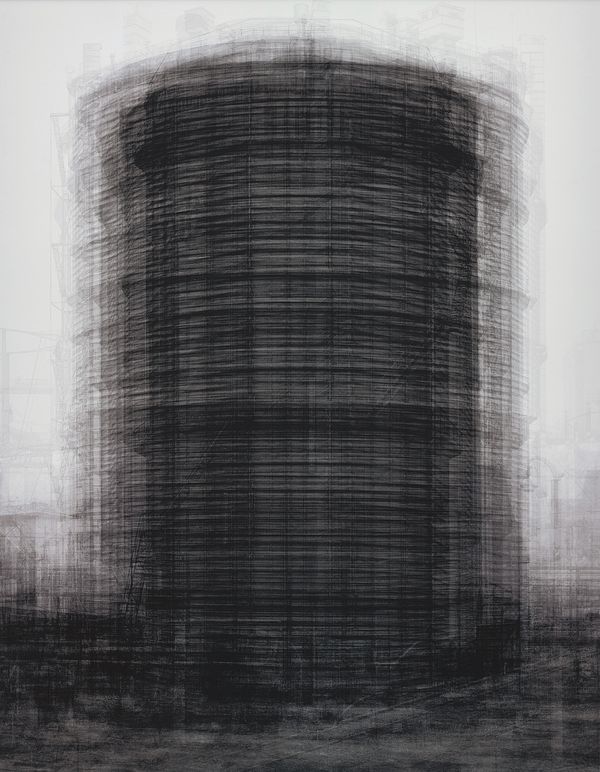 Idris Khan every...Bernd and Hilla Becher Prison Type Gasholder, 2004
every…Bernd and Hilla Becher Prison Type Gasholder, 2004, the work offered here, is an exceptional example of Idris Khan's digitally layered composite photographs of known cultural subjects for which he first gained wide acclaim. Drawing inspiration from master photographers Bernd and Hilla Becher and their pursuit to create typologies of industrial-era structures, such as water towers and gas holders, Khan reimagines their series through a seemingly contrasting process of superimposing and condensing, resulting in entirely new works. The present image was created by scanning every Becher photograph of a prison type gasholder taken over 30 years across Europe and the United States and then digitally layering them. Khan explains that "this time-consuming procedure is an integral part of the work, not least because it reminds [him] of the time it took to produce the original." His technique of layering the digital scans produces an intensity of tone at the center of the image while allowing the subtle details of individual structures to radiate towards the outer edges. Resembling a drawing, the resulting large-scale work with its ghostly outlines is haunting, reminding us of the passage of time as these industrial relics continue to disappear.
Idris Khan's 2004 homage to the Bechers' typologies resulted in the present work, every…Bernd and Hilla Becher Prison Type Gasholder, as well as two others: Spherical Type Gasholders and Gable Sided Houses. Shortly after Bernd Becher's death in 2007, Khan created another composite photograph based on their work, this time titling it Homage to Bernd Becher.
The London-based artist was appointed an OBE for services to the arts in 2017 and has exhibited his work in many international institutions, including the Guggenheim Museum, New York, the San Francisco Museum of Modern Art and Tate Britain, London. His works reside in such prestigious institutions as the Centre Pompidou, Paris, the Philadelphia Museum of Art, the Guggenheim Museum, New York and the San Francisco Museum of Modern Art.
Thierry Cohen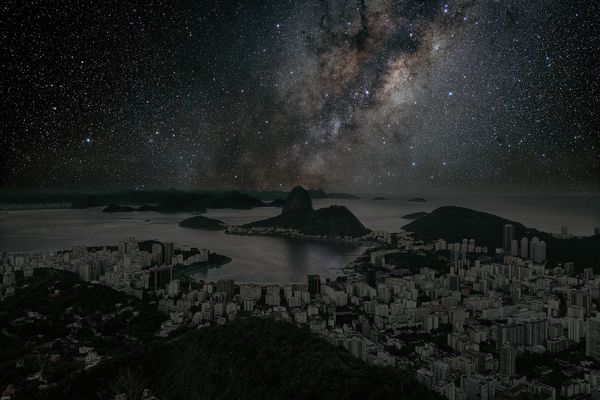 Thierry Cohen Rio de Janeiro 22° 56' 42'' S 2011-06-04 LST 12:34 from Darkened Cities, 2011
"You can show the world you want to show," says Thierry Cohen about his ongoing series Villes éteintes [Darkened Cities], which presents composite images of dark urban landscapes with starry skies. To create the work offered here, Cohen photographed the city of Rio de Janeiro by day, using filters and under-exposure to simulate a nighttime view devoid of artificial light, then traveled to the Atacama Desert in Chile, located on the same latitude as Rio, to capture the vibrant constellations. "By combining two realities, I am making a third that you cannot see … but it exists! I am showing you the missing stars," explains Cohen. "I am not showing you post-apocalyptic cities, merely cities without electricity. I am bringing back the silence." The Paris-based artist was shortlisted for the 2015 Académie des Beaux-Arts Photography Award and has exhibited Darkened Cities in many cities worldwide, including New York, Dubai, Moscow and Genoa.
Andreas Gefeller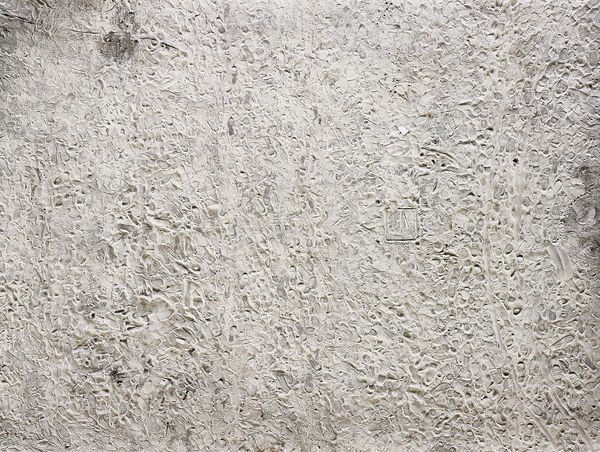 Andreas Gefeller Untitled (Sandtracks), Miami from Supervisions, 2008
This intricate sandscape from Andreas Gefeller's Supervisions series (2002-13) is a meticulously and seamlessly constructed digital assemblage. Carrying his tripod-affixed, downward-facing camera in front of him, Gefeller photographed step by step across the sandy surface, accumulating approximately 100 individual shots, which were later stitched together to create a richly detailed image. "I'm starting to survey the ground," notes Gefeller, "I as a satellite and the ground beneath me as the alien surface of the planet Mars, except that instead of being hundreds of kilometers above ground, it's only two meters." What appears at first to be an abstract composition reminiscent of a lunar landscape uncovers, on closer investigation, the mesmerizing details of individual footprints, shoe logos and small pieces of debris found on the sand. Dusseldorf-based Gefeller has exhibited widely and his work resides in such prominent institutions as the National Gallery of Canada, Ottawa; the Nelson-Atkins Museum of Art, Kansas City; and the Norton Museum of Art, West Palm Beach.
Bastiaan Woudt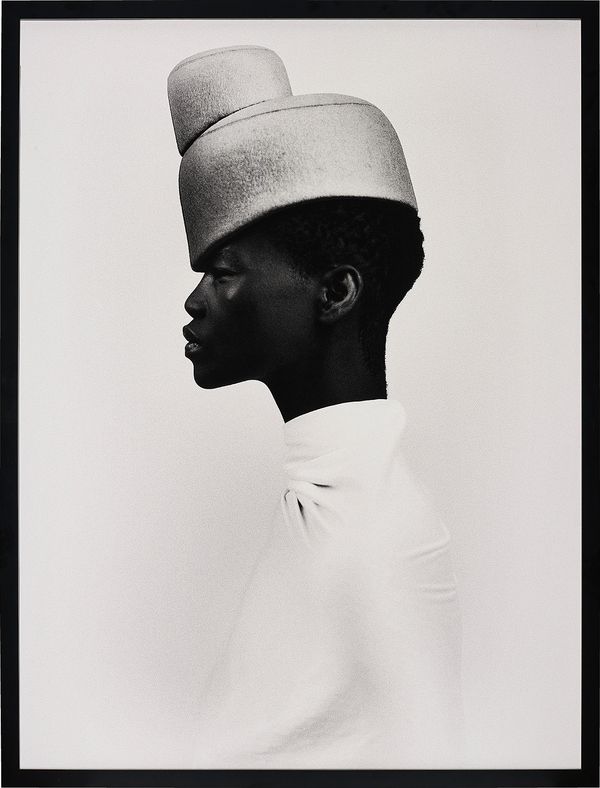 Bastiaan Woudt thula, Alkmaar, 2017
In the present work, Bastiaan Woudt has photographed model Thula Nuka in profile, her gaze commanding as she confidently occupies the frame. "This shot of Thula was one of the last shots of the day, just before we wanted to wrap up the shoot and go home," he recalls. "It's one of those moments where everything just falls in to place." A self-taught photographer, Woudt has developed his distinctive monochromatic style through experimentations in both in-camera and post-production techniques. Drawing inspiration from classic black-and-white photographs by 20th-century masters Irving Penn and Richard Avedon, he aims to capture the essence of analog photography, which he sees as "dynamics, movement, imperfection, feeling," through digital means. The Dutch artist has published three photobooks to date and has exhibited his work in various cities worldwide, including Amsterdam, Paris, New York and Shanghai since 2014.
Amanda Means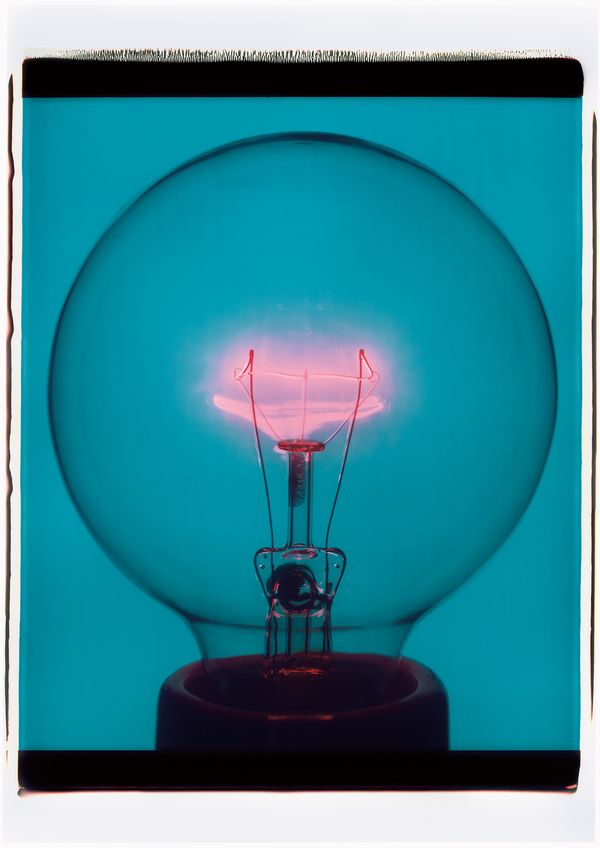 Amanda Means Lightbulb 00062C, 2007
Amanda Means has focused on light throughout her oeuvre, beginning in the 1960s, experimenting with camera-less techniques and negative exposures. In her ongoing Colour Light Bulbs series, these modest household items are "transformed from their mass-produced origins to photographic objects of limitless potential and lavish beauty." Created using a rare 20x24 Polaroid camera – one of only five built by Polaroid in the late 1970s – the work offered here is a mesmerizing full-frame portrait of a light bulb with its filament glowing bright pink against a rich turquoise background. "I loved making exposures with the mammoth camera," explains Means, "peeling back the negative of each large print to instantly reveal these sensual, energy-filled, glimmering globes." The New York-based artist has exhibited internationally and her work resides in numerous public institutions, including the Whitney Museum of American Art, SFMOMA and the National Gallery of Canada. Means was awarded a Guggenheim Fellowship in 2017 for her ongoing contributions to the medium of photography.
Andrew Zuckerman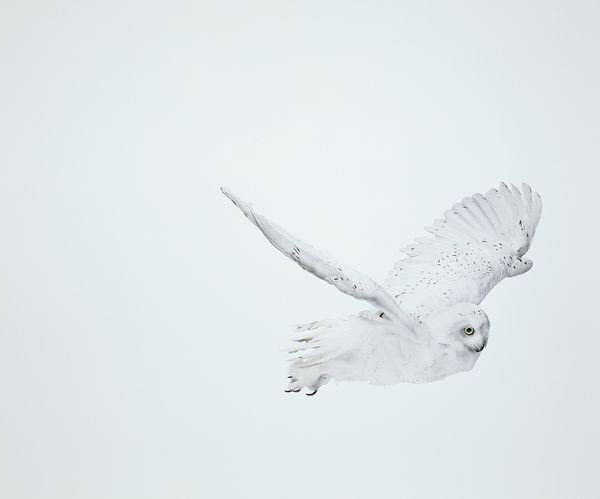 Andrew Zuckerman Snowy Owl 32, 2008
Andrew Zuckerman's work harnesses elements of the natural world through technology. In this photograph, the snowy owl captured mid-flight in the artist's New York City studio is untethered from its contextual environment. The artist's signature white backdrop provides an almost hyperreal representation of the owl – with precision and clarity – illuminating its golden eyes all the way to the tips of its white wings. "Birds are brilliant creatures," comments Zuckerman, "and behind their visual beauty I think there is something that mystifies all of us." His process of UV printing onto Dibond not only resulted in a certain sensitivity to the tones of white as seen in this work but also allowed it to be presented without glazing, creating an unobstructed connection between the viewer and the subject. His books have been published in 18 international editions and his immersive investigation of the natural world has been presented in three volumes: Creature (2007), Bird (2009) and Flower (2012).