A classically trained contemporary watchmaker hailing from Finland, Kari Voutilainen launched his eponymous brand in 2002 and has been making waves - literally - with a collection of timepieces that places the focus on high-end watchmaking and traditional hand-finishing techniques. One of the reasons Voutilainen is so popular amongst collectors is his openness to making custom dials, and his are among the most visually arresting thanks to his ability to combine guilloché patterns and various color schemes in an interesting and non-traditional way. Ahead of the Geneva Watch Auction X, which features Lot 130, a Vingt-8 with two bespoke dials, we sat down with Voutilainen to find out how these are made, where he draws inspiration from, and what challenges this unique craft presents.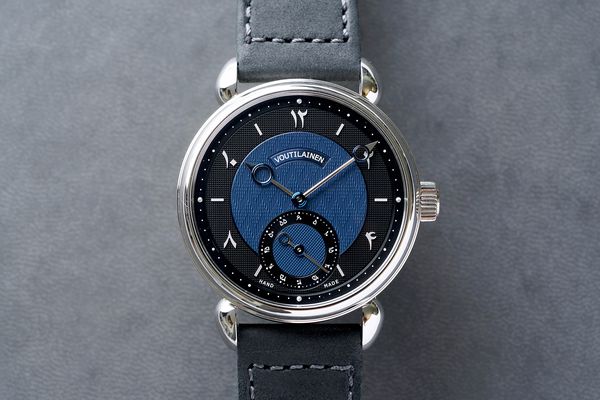 Lot 130 of The Geneva Watch Auction X - A unique Vingt-8 in platinum, fitted with a black/blue Persian dial.

Arthur Touchot: You began your career at Parmigiani Fleurier, working on some of the most important and complicated vintage clocks. Is this where you gained your love for traditional watchmaking and classical decoration techniques such as enamelling and engine-turned (guilloché in French) dials ?
Kari Voutilainen: It was already much before, but that experience at Parmigiani did deepen my interests for fine watchmaking and specifically for lovely dials which are works of art. I began learning about different types of dials back in watchmaking school in Finland, and already I was looking at antique pocket watches in museums. It was incredible to see watches with enamel dials, centuries old, but still in mint condition. I also saw engine turning machines in museums. I thought that these were so beautiful and looked so complex. It did wake up my interest in guilloché dials.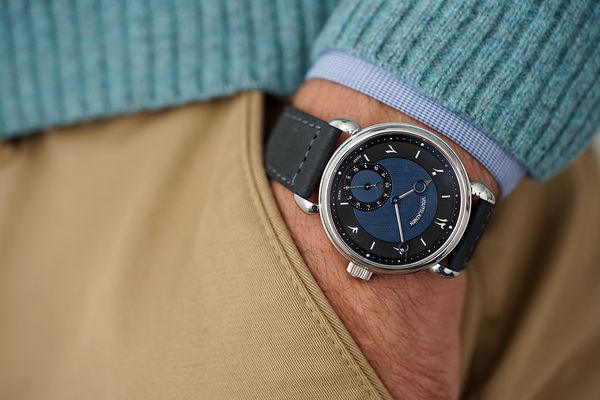 The Vingt-8 consigned to The Geneva Watch Auction X measures 39mm, a brilliant size on the wrist.
AT: You later decided to claim your independence by opening your own workshop in Môtiers, in 2002. What prompted your decision to launch a brand under your own name ?
KV: I finished my first watch in 1994. I had already signed that watch and I continued dreaming about making watches under my own name one day. That day came in 2002. I thought about it for a long time, whether I should find a good name for the watch and brand, or simply use my own name. After long consideration, I thought that it is much better to take full responsibility for the end product, so this why my name stands on dial.
Persian numerals and a black and blue guilloché dial were both custom requests by the watch's original owner.
AT: One of your primary selling arguments is your customization service, which has led to many stunning unique pieces –some of which we have had the pleasure of presenting in past auctions. Can you explain the process of making a custom dial with a customer, and what do you find most interesting about it ?

KV: It is very satisfying to make a customer's dream watch. That is why I do accept customizations. It is a two-way dialogue, with customers expressing their desires and me coming back to them with technical restrictions and my opinions on details. I like it!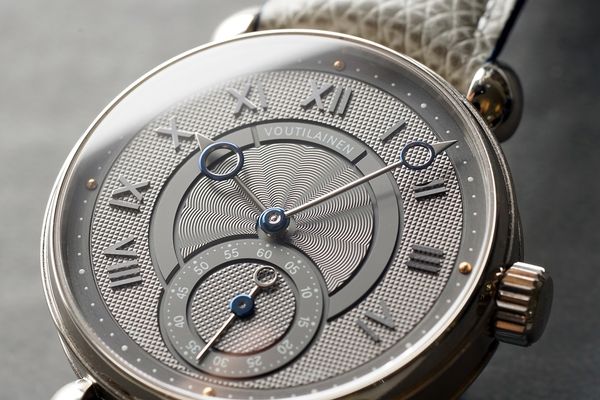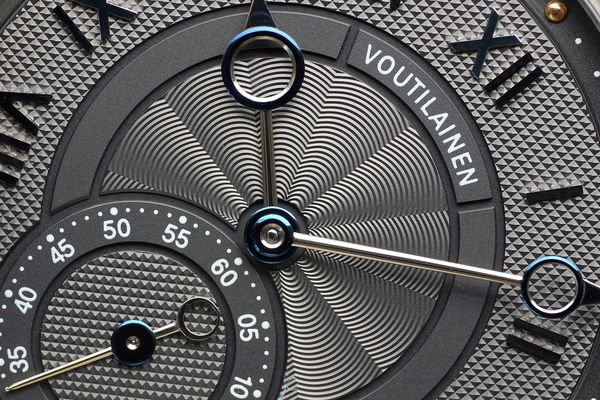 The dial of a privately owned Observatoire. These often features Roman numerals and Voutilainen's "wave" pattern.
AT: Are there any popular misconceptions when it comes to making dials, something you wish was better communicated to potential customers ?

KV: Most customers doesn't necessarily see the amount of work that it takes, the skills that are involved to be able to make dials, the passion, the machines and the equipment required to realize them.
AT: Generally speaking, what makes a great dial ? And what are some examples of great dials from the 20th century. Are there any brands or references in particular that inspire you?
KV: The dial is the face of the watch. It should make the watch even more beautiful. It should have nice balance and lovely character. I really like the dials that Stern Frères used to make, decades ago, for Patek Philippe, with enamel writing, and nice and fine finishing. I also enjoy old enamel dials made for complicated Patek Philippe pocket watches. Engine-turned dials made by Breguet, centuries ago, remain fashionable, avant-gardist.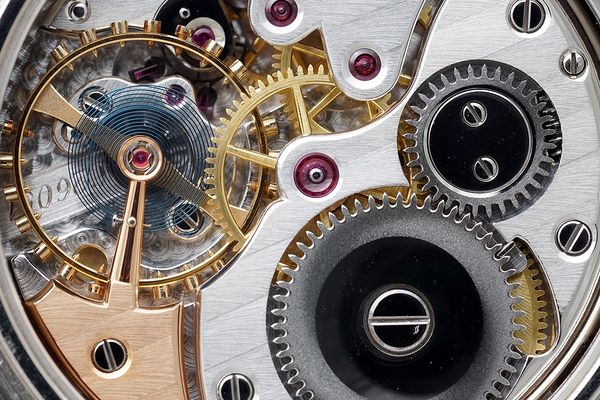 The movement side of Kari Voutilainen's watches are also of admirable beauty.
AT: Do you have a favourite guilloché pattern ? A favourite colour or colour combination ?

KV: I like our waves pattern, it has lovely play with light. I love dark blue.

To learn more about the custom-made Kari Voutilainen Vingt-8, please visit the lot page 138 of The Geneva Watch Auction X.