Taking place from 25-26 November, the auction will be divided into two sessions, an evening sale on 25 November call 'FIRST' will feature nearly 60 fresh-to-market watches from original owners of exceptional quality, led by the extremely complicated, important and most probably unique white gold Patek Philippe Reference 5002G with certificate of origin and presentation box. This will be followed by a Day Sale on 26 November featuring almost 270 timepieces encompassing vintage and modern collectors' watches from leading brands such as Patek Philippe, Rolex, Omega, A. Lange & Söhne, Vacheron Constantin, Audemars Piguest, IWC and Jaeger-LeCoultre.
Thomas Perazzi, Head of Watches, Asia, said: "FIRST offers a diversified range of watches that are appearing for the first time in auction and sourced from distinguished private collectors. It is one of the strongest sales that our team in Asia is very honored to assemble."

Auction Address & Schedule:

Location: The JW Marriott Hotel Hong Kong, 88 Queensway, Admiralty, Hong Kong

The Hong Kong Watch Auction: NINE – FIRST Evening Session: Monday 25 November | 6:30pm HKT
The Hong Kong Watch Auction: NINE – Day Session: Tuesday 26 November | 12pm HKT

Highlights of the Hong Kong Watch Auction: NINE include:

A most probably unique Patek Philippe, Reference 5002/G
Estimate: HKD 6,200,000 – 11,000,000
In 2001, Patek Philippe released reference 5002 "Skymoon Tourbillon". Inspired by the pocket timepiece Star Caliber 2000, Patek Philippe miniaturised the model into a wristwatch that features a double dial with cathedral gong minute repeating mechanism and tourbillon. While any Skymoon Tourbillon, disregarding case material or dial layout, is an absolute masterpiece and the stuff horological dreams are made of, the present example unarguably surpasses in looks and collectability its peers, as it features a special request, never-before-seen dial. While what is normally found on platinum 5002 is a white or black dial with applied Roman numerals, the present piece features a so-far unique configuration with red painted Roman numerals.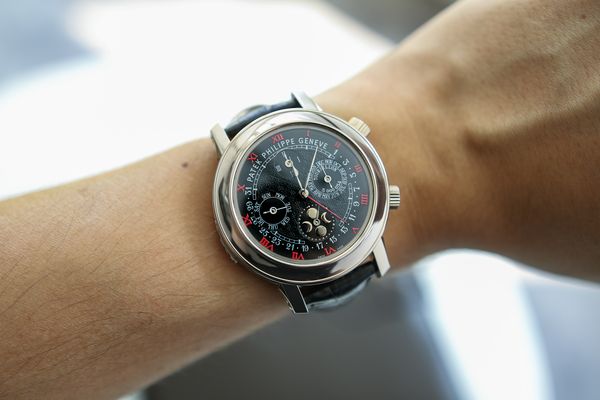 Patek Philippe is known to accept special commissions in case of exceptionally distinguished clients. Considered the scarcity such special examples are realised with, it is a very educated guess that the present watch is indeed a unique piece, making this a virtually unrepeatable occasion for the avid collector to not only own one of the most complicated creations of the brand, but furthermore to own a unique configuration of this pinnacle of mechanical proficiency.
An extremely rare and attractive Rolex Cosmograph Daytona Reference 6265 with 'tropical' Panda dial
While it is well known that the Exotic/Paul Newman dial was in production for a very short time (about 5 years) due to its poor reception by the public, this did not prevent Rolex from developing a number of variations and sub-variations of what is now considered one of the most iconic dial architectures ever designed. The overall look - with outer contrasting track and subsidiary registers featuring square markers - always remained the same, but there are a few chromatic variations: from the earlier three-colour dials, to later examples featuring red Daytona designation but white graphics to the outer track, to the present bi-chromatic example, the so-called "Panda".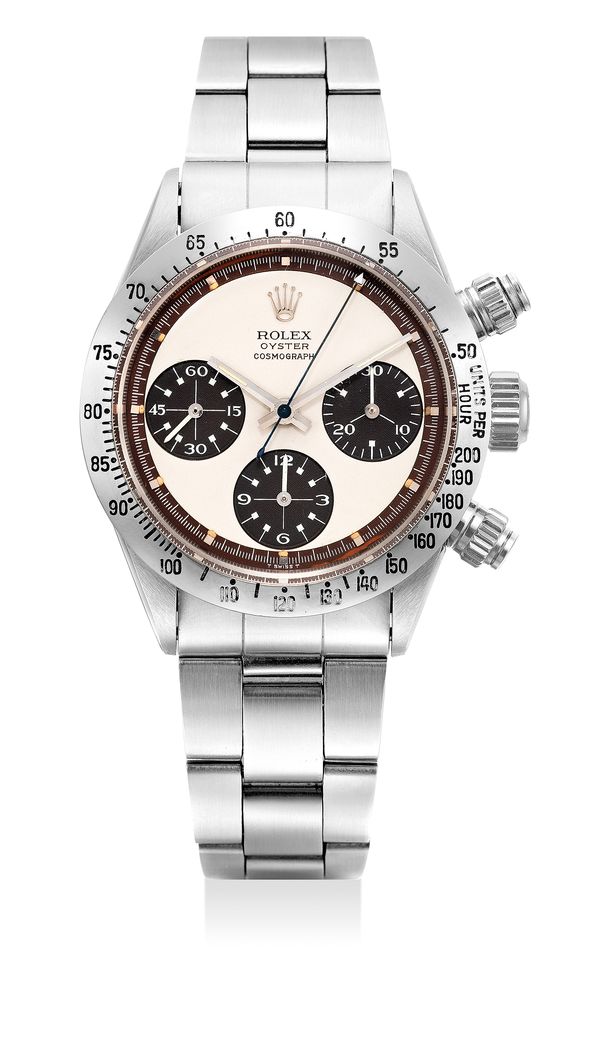 An extremely rare, attractive and well-preserved stainless steel chronograph wristwatch with "Paul Newman" dial, "tropical" outer minute track and bracelet
Coming across a Panda dial is already a momentous occasion for a collector, but coming across a Panda dial which not only is as well preserved as the present one, but even features a tropical outer track is beyond outstanding. To give an idea of the rarity of this dial configuration, one has to think that over the entire lifespan of the Phillips Watches department, only three tropical Panda dials have been sold, and all of them were fitted onto references 6263. This is the first instance that we are entrusted with a 6265 tropical Panda.
A very rare "Pre-Daytona" Rolex chronograph Reference 6238 with 'glossy' black dial.
Hailing from the beginning of the 1960s, the reference 6238 would be the last chronograph produced by Rolex that would not be a Daytona. Nicknamed the "Pre-Daytona", the reference housed a manual winding caliber 72B with a Valjoux ébauche. The 14K yellow gold case alone captivates the mind of the most discerning collectors, as most examples were produced in stainless steel or in 18K gold.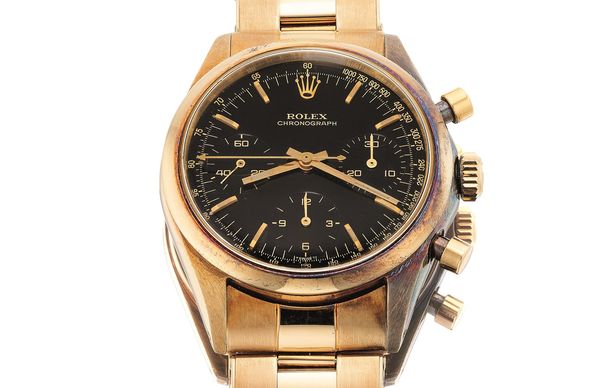 Rolex, reference 6238: An extremely rare and highly attractive 14k yellow gold chronograph wristwatch with black "glossy" dial and bracelet. Circa 1967.
Furthermore, most examples were produced with silvered or matte black dials, whereas this example features a "glossy" black dial. Very few examples like it have surfaced on the market. With an intrinsically appealing configuration sporting an attractive and unique 14K yellow gold case with heavy presence of oxidation developed on the right side, it is simply a watch that has not seen a wrist in decades.
A highgly attractive Patek Philippe minute repeating single-button chronograph Reference 5208P-001
Regarded as one of the modern masterpieces manufactured by Patek Philippe, belonging to the family of Grand Complications, the ref. 5208P features a minute repeating perpetual calendar single-button chronograph movement. The present example encased in platinum is presented in excellent overall condition and further accompanied by the full set of accessories when it was purchased by the original owner.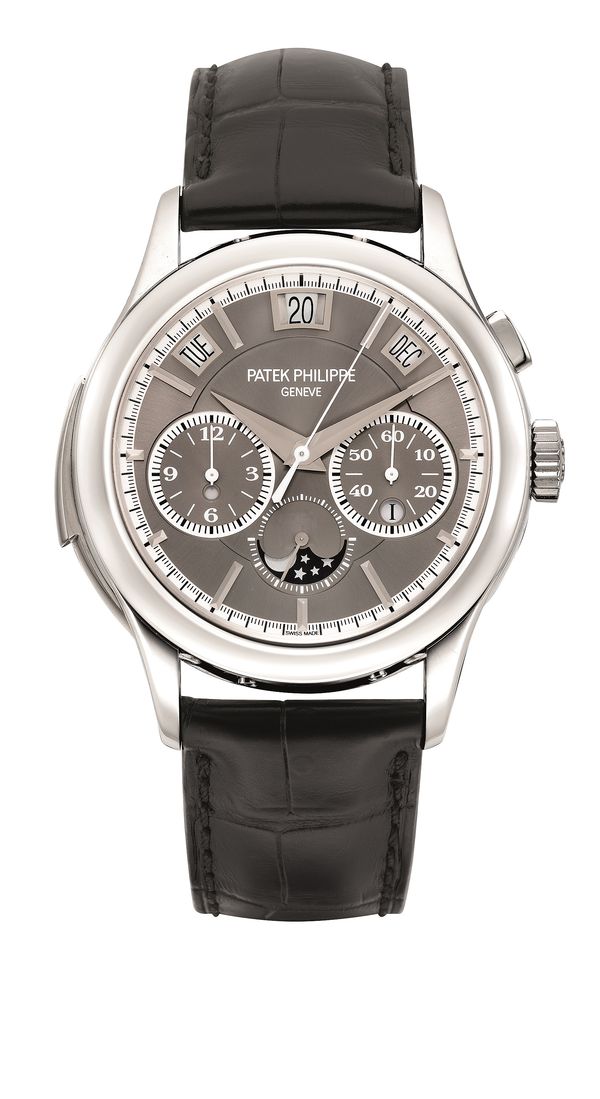 Patek Philippe, reference 5208P-001: An extremely fine, rare and highly attractive platinum minute repeating single-button chronograph wristwatch with instantaneous perpetual calendar, moon phases, leap year indication, Certificate of Origin and presentation box. Circa 2016.
Offered to the most distinguished and loyal collectors of Patek Philippe, the reference is definitely a highly prized wristwatch, part of the family of Grand Complication wristwatches, which no doubt will one day become a legendary piece of respected mechanical artistry.
A unique yellow gold Patek Philippe open face pocket watch reference 866/2 with enamel miniature
Between 1967 and the mid-2000s, Patek Philippe produced a small number of unique pocket watches decorated with superbly rendered scenes in miniature enamel in collaboration with great miniaturists such as Suzanne Rohr, Marthe Bischoff, Helene-May Mercier, and Pellarin-Leroy. Each of these pocket watches took an average of six months - sometimes much longer - to complete.
Patek Philippe, reference 866/2: An exceptional and unique gold openface watch with enamel miniature painted by M. Bischoff after a painting by Salomon van Ruysdael, with original certificate of origin, hang-tag and presentation box. 1975.
Marthe Bischoff, one of the best miniature enamelers of the past century, completed an exceedingly small number of pocket watches for Patek Philippe during her career, no more than half a dozen of which are known today. The present yellow gold Patek Philippe pocket watch bearing reference 866/2 is adorned with a scene in miniature enamel after a Dutch landscape painting by 17th Century Dutch Golden Age master Salomon van Ruysdael. Completed in 1975 at the height of Bischoff's prowess as an artist, it is without doubt one of her best works. In perfectly preserved, "safe queen" condition and accompanied by its original box and every conceivable document including the Certificate of Origin and original commission papers, this trophy of enameling art represents a once-in-a-lifetime opportunity for the most serious collectors.
A wonderfully well-preserved stainless steel Patek Philippe Nautilus Reference 5976/1G-001
To commemorate what is considered to be one of the most iconic luxury sports wristwatches in modern times, Patek Philippe launched a couple of limited edition wristwatches featuring a unique dial embossed with 1976-40-2016 to celebrate the 40th anniversary of the much admired Nautilus. Included in the limited edition launch was the Nautilus ref. 5976G chronograph wristwatch with date and further features a larger 44mm diameter case.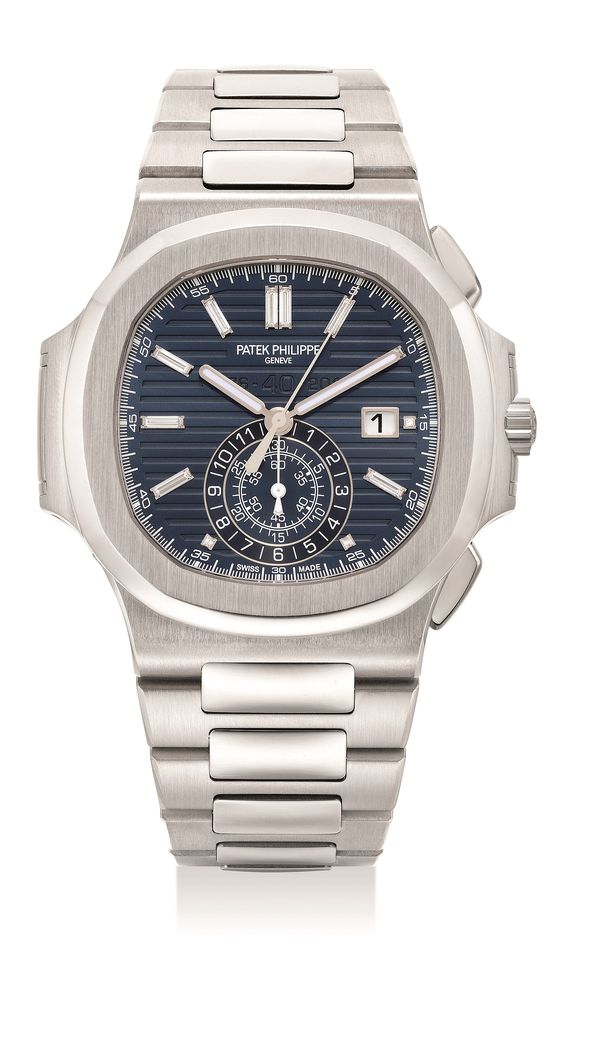 Patek Philippe, ref. 5976/1G-001, a very fine and rare limited edition white gold chronograph wristwatch with baguette diamond-set indexes, date, bracelet, Certificate of Origin and presentation box, made to commemorate the 40th Anniversary of the Patek Philippe Nautilus. Circa 2016
The present example is further enhanced by the presence of the original accessories that came with the watch when it was purchased by the watch's first owner, including the iconic Nautilus cork presentation box. A wonderful opportunity to acquire an important example from the lineage of the world's most iconic luxury sports watch manufactured by Patek Philippe.

The Hong Kong Watch Auction: NINE international tour dates are the following:

Bangkok - 18 & 19 October
10am-6:30pm
The St. Regis Bangkok
159 Rajadamri Road, Pathum Wan District, Bangkok 1033
Shanghai - 25 & 26 October
11am-6pm
Capella
480 West Jianguo Road, Xuhui District, Shanghai 200031
London - 25 to 28 October
Phillips London, 30 Berkeley Square, London, W1J 6EX
Singapore - 2 & 3 November
11am-6pm
The Ritz Carlton, Millenia Singapore
Marina Bay, 7 Raffles Avenue, Singapore 039799
Geneva - 7 to 10 November
Hôtel La Réserve, Bellevue, Geneva
Taichung
14 November
11am-6pm
2301 Millennium Suite, 23/F, Millennium Hotels and Resorts, No. 77 Shizheng Road Xitun District, Taichung
Taipei - 16 & 17 November
11am-6pm
B1 Art Gallery, Bellavita, No.28, Songren Rd., Xinyi District, Taipei
Hong Kong - 22 to 25 November
10am-6pm
The JW Marriott Hotel Hong Kong
88 Queensway, Admiralty, Hong Kong