- by Arthur Touchot
Whenever Phillips receives watches for an auction, our specialists carefully review their history and attempt to establish, among other thinds, when and where they were produced. This starts by checking serial numbers and working with manufacturers - and occasionally retailers - to verify the information they have uncovered. We went a step further with the following watches.

Since Beyer Chronometrie remains open today, since it is located just a couple of hours away from our Geneva office, and since it is still run by a member of the Beyer family, we decided to bring the Beyer-signed watches consigned to our "Double Signed" auction back to 31 Bahnhofstrasse, in Zurich, where they were originally sold to clients, and asked René Beyer, CEO of Beyer Chronométrie, to tell us what he knowns about the four watches that we found.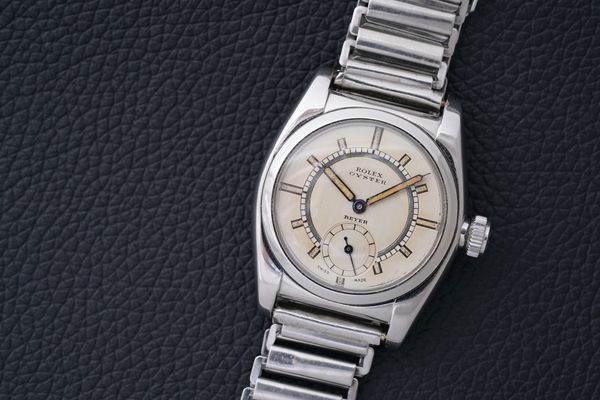 Lot 6 - Rolex stainless steel "Bubbleback" with "Bamboo" bracelet , circa 1935, signed Beyer
Once upon a time, long before anyone paid the Daytona any attention, the "Bubbleback" was the Rolex every collector wanted to have in his or her collection, for a couple of reasons. Historically speaking, many believed it was the first important watch made by Rolex, and René Beyer certainly believes it is the model that helped Rolex build a strong reputation aboard. "This is already one of the watches I would really say, they are from that good moment when Rolex started crossing the Channel," said Beyer. It is also a watch that lends itself to collecting, as Rolex made countless dials variations for these models, meaning you could acquire a large number without ever ending up with two of the same. Today, Bubblebacks represent one of the best opportunities for collectors to acquire a historially important wristwatch without having to break the bank, and double signed models such as this wonderfully preserved Beyer-signed Radium dial are among the most coveted.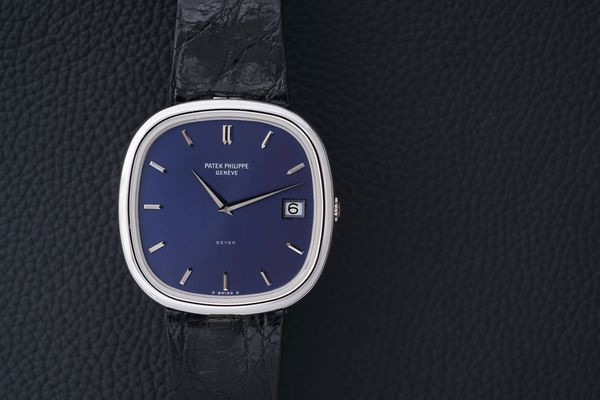 Lot 42 - Patek Philippe, "TV-screen" Ellipse Ref. 3604, with a blue dial made by the late Gilbert Albert, signed Beyer
An emblematic figure of the Genevan scene, Gilbert Albert passed away earlier this month. Before setting up his own atelier in Geneva, Albert had worked as a designer for Patek Philippe. His unconventional style led to some of the brand's most beloved asymetrical watches - such as the reference 3424 - but he also designed wonderful dials, such as the shimmering blue dial found in the present, white gold TV-screen Ellipse. According to Beyer, this is among the most elegant watches Patek Philippe has ever made.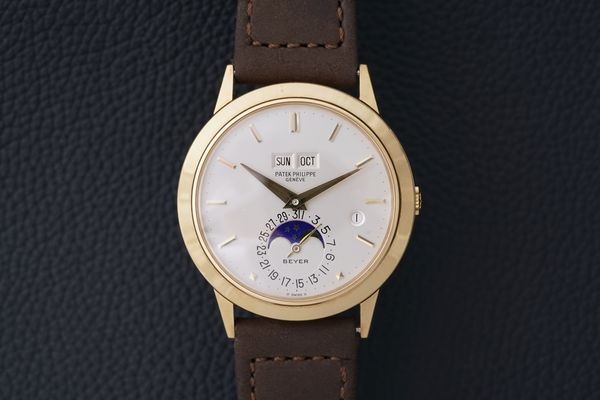 Lot 8 - Patek Philippe Reference 3450 in yellow gold, circa 1985, signed Beyer
One of the most sought-after vintage references, Patek Philippe's 3450 is a timepiece that René Beyer is particularly fond of, since the first mechanical watch he ever sold was a Beyer-signed reference 3450 just like the one shown above. He remembers that sale very well. "It was the day of the launch of the Swatch watch, in 1983. In the morning I sold one of those, and in the afternoon my uncle came to the shop with my aunt. I sold them this watch [Beyer points to his wrist, at another example] for the ridiculous price of CHF 13,750. About twelve years ago, when my uncle died, I reacquired the watch and for me this watch is going to stay always very special. Just like yours [exmaple pictured above], it has the Patek Philippe and the Beyer signatures, and you know how few of those were made." Indeed, we know. Only a dozen exmaples are currently known to exist, including the present example which has never before appeared on the auction market.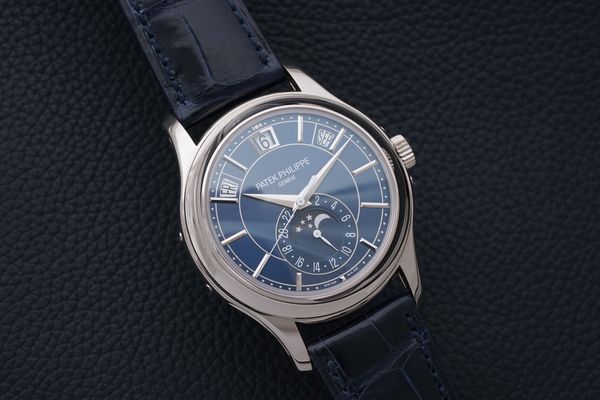 Lot 40 - Patek Philippe Reference 5205G, circa 2016, signed Beyer
The latest wristwatch to bear the Beyer name is the present Patek Philippe Reference 5205G, made in 2016 to celebrate the retailer's unique relationship with Patek Philippe - Beyer is the only retailer that operates a Patek Philippe boutique inside of Switzerland, all of the other distribution points in the country are owned and operated by the watchmaker. To mark this special bond, Thierry Stern, CEO of Patek Philippe, and René Beyer conceived a special blue dial, limited edition of the company's reference 5205G. Beyer offered these pieces to a select group of clients, and this is the first one to appear at auction. "We usually advise that clients keep their watches for at least five years," he said with a smile.