- by Arthur Touchot
Short History of the Dress Watch
A friend recently told me that, unlike with sports watches, there are very few great dress watches. And while I agree that sports watch seem more plentiful, with more brands involved in that market and a more diverse output when it comes to styles, dial designs and patents integrated over the years, it is important to remember that most of the watches made during the 20th century were dress watches.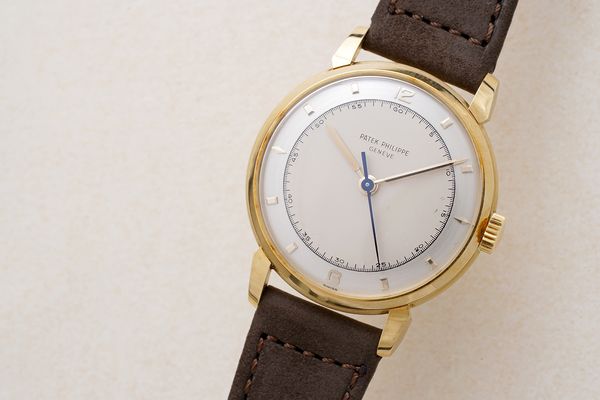 Lot 177 of The Geneva Watch Auction X - A Patek Philippe reference 2482 in yellow gold with two-tone dial
And that, until the 1970s, high-end manufacturers, those typically associated with great watches, had never made a sports watch. Instead, they made plenty of stunning dress watches, and just because today's collectors grew up idolising revolutionary sports models like the Nautilus and the Royal Oak, and other iconic stainless steel watches from Rolex, Heuer and Omega, does not erase the all-important "classic" dress watch from the history books.
What is a dress watch, anyways?
Many believe a dress watch should be a slim, time-only wristwatch. Complications allowed but only the high-end kind, such as perpetual calendars and tourbillons. For others, a dress watch should at the very least be made in a precious metal: yellow, pink and white gold all acceptable options, as well as platinum, obviously.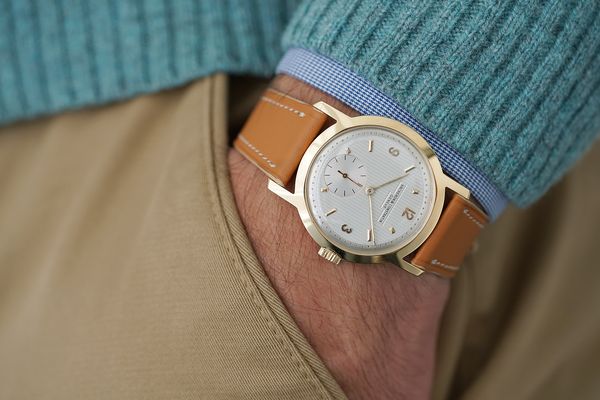 Lot 194 - A Vacheron Constantin reference 4993 in yellow gold with guilloche dial
Of course, nothing is straightforward in the world of watches. Take for example, the very elegant Patek Philippe Reference 570. In stainless steel it's almost indistinguishable from a white gold or platinum example, not to mention that it is much, much rarer and would be considered by any collector as a trophy piece in his collection. It also belongs to the Calatrava family, which many agree defines the "dress watch" genre better than any other wristwatch.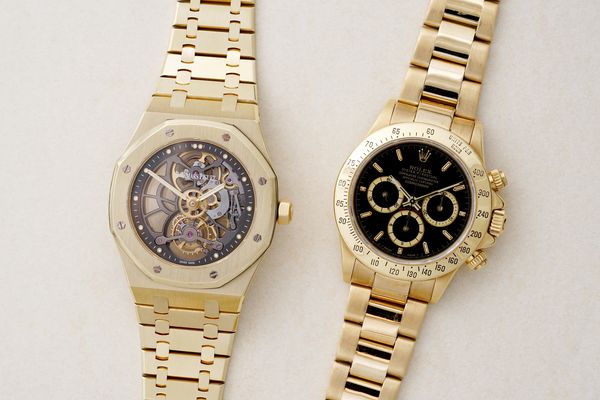 In yellow gold, can the Audemars Piguet Royal Oak and the Rolex Daytona pass as dress watches?
Conversely, I'm not sure the use of yellow gold makes the Rolex Cosmograph Daytona reference 16528 a dress watch. It remains, above all, a watch from one of the most iconic families of sports watches, made by the most famous tool-watch manufacturer. It just so happens to be made in gold. Same rule applies to all iconic sports watches made is precious metals, in my humble opinion.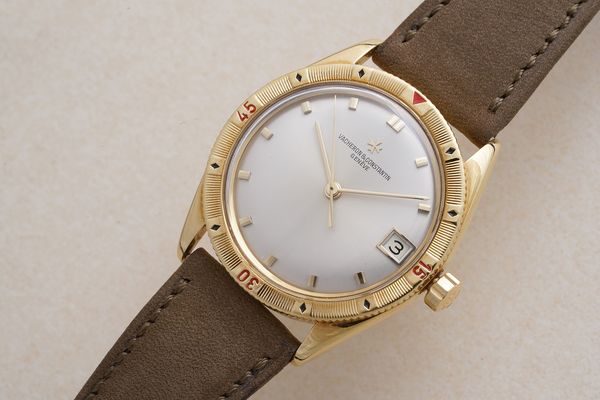 Lot 121 of The Geneva Watch Auction X - Vacheron Constantin Turnograph ref 6782 in yellow gold
In fact, I would argue that like most things in life, the definition of "dress watch" has evolved over time. Look at the Patek Philippe Ref. 565. This 35mm, antimagnetic and waterproof wristwatch was originally sold as one of the more casual watches in the company's catalogue, although many would look at it today and think it is the quintessential dress watch. The Vacheron Constantin "Turnograph" in yellow gold is another example of a sports watch, turned dress watch.
To simplify things then, we will be talking here about dress watches in a very classic sense: precious metal watches, smaller than 38mm, with movements that display only the passing of the hours, minutes and (in some cases) the seconds.
Where The Dress Watch Remains Kings
Where some fault it for being a little too plain, a little too simple, the dress watch has an incredible advantage over professional sports watches: it offers no distractions. There are no buttons to play with, no extra sweeping hands to pay attention to. With so little to uncover, the eye can admire the wonderful details that separate a simple dress watch from another, simple dress watch. And when attention is given to those details, a whole new world opens up to watch enthusiasts.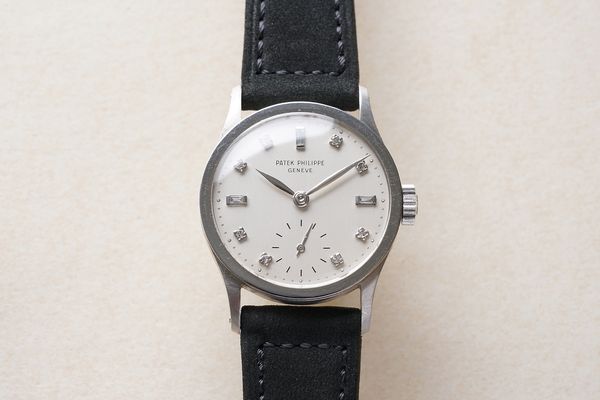 Lot 202 - A Patek Philippe Ref 96 in platinum with diamond hour markers
Let's start with the watch identified a little earlier as the first true "Dress Watch" - the Calatrava. And let's go even further by looking at the first Calatrava, the Ref. 96. A very small wristwatch - it measures only 31mm - the Ref. 96 is often accused of not offering enough. But I challenge you to find a watch with more pomp than the present diamond-set example. Against a simple white backdrop, a series of baguette and brilliant cut diamonds makes a subtle but powerful statement about the watch and its owner. Under the loupe and at the right angle, the watch offers an extraordinary light show, an experience few other watches are able to give.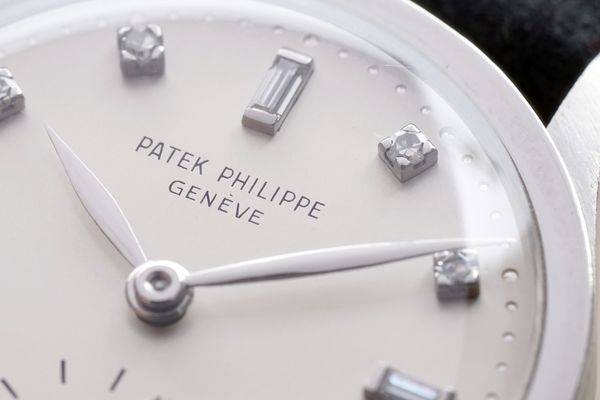 Other Calatrava examples impress even without the use of diamonds. The present reference 2482 features one of the more unusual and interesting dial designs, a combination of two types of finishes that creates a lot of negative space on the dial, thereby influencing the perceived size of the watch.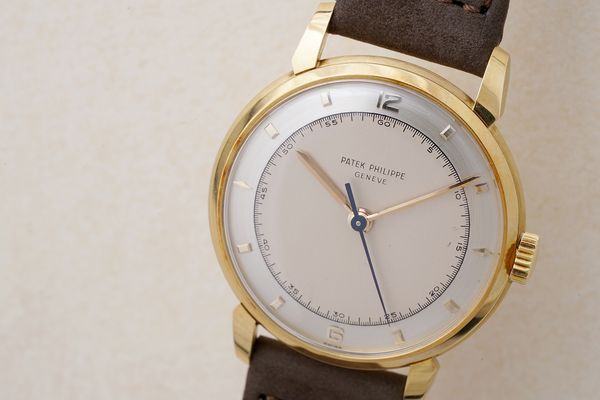 Lot 177 - Patek Philippe reference 2482 in yellow gold with two-tone dial
Engine-turned dials open up a world of opportunity too, with various patterns available across brands and through different eras. One of watchmaking's oldest crafts, invented in 17th century and perfected by some of the industry's greatest names, including Jean-Antoine Lépine, Abraham-Louis Breguet, and much later, George Daniels (who dedicated an entire chapter to it in "Watchmaking"), engine-turning is used to create one of a number of patterns (according to the type of machine used) that guide the viewer's eye across the dial, as seen here with a Vacheron Constantin ref 4993.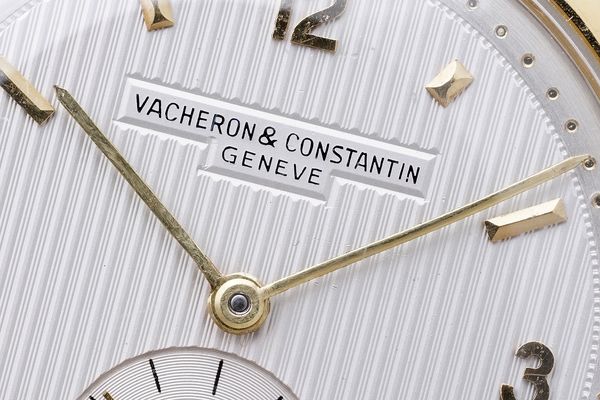 Lot 194 - A close-up of the Vacheron Constantin reference 4993
Moving away from dials, great character can also be found in interesting case constructions, such as the present two-tone Patek Philippe reference 530, which combines the warmth of gold with the appealing restraint of a stainless steel wristwatch. Few watches combine these two metals as well as a classic three-hander.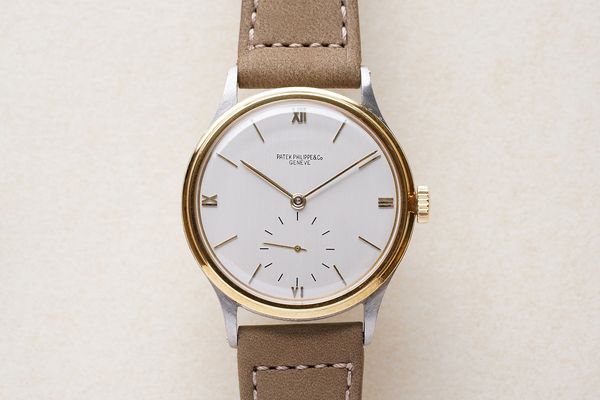 Lot 212 - A Patek Philippe refence 530 in stainless steel and yellow gold
Of course, the very best dress wristwatches display great skill at every level. This is the case - no pun intended - with the present Patek Philippe.
And the same is true of the following yellow gold Breguet wristwatch No 3229. The coin-edge finish of the baseband, custom-made guilloché dial, and pomme hands are all wonderful details, typical of Breguet, which one could spend hours admiring under a loupe.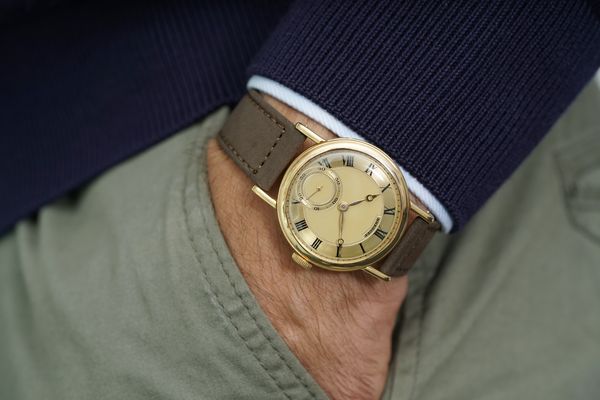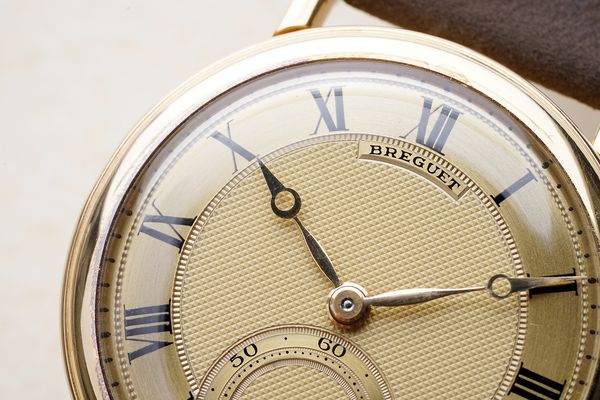 Lot 199 of the Geneva Watch Auction X - A Breguet wristwatch, No 3229, in yellow gold
And while you can still admire the design of an iconic sports watch, only with dress watches does one truly appreciate the various techniques a watchmaker uses to sublime a case, to create texture on a dial, and otherwise create a sensory experience that goes beyond the 1st, 2nd, 3rd (and even 4th) dimensions!
Modern or Vintage?
While many contemporary watchmakers seeking their own identity have developed avant-garde collections under their own names, a couple have kept a classical approach to their designs. This is the case for Philippe Dufour, whose Simplicity is an homage to dress wristwatches of the 20th century.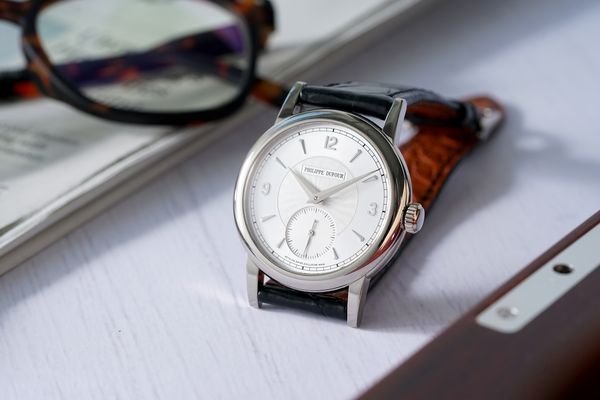 Lot 268 of The Geneva Watch Auction X - Philippe Dufour's Simplicity, No 23, in white gold
The Simplicity perpetuates and helps preserve the watchmaking style typical of the Vallee de Joux in form - the watch is round, made in white gold, and measures 37mm in diameter - and in function - itis, after all, a manually-wound, time-only wristwatch that is painstakingly and beautifully finished by hand.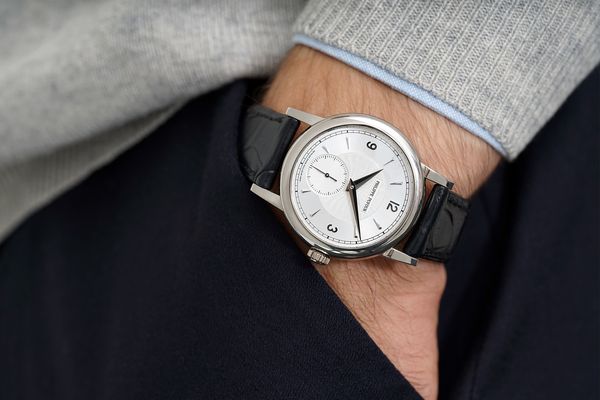 Philippe Dufour's Simplicity, No 23, in white gold
To learn more about the dress watches featured here, and other included in The Geneva Watch Auction X, make sure to review the full online auction catalogue.