Phillips Principal Auctioneer Henry Highley brings down the hammer on the evening's top lot, Blue Umbrella I by Alex Katz.
The energy was high in Phillips' buzzing Mayfair saleroom as the 20th Century & Contemporary Art Evening Sale powered to a total of £25.8 million, marking a healthy 28% increase from 2018's fall sale. In keeping with the Frieze Week ethos of bringing forth younger artists on an international stage, Phillips took a proactive approach as the sale team sought to "put together a sale that truly reflects current trends in collecting," per Olivia Thornton, Head of 20th Century & Contemporary Art, Europe.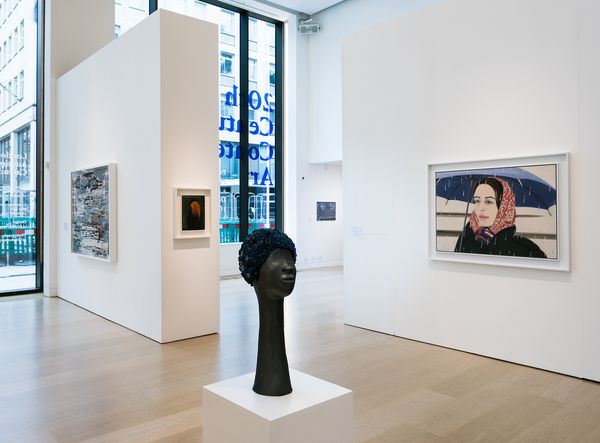 Simone Leigh's Shower Cap on display in Phillips' Berkeley Square galleries, with works by Gerhard Richter, Peter Doig and Alex Katz in the background.
The sale opened with a succession of new records as the very first lot, Simone Leigh's Shower Cap, sailed past its high estimate of £60,000 to ultimately sell for £175,000. Next up, Nathaniel Mary Quinn made an electric auction debut, with Over Yonder selling for nearly quadruple the high estimate at £212,000. In the third and fourth spots, red-hot artists Derek Fordjour and Sanya Kantarovsky also saw new records achieved, with Fordjour's Green Horn selling for over £100,000 above the low estimate at £137,500, and Kantarovsky's playful Lavender Arrest selling for £150,000—well above the artist's previous record of $32,500 set in 2017.
Thornton continued, "We are incredibly pleased with tonight's result. The success of [our] proactive approach was reflected by the strong market response to our contemporary offerings, and incredibly spirited bidding for the front run of highly sought-after names."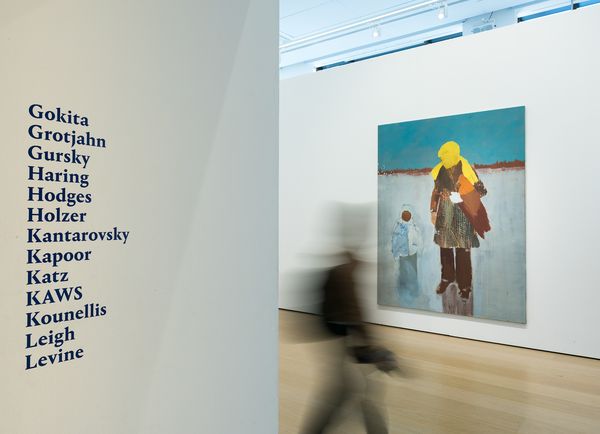 Hurvin Anderson's Beaver Lake on display in Phillips' Berkeley Square galleries.
Leading the sale, Alex Katz's Blue Umbrella I sold for nearly £3.4 million against a high estimate of £1.2 million. Executed in 1972, this was also the earliest work offered. The exceptional portrait of the artist's wife set yet another record for the American artist, whose previous record stood at £947,250. Appropriately for the auction's London setting, the second-highest price o the night went to British artist Hurvin Anderson, whose painting Beaver Lake sold for nearly £2.2 million.
The next afternoon, Phillips' Day Sale performed just as well, achieving a sale total of nearly £10 million across over 220 lots. With 311 bidders registered digitally, over £1.6 million worth of property was sold online.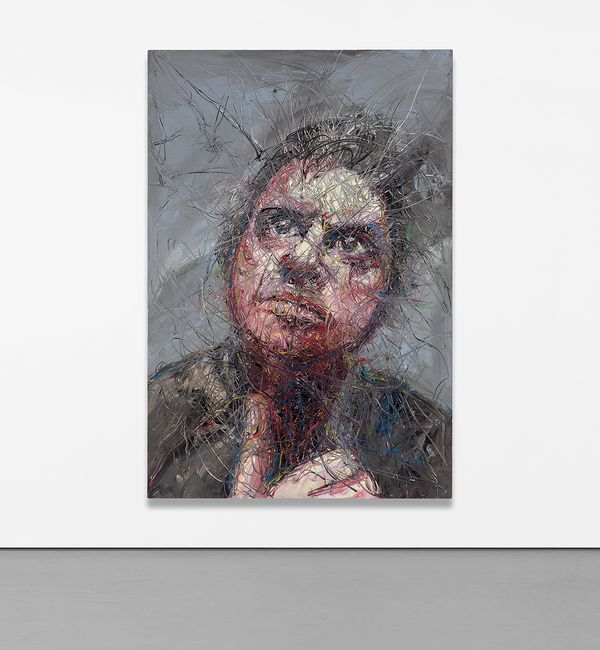 Installation view of Zeng Fanzhi's Untitled (Bacon), 2005.
Head of Sale Tamila Kerimova noted the "international flavor" of the sale as the top lot, Chinese artist Zeng Fanzhi's portrait of British icon Francis Bacon, fetched £735,000 against a high estimate of £600,000. Further notable prices were achieved for works by Peter Doig, Cecily Brown, Günther Förg, Thomas Schütte and Gerhard Richter, among others.
Like the Evening Sale, the Day Sale also saw several new artist records set. First came Vasily Klyukin, whose sculpture Venetian Virgin (Gold) soared above a high estimate of £60,000 to sell for £150,000. Just a little while later, Konstantino Dregos' painting Lapsus 38 sold for £27,500, £10,000 above the artist's previous auction record.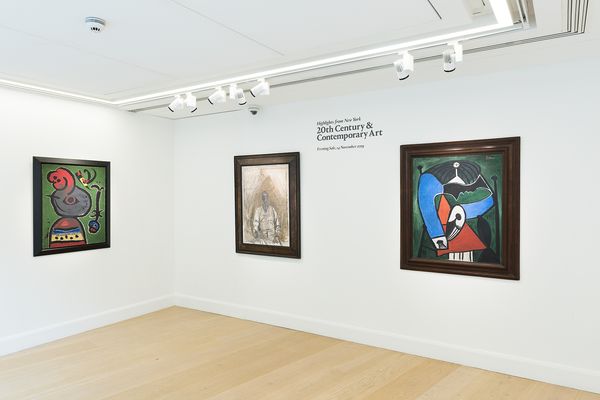 Highlights from the upcoming auction in New York on display in London.
Continuing forward from these strong results, Phillips' next 20th Century & Contemporary Art auctions will take place in New York this November. In contrast with the solidly contemporary atmosphere at Frieze, expect several distinguished modern offerings in New York, with highlights including works by Joan Miró, Pablo Picasso and Alberto Giacometti.