Lots 71 and 70: Gio Ponti Unique prototype folding coffee tables, 1970
For seven decades until the very end of his life in 1979, Gio Ponti was a tireless inventor of numerous concepts and realities. "From the spoon to the city," he was the supreme exponent of that 1950s methodology, first articulated by Ernesto Nathan Rodgers in the Charter of Athens, CIAM in 1952.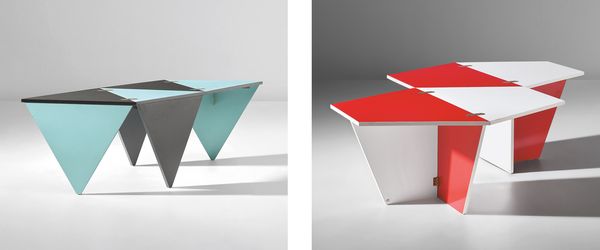 Lots 71 & 70: Gio Ponti Unique prototype folding coffee table, 1970
In 1970 when he was almost eighty years old, he came up with his last masterpieces, the highly reductive furniture built by Walter Ponti of Mantua. In this series, named "Apta," all basic domestic typologies were turned on their head in favor of pieces that were both mobile and collapsible thanks to casters and hinges. This which made them mobile when used and compact enough to stow away or transport, thus achieving an object that could be gloriously three dimensional one moment and dead flat the next but always radiant with color.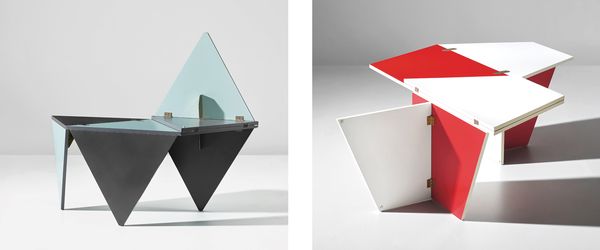 Lots 71 & 70: Gio Ponti Unique prototype folding coffee table, 1970
The two prototype tables presented here are the definitive gems from that series. One is red and white, the other aqua blue and dark grey and as such both emblematic of his color methodology… "he always contrasted a pure color with black, white or grey" (Lisa Ponti in conversation with Brian Kish, January 2001 at her Studio, Via Randaccio 9, Milan). Meanwhile, his ever-recurring graphic motifs were either the diamond or the obelisk and they became Ponti's essential matrix. "A perfection in architecture" he once proclaimed, "(is)the ecstasy of movement" (Gio Ponti, Amate l'architettura, Genova,1957). In this respect, the wheels and hinges are key to allowing endless positions in any room as well as multiple exciting geometric configurations enhanced by intense color contrasts.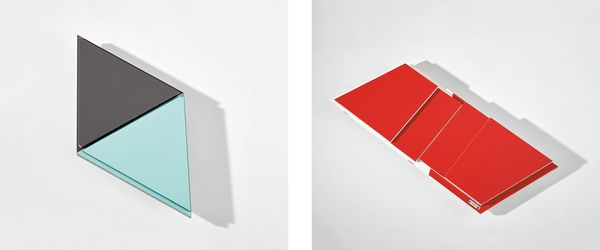 Lots 71 & 70: Gio Ponti Unique prototype folding coffee table, 1970
As it happened, these two tables were created in tandem with large scale architectural projects, the unrealized "colored skyscrapers" and Centre Pompidou as well as a completed masterwork the Cattedrale in Taranto. Like the folding tables, all these projects clearly demonstrate his agility at switching between the complex demands of different situations and scales to ultimately invent new and compelling solutions.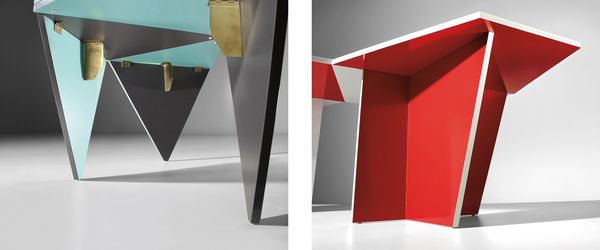 Lots 71 & 70: Gio Ponti Unique prototype folding coffee table, 1970
Ponti began as a painter, and later often evoked his hope to return to his artistic activities. However, he never stopped drawing and essentially looped art into his work for industry. He kept aiming at a particular synthesis which continues to catch and hold our attention in the twenty-first century. Indeed, his reappraisal has barely just begun.
To sum things up, his teaching assistant at the Politecnico di Milano from 1945 to 1969, Vittoriano Viganò provides us with an enlightening assessment of Ponti's method: "The impregnable weapon to which he always felt bound and which he always leveraged is 'art', art in its essence, as ethics, measure, strength, and action, indispensable for edifying man and his environment" (Vittoriano Viganò in Ugo La Pietra, ed., Gio Ponti, L'arte si innamora dell'industria, Milan, 1993).