- by Arthur Touchot
Enamelling, the art of applying colourful vitreous enamel paste to the surface of metal and firing it, is one of the many techniques watchmakers use to decorate a timepiece. Some say the craft has been part of horological tradition from the very beginning, as watchmakers quickly understood that is was easier to sell a watch that, in addition to being an accurate timekeeper, was a also a beautiful object in its own right.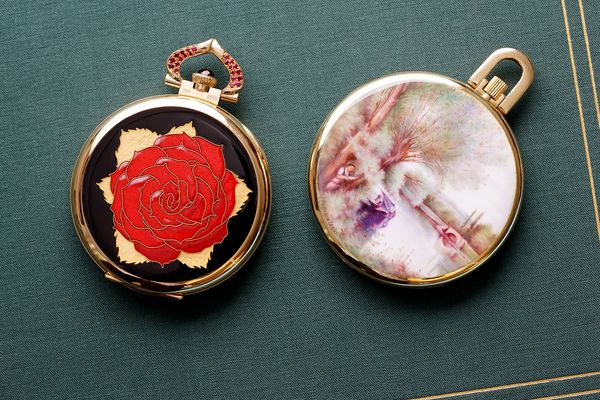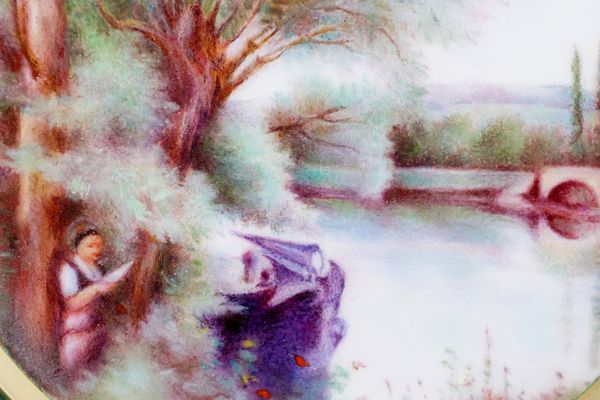 Lot 183 - Enamel miniature "La Liseuse sur la Rive Boisée", after Jean-Baptiste-Camille Corot by L. Pellarin-Leroy on an extremely attractive and unique yellow gold openface Patek Philippe pocket watch.
Several techniques emerged during the 17th and 18th century, the most popular in watchmaking being:
- Minuature painting: vitrous enamel is painted directly onto the metal, as the shown in the examples below.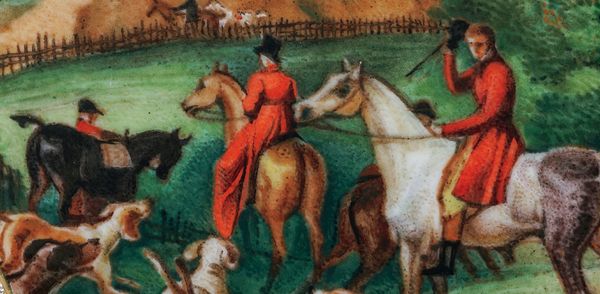 Lot 226 - From a a highly rare and attractive enamel, diamond and sapphire-set openface Audemars Piguet pocket watch with "hunting scene" by NI.GI. Barna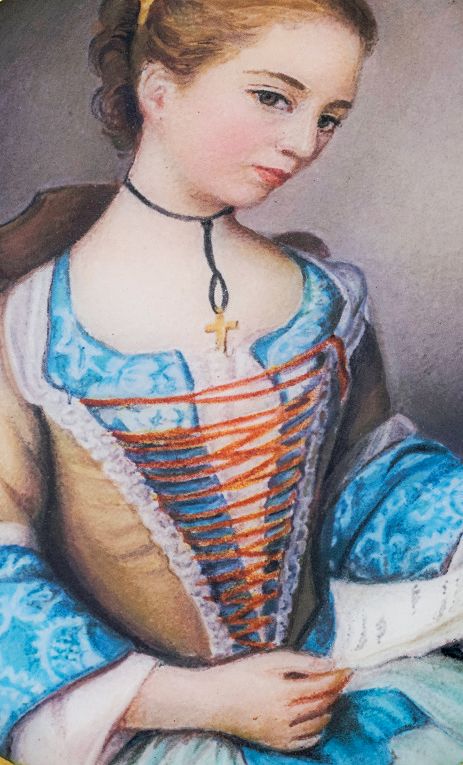 Lot 180 - Portrtait by Luce Chappaz on most probably unique, attractive and very well-preserved yellow gold enamel openface Baume & Mercier pocket watch
- Cloisonné enamelling: fine wires are fused onto the metal's surface to create separate cavities which are filled with the enamel paste, fired, and hand-finished.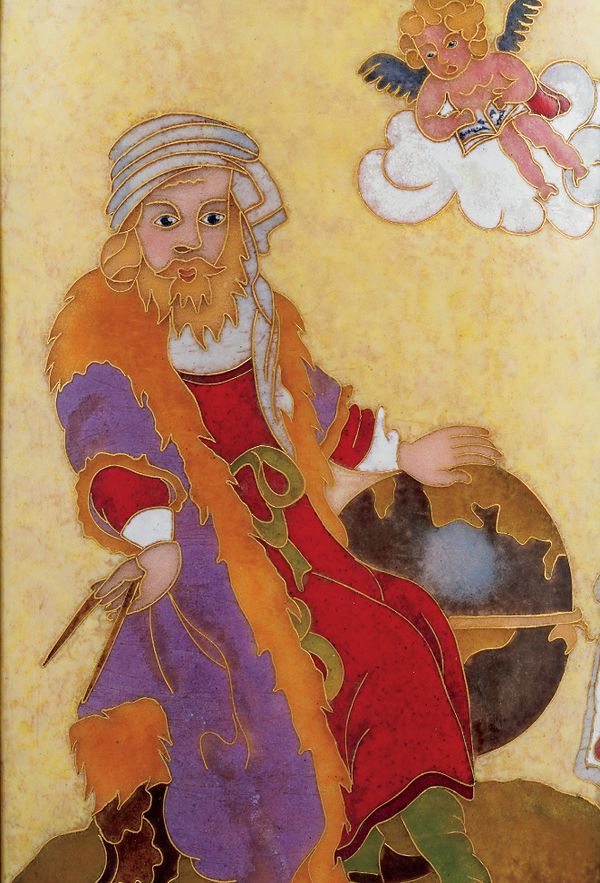 Lot 184 - From a highly rare and attractive polychrome cloisonné enamel Patek Philippe dome clock displaying Ptolemy and Copernicus (above) with original certificate and presentation box
- Champlevé enamel: cavities are created by removing metal, usually by the hand of a skilled engraver, in order to hold the paste. Similarly it enamel is then fired and the surface is sanded by hand.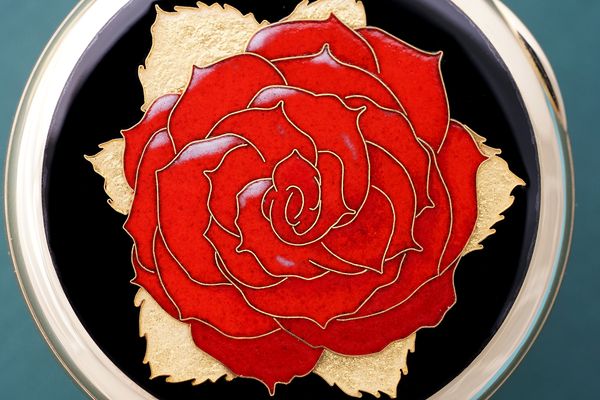 Lot 225 - A unique Patek Philippe pocket watch reference 982/129 with paillonné enamel dial
- Paillonné enamel: A "paillon" (a piece of foil) is placed between two layers of enamel in order to create an interesting shimmering effect.
Enamelled timepieces typically depict scenes of Greek mythology, renowned works of arts, world maps and cityscapes, as well as famous portraits, and occasionally, a commissioned portrait of the future owner of the watch.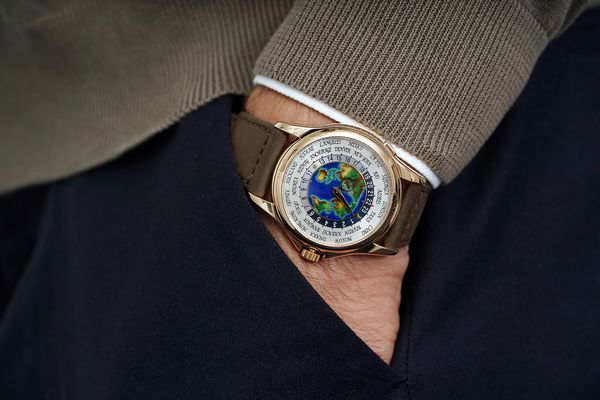 Lot 223 of The Geneva Watch Auction X - A rare pink gold Patek Philippe world time reference 5131R with cloisonné enamel dial
While pocket watches previously presented large canvases, the development and then increasing popularity of wristwatches presented a new challenge for enamelers: much smaller spaces required a more delicate hand and a finer touch, and as a result, watchmakers have become less reliant on this this type of decoration, and enamelled pieces have become increasingly scarce.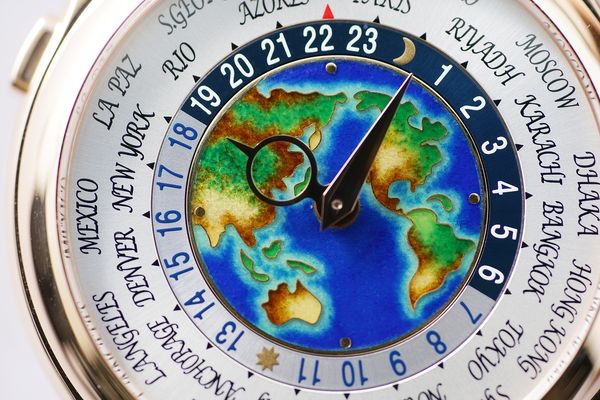 Lot 223 - Close-up of the enamel dial
Enamelling is today a rare metier d'Art, which is taught and preserved by extremely skilled craftsmen within special departments inside watch manufacturers. In 2017, Senior Consultant Aurel Bacs awarded the GPHG Special Jury to Suzanne Rohr and Anita Porchet for their contribution to the art of enameling, and we continue to pay tribute to this incredible skill which deserves protecting, through our selection of superlative enamelled watches and pocket watches.